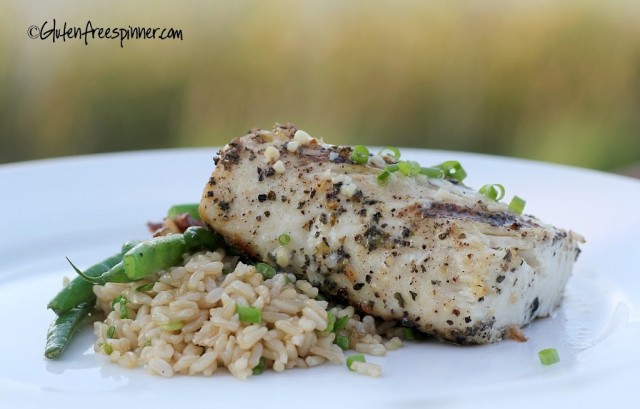 Grilled Mahi-Mahi
You won't believe how quick and easy this elegant dish is with only a few ingredients and just minutes from grill to table.
I absolutely love fish. I love how I feel before, during, and after eating it; anticipation and enjoyment to fulfilled and healthy. But I also love easy, especially on a weeknight, and the wonderful thing about fish is it doesn't require much to present a beautiful delicious meal.
This is my go-to grilled white-fish recipe that I threw together after a busy day. It's become one of my favorite meals and it never disappoints. Start with a fresh, firm, filet of fish like mahi-mahi, halibut, sea bass, or even cod will work. I use mahi-mahi filets from Costco , which come frozen in individual servings and are great if you need just one or two at a time. They are consistently fresh and never fishy, quite different from my previous experience with mahi-mahi which was tough, fishy, and lacking in flavor.
My Grilled Mahi-Mahi is simply seasoned with fine sea salt, pepper, and McCormick's Greek Seasoning (blend of onion, spearmint, oregano, garlic, and the last ingredient sea salt) I use this seasoning blend in many of my recipes as it's a terrific balance of flavors. It's a fresh choice for fish as it doesn't over-power; it compliments. Then I drizzle olive oil over the filets which helps the seasonings blend and meld into the fish.
For a final burst of flavor I baste with a simple butter and garlic melt the last minute of grilling. That's it. And you won't believe how incredibly good this is. Flaky, light, and savory with a hint of smokiness from the grill. Drooling yet?
Serve with haricot verts (french green beans) steamed just until crisp then lighty sauteed with a tish of butter and chopped almonds. I also serve brown rice which adds a great texture and the added benefit of more protein and fiber. Like I mentioned above, I feel so good after eating this dish, not only do my taste-buds rejoyce, my body thanks me too.
Don't forget a chilled glass of Pinot Gris, Sauvignion Blanc, or Chardonnay….great pairing.
2 servings (you can easily adjust for the number of servings you need)
2 mahi-mahi filets, about 7-8 oz each, thawed, rinsed, and patted dry with paper towel

fine sea salt

fresh ground black pepper

1 heaping Tbsp McCormicks Gourmet Greek Seasoning

Olive oil

2 Tbsp butter

1 – 1 1/2 tsp minced garlic (choice)

Directions:
Pre-heat grill on high to about 400 degrees.

Lightly season the prepared mahi-mahi filets with sea salt and pepper on both sides (lightly-not too much). Sprinkle the Greek Seasoning over both sides and press into the fish. It might look like a lot, but there's little salt in this blend and the herbs are wonderful. Drizzle with olive oil and turn the filets over and back again to coat. Set aside.
Reduce heat on grill to med-high and add the filets to the hot grates. Close lid and set timer for 4 minutes. Don't turn or move the fish during this time. When the 4 minutes is up, use a tong to turn the fish…don't force, gently wiggle the fish loose from the grates to turn. Set the timer again for another 4 minutes. Meanwhile, melt the butter and garlic in a small bowl.

After the second 4 minutes, brush the tops of the filets with the melted butter and garlic and set the timer for just one (1) more minute. Remove from grill to platter and allow to sit for 3-4 minutes before serving.

Serve with Haricot Verts with chopped almonds (see above in post) and brown rice. Yummmmy! If you have leftovers they are amazing day 2 as well. : >