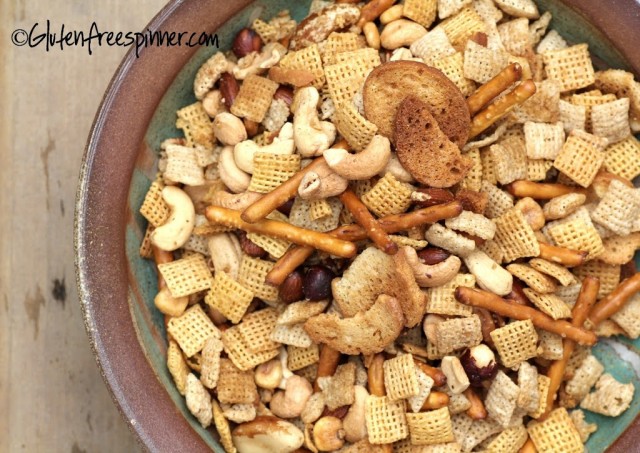 Chex Snack Mix
Some things are just better when revisited and refined, like the traditional Chex Mix made gluten free. Its all about the ingredients, and thankfully General Mills has made their Chex Cereals gluten free.
Speaking of revisited and refined, we recently hosted a long overdue Couples Weekend with our closest friends; a group of couples with refined friendships. We go waaaaay back, all the

way to kindergarten for some of us. School days to college days, dating to marriage, raising babies to adults, and going from parents to grandparents…we've been there – together – for all of it. There have been ups & downs and highs & lows in each of our lives, and through each chapter we've grown closer…more 'refined'.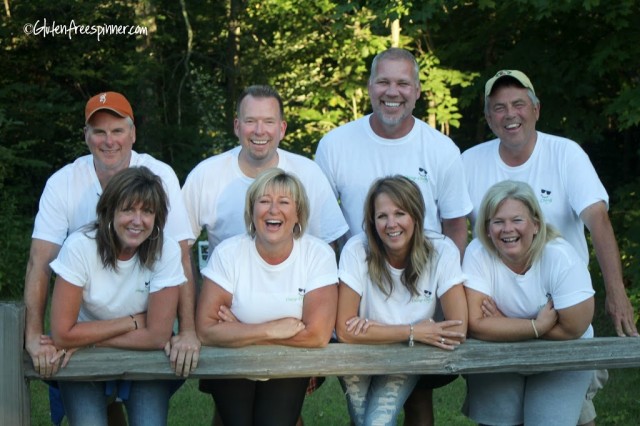 The few days we spent together were filled with easy conversation and great food especially around five o'clock when "Happy Hour" began. The clinging of wine glasses and swish of martini shakers had us cheering to the time together. A spread of appetizers lined the countertop, with cheese and crackers, dips and spreads, and Mr. Spinners favorite, jalapeno poppers . My Chex Mix added a handful of crunch to the variety of options, and one surprise ingredient with the loudest crunch brought up days of old, Corn Nuts. When's the last time you had a Corn Nut? The original Corn Nuts are gluten free and add a great texture to the mix. Another non-traditional ingredient is GF Honey Nut Chex which had everyone questioning what that hint of sweetness was. And my final 'tadaa' is Glutino Garlic and Parmesan Bagel Chips that add a salty savory crunch!
One of the best things about Chex Mix is you make it ahead and bring it out while everything else is being prepared. It's terrifically addicting and stores well for days.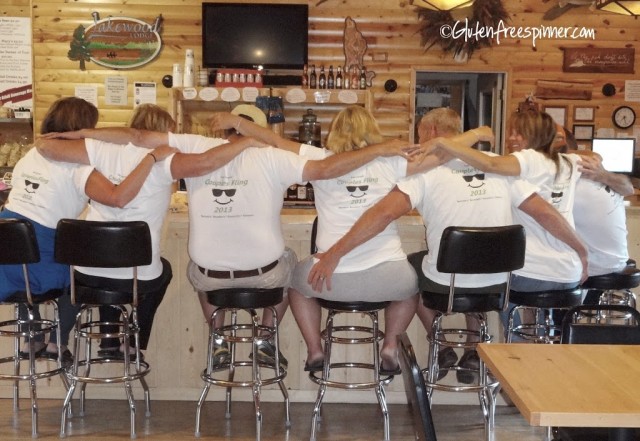 To round out our last evening together, we stopped at our favorite neighborhood pub, Lakewood Lodge Sand Bar donning our matching "Ching-Ching Couples Fling" t-shirts and shared a group hug. The weekend went much too quickly as it always does, and this being the first of many Weekends to come, we added an extra day to next years event.
Hold your friends close…cherish the days of old and create the joy of new.
Chex Snack Mix
Ingredients:
3 cups GF Rice Chex

3 Cups GF Honey Nut Chex

1 (6oz) pkg Glutino brand Garlic and Parmesan Bagel Chips

1 1/2 cups GF Snyders of Hanover Brand pretzel sticks (or your favorite)

1 (4 oz) pkg Corn Nuts Original

2 lbs deluxe mixed nuts (we like a lot of nuts in our mix)

8 Tbsp butter

2 heaping Tbsp Worcestershire Sauce

1 1/2 tsp seasoned salt (Lawry's)

3/4 tsp garlic powder

1/2 tsp onion powder
Directions:
In a large microwavable bowl, mix the Chex cereals, bagel chips, pretzels, Cornnuts, and mixed nuts together. Set aside.

In a small glass measuring cup melt the butter in microwave and stir in the seasonings to blend. Pour over the snack mix and toss together to evenly coat.

Microwave uncovered on high for 18-20 minutes, thoroughly stirring every 3-4 minutes. Allow to cool and shake the mixture every few minutes to help cool and distribute the flavors. Don't cover until completely cool. Store in airtight container.

Oven Directions:
Heat oven to 250 degrees. In a large bowl, mix the Chex cereal, bagel chips, pretzels, Cornnuts, and mixed nuts; set aside. In an ungreased large roasting pan, melt the butter in oven. Stir in seasonings. Gradually stir in snack mix until evenly coated. Bake 1 hour, stirring every 15 minutes. Spread on paper towels to cool, about 15 minutes. Store in airtight container.