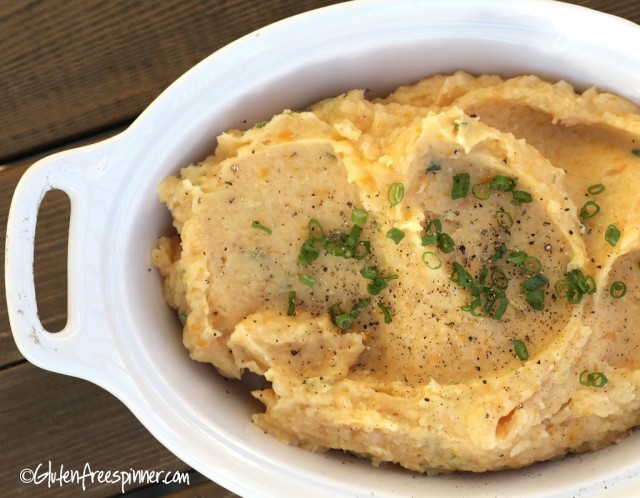 Sweet Potato Mash
Did you know there's a difference between a white sweet potato and an orange sweet potato?
I didn't until my son suggested I purchase the white ones and try them instead.
I'm now in love with the white sweet potato. They are creamier, a little sweeter and less stringy than orange sweet potatoes and my favorite preparation is simply baked with butter and salt and pepper. Here's a picture of the two varieties.
(photo courtesy of www.haveyourcookie.com)
Being I add these white beauties to most everything I use to use russets, I also made a sweet potato mash with a combination of the two. For me, the mash would be best with all sweet potatoes, but I
cannot convince Mr. Spinner, and that's ok. For a meat and potatoes guy, I'm just glad he's open to adding them to his traditional mash.
I first served my sweet potato mash for a girls night out at my house. We were celebrating a birthday and I combined the mash with my Spicy Planked Salmon. It's our favorite meal when we're together and the sweet mash with the spicy salmon was a delicious combination.
I used both kinds of sweet potatoes, white and orange, along with russets. I kept it savory using Parmesan, butter, garlic, and chopped green onions. It's super easy to prepare and I think you'll enjoy it as we did.
1 stick butter (1/2 cup), very soft
1/2 tsp garlic powder (not salt)
1/4 cup grated Parmesan cheese
1/4 cup chopped green onions
Peel and chop all five potatoes into 1″ pieces. Add to a large pot filled with cold water. Cover loosely and bring to a boil, then reduce to medium cooking until fork tender. Drain and return to pan – no heat – but sitting on the burner used to help remove all water.
Mash the potatoes together by hand with a potato masher and add the butter, garlic powder, Parmesan, sea salt and black pepper to taste. Toss in the green onions last leaving a few for the top.
Serve immediately or keep warm until ready to eat. You can also make ahead and reheat in a low oven.