Strawberry White Chocolate Whip Parfait
Memorial Weekend at the cabin has friends visiting, which calls for a special dessert. It's warm and sunny and the cabin is open for the season so I'm celebrating with all things Summer.
Strawberries are beautiful right now and I can't get enough of them. Each morning it's vanilla Greek yogurt topped with fresh strawberries, and it's a perfect breakfast offering protein, fruit, sweet, and light. Yum.
One of the many Spring projects at the cabin is opening the porch, which is my favorite place to be. It was our splurge last Summer and it's proven to be a great addition to our home. The crisp Spring air gently flows through the screens bringing sounds of rippling waves as they crash

to the

shore. It's a great place to be without any electronics or

devices…a great place to just…listen.
The birds are abundant with standing room only at the feeders while each distinct call has us spotting every species. Yesterday I saw an Indigo Bunting, the first time in four years! They are one of the most beautiful birds donning their vibrant "Indigo" feathers. I took 23 pictures in the few seconds he sat perched on the Maple just above the feeder. Stunning.
Then there's the yellow finch, one of my favorites for their song. They sing with the grandest vocal for being one of the smallest. I love-love to listen…they sing the happiest sound and it makes me smile every time.
With both at the feeder, side by side,

t
he brillian
ce of their coloring

w
as magical.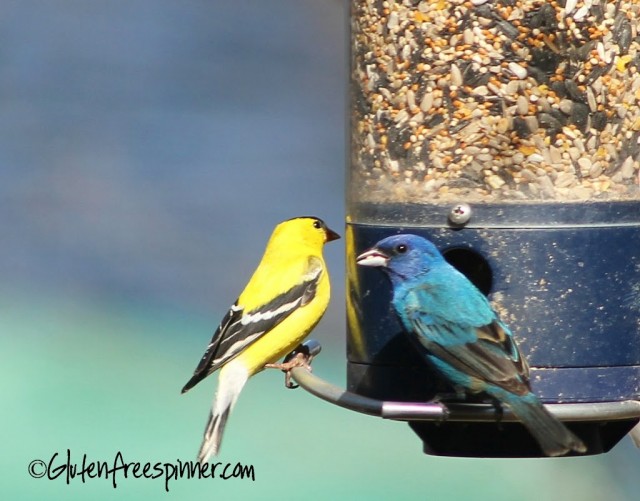 Oh yes, we've become birders…seriously so.
I thank Mr. Spinner

for making our place a birding haven. He

never misses filling the feeders be it song bird mix, safflower, black oilers, thistle, suet, or grape jelly for the Orioles. And me…I'm lucky enough to enjoy it all

,

captur

ing

their beauty through the lens of my camera.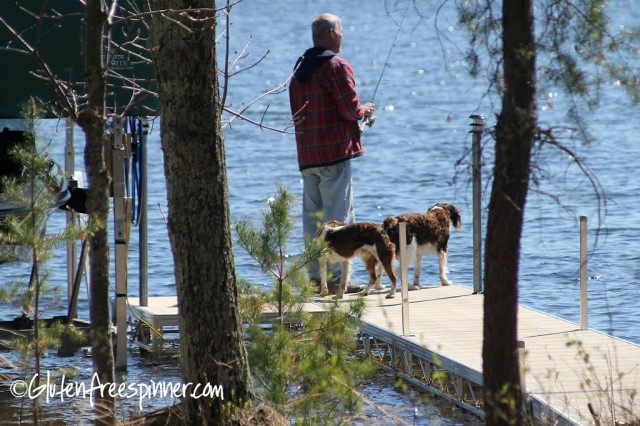 And of course there's fishing…and dogs,
which our cabin cannot be without.
I love this time of year.
It seems sometimes that we spend the

entire

Winter just waiting for these days to arrive.
But that's also what makes them so special.
Like my Strawberry Parfait's with summer fruit.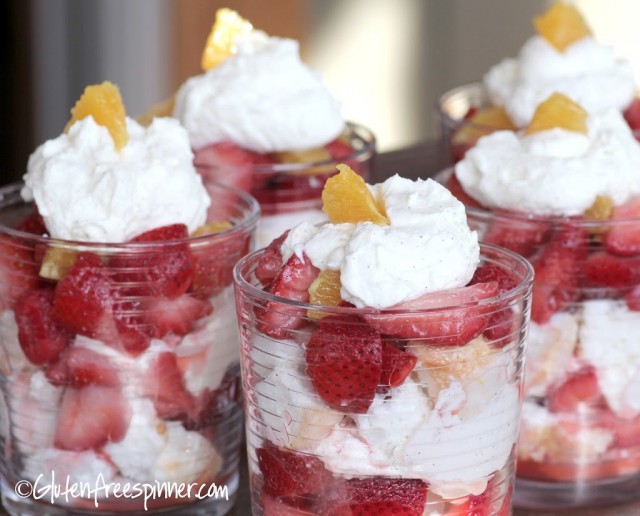 These individual parfaits are loaded with sweetened strawberries and raspberries, a hint of oranges for added brightness, angel food cake squares, and whipped white

chocolate cream infused with

vanilla beans

. The white chocolate whip is dangerously delicious…be careful not to

devour it before the parfaits are made!
The Angel food cake is a treat in itself and the recipe is from Linda at The gluten-free homemaker. I found her recipe on Shirley's

A

ll

G

luten

F

ree

D

esserts site. It's an easy recipe with

the

fun-factor of watching the cake rise so high and beautiful!

W

hich isn't always the case in gluten free recipes. One note to make sure of:

do not use

a
non-stick tube pan…otherwise your cake will fall out of the pan and flop

.
For my non

–

gluten intolerance readers, just use a regular

angel food cake.
Enjoy your Memorial Weekend

.
Spend a

few moments without any

devices or sounds and

j

ust list

en…
To the laughter of children.
To

the whisper of that special someone.
XO Mary
Serves 5-6 depending on size of serving dishes
Ingredients:
1 1/2 cups heavy whipping cream

1 vanilla bean, scored with pulp and bean being used

1 cup white chocolate chips (use a good brand)

2 cups fresh strawberries, hulled and quartered

1/2 cup raspberries

3 Tbsp sugar

1 orange, supremed, cut each section in half, reserve juices

4 cups cubed angel food cake
Directions:
First make the white chocolate vanilla whip:
Heat the cream and vanilla pulp and bean in a small heavy saucepan over medium heat until it starts to just simmer, do not boil! Stir often and allow to simmer for a few minutes. Remove from heat and strain with a mesh strainer into a medium glass bowl. (this is to remove the bean and any large particles from it). Add the white chocolate chips and stir until melted and blended. Cover with plastic wrap and refrigerate for at least an hour.
Combine the strawberries and raspberries with the 3 Tbsp of sugar and refrigerate (if your fruit isn't very sweet, you might need a little more sugar…use your own judgement).
Whip the chilled

white

chocolate mixture with an electric hand mixer until stiff peaks form.
Drop 4-6 cubes of the angel food cake in bottom of each dish. Top with a layer of the sweetened strawberries and raspberries, then top with some of the whipped white chocolate. Repeat one more layer, this time adding a few of the orange pieces (2-3) and ending with the whipped topping. Watch your whipped topping portions to allow enough to finish each serving. You should have 5-6 orange pieces left over for garnish.
Use the juices too as you add the fruit to each dish. There isn't much, but distr

ibute evenly.
You can make ahead and cover with plastic wrap in refrigerator until serving.