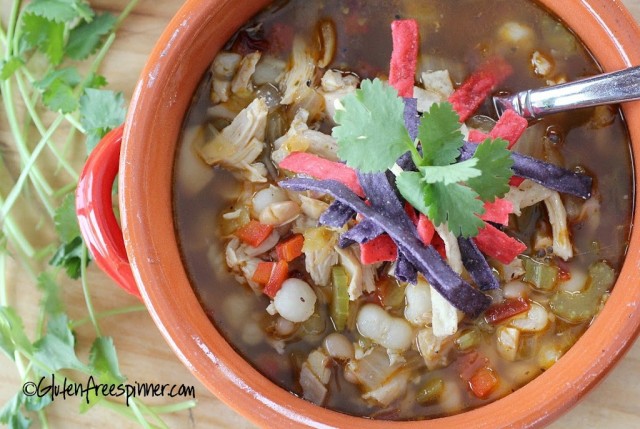 Spicy
Chicken Soup with Hominy
Spicy, zippy, flavorful and easy!
This southwest soup comes together quickly using leftover chicken or shredding a rotisserie broasted chicken. Chipotle Peppers in Adobe Sauce add the spicy kick an

d

smokiness while
Ingredients:
1 Tbsp olive oil and 1 Tb

sp butter

1 large

onion, chopped

2 stalks

celery, chopped

1 red bell p

epper, seeded and chopped

3 cloves garlic, minced

3 Chipotle Peppers with Adobe Sauce, chopped (use th

e 7 oz

canned and freeze remaining in baggie for later…

this works well!

)

the soup will be spicy with the 3 peppers, if you prefer mil

der, use less

1 (4oz) can fire roasted green chilis

1 tsp fine sea salt

1/2 tsp bl

ack pepper

1 tsp ground cumin

1/2 tsp oregano

3 cups shredded cooked chick

en

5 cups good gluten free chicken stock

1 (15 oz) can of either white, pinto, or black beans rinsed and d

rained

1 (15 oz) can of

W

hite Hominy, rinsed and drained
In a large stock pot heat the olive oil and butter over medium-high until bubbly. Add the onions, celery, and bell pepper and saute until slightly soft, about 4-5 minutes. Add the garlic, Chipotle Peppers (with sauce), chiles, salt, pepper, cumin, and oregano and stir to combine into the vegetables heating about 2 minutes. Add the chicken and toss to coat with the seasoned veggies.
Add the chicken stock, beans, and hominy. Reduce heat to low and cook for 15-20 minutes. Serve with tortilla chips and chopped cilantro.