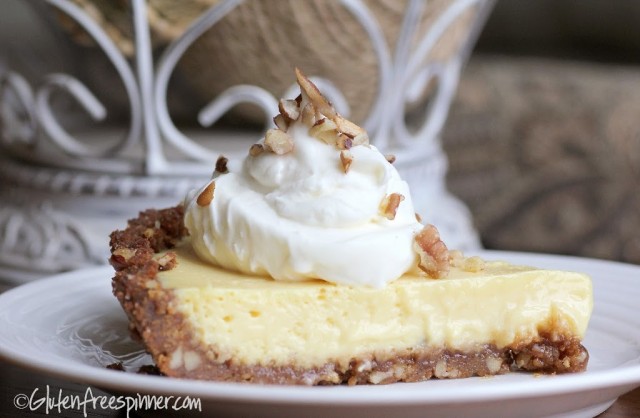 – Revisited –
My key lime pie

is a

favorite and one of the most requested desserts from

my

family, especially Mr.

Spinner.
Each
time I reference

it

on my site

(which is often)

I promise myself to update the p

hoto

and the crust, which is a little different than the first Key Lime Pie I posted. The actual

p

ie filling hasn't changed, it's classi

c and perfect every time.
Some key lime pies are green…like a bright lime green. One would think that makes sense being it's Key Lime, right? But if they are green, most likely

they

have food coloring or a jello type ingredient as part of the filling. Key limes are a beautiful bright green on the outside, but the juice is a deep yellow color with

distinct

zesty lime tartness. You can add

a

little zest from the limes

which

adds a nice fleck of green to the pie, but

my

fam thought it was too tart with the zest

so I leave it out. Your choice…try both ways.
The Crust in the

se

pictures is the one I use most often. I

crush

ginger snap cookie

s

with

finely chopped pecan

s which pairs beautifully with the tart key lime filling. I make it a little wetter than a regular cookie crust so it's moist yet cri

sp…so very good.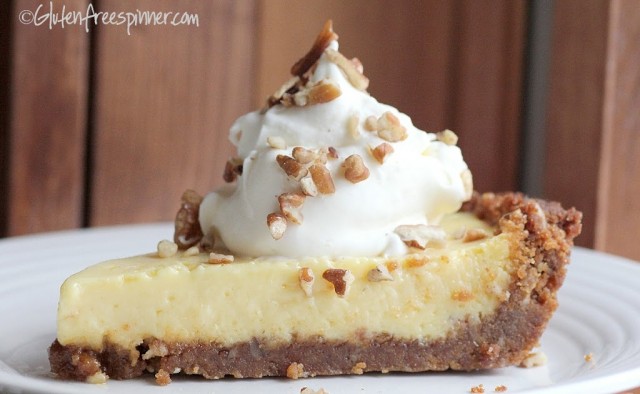 Lastly,
the garnish is simple

…

sweetened whip cre

am and a sprinkle of chopped pecans.
Is your mouth watering yet?
Give my Key Lime Pie a try, it just might be your family favorite desserts as well.
Preheat oven to 350 degrees and lightly spray a ceramic or

g

lass pie dish with non-stick

spray
1 (8 oz) pkg

Midel Gluten Free Gin

ger

Snap Cookies, crushed

1/4 cup finely chopped pecan chips

2 Tbsp sug

ar

7

Tbs

p butter, melted
Mix all ingredients together until combined and firmly press into prepared dish going up the sides to form a crust. Bake for 12 minutes in preheated 350 degree oven.
Pie Filling:
1 (14 oz) can sweetened condensed milk

2 egg yolks

1 whole egg

1/2 cup key lime juice (or the juice of r

egular

li

mes to equal)
Blend the condensed milk and lime juice until combined. Add the eggs and beat for 2-3 minutes. Pour into prepared crust and bake for 15 minutes.
Cool and refrigerate for at least 2 hours. Top with sweetened whip cream and sprinkle chopped pecans over top.