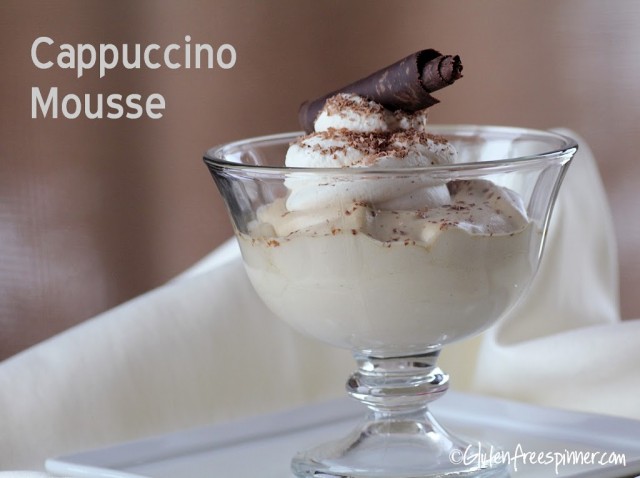 My Cappuccino Mousse tastes like a rich creamy vanilla latte' that you eat with a spoon. Each bite coats your tongue in a velvety smooth cloud of cappuccino heaven. It's sweet, but not overly so, and rich…yet light.
The recipe makes two large or four smaller servings, depending on the dishes you choose. I also make these as mini desserts by piping the mousse into chocolate shells and serving on a platter with other desserts. They're always the first to go.
I use skim milk, but you can use whole milk, almond milk, or vanilla soy milk…all will work. The fresh whipped cream is essential, it adds to the rich creamy result. I made chocolate curls to finish my dessert, to learn how to make them, click here. You could also use chocolate espresso beans or simply dust with chocolate shavings.
Mmmm….I'm going in for more!
1 cup heavy whipping cream

3 Tbsp powdered sugar

1 tsp vanilla
1/2 cup skim milk (or whole milk, almond milk, or vanilla soy)

1/3 cup strong coffee

3 Tbsp instant vanilla pudding mix (check ingredients for gluten-free)

2 Tbsp powdered sugar
Directions:
In a medium glass or stainless bowl add the whipping cream, 3 Tbsp powdered sugar, and vanilla and whip with electric mixer on high until still peaks form. Set aside.

In a separate medium glass bowl whip the coffee, milk, pudding mix, and 2 Tbsp powdered sugar until slightly thickened, 1-2 min. It won't be thick, but you'll notice the change in consistency.
Gently fold in a little less than 3/4 of the whipped cream (the rest is for topping each) into the coffee mixture, being careful not to lose the fluffiness of the whipping cream. It will come together and get thick and creamy. Fill two large or four small dessert dishes with the mousse. Top each with the remaining whipped cream and top with grated chocolate shavings and chocolate curls. Refrigerate until set, about 30 minutes. You can make this a day ahead as well. Mmmm, enjoy!