Yes, more cookies!
I thought I was done baking for Christmas when Mr. Spinner says, "I love sugar cookie cut-outs…they're my favorite Christmas cookie".
Whaaaat?? I should know this, right? And here I thought it was the pean

ut butter blossom.
Actually it's not that much of a surprise…prior to my gluten free life I didn't bake much…my love was cooking because the

precise

measuring and tedious details that baking required

bored me.
Ahh

h

…but, being forced to bake

gluten free

so I could enjoy my favorite foods again gave me new-found insight and a new love for baking.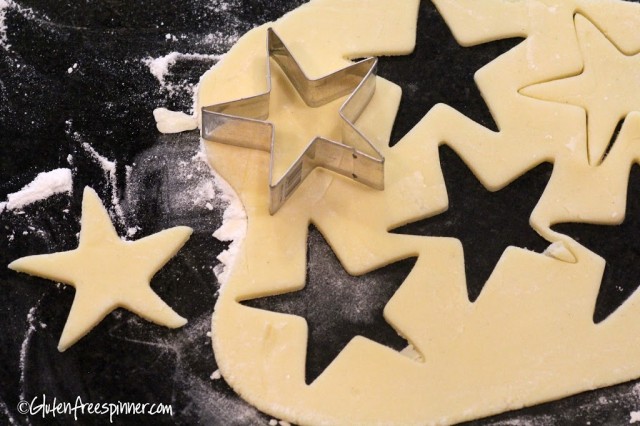 And this recipe is easy…it just takes time.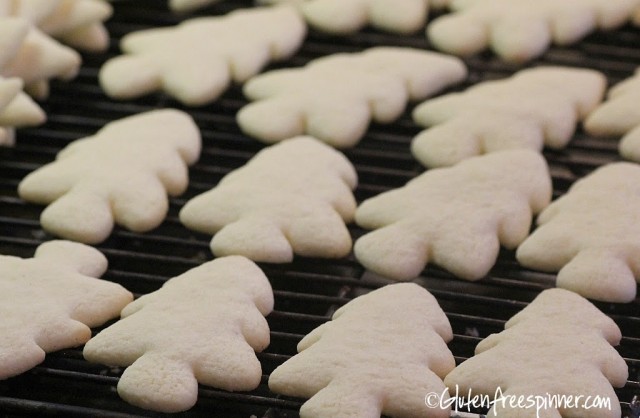 Look at these little

Christmas trees just waiting to be decorated
O
nce my sugar cookie cutouts were completely

finished,
they
sat
there twinkling at me with their glittery

embellishments

and
I was so happy I
had taken the time

.
..they
screamed… Christmas! L

ove!

Special
!
As for Mr. Spinner, he had called

w

hile cutting them out and insisted it wasn't necessary…he said there were plenty of others he liked too. But c'mon, it IS Christmas…right? We all look forward to our favorite's during the holidays and baking (cooking) for those we love is one of the best gi

fts we can give.
(Inspired by these sugar cookies)
3/4 cup softened butter

1 cup w

hite sugar

2 eggs

1/2 tsp vanilla extract and 1/4 tsp almond extr

act

2 1/2 cups GF all purpose flour (click link for my go-to

flour blend)

1/

4

cup powdered sugar

1 tsp baking powder

1/2 ts

p salt
Directions:
In a large glass bowl cream together the butter and sugar. Beat in the eggs, vanilla, and almond extract. On low speed, blend in the flour, powdered sugar, baking powder, and salt.
Gather the dough into a ball and wrap in saran wrap. Chill for an hour (you can chill overnight if you want to make ahead).
Preheat oven to 400 degrees
Prepare two large cookie sheets with parchment paper.
Prepare your rolling surface with GF flour and break the dough ball in half. Start rolling out the dough, adding flour so the rolling pin doesn't stick. Here's where you decide the thickness. Softer cookies will be a little thicker roll-out, crisp will be a thinner roll-out. Cut and place the cookies on prepared cookie sheets and bake for 4-6 minutes, depending on the size and thickness of your cookie. My stars were fairly thin and only took 4 1/2 minutes where my tree's took 5-6. Rule of thumb – remove once the edges are just slightly light brown. You'll know after the first batch how long to bake.
Allow to cool for 2 minutes and transfer to wire rack to completely cool. Frost with a powdered sugar and milk frosting (add a little almond extract if you choose). If you make it thin enough you can use a pastry brush to brush the frosting on…so much easier! Decorate with glittery sugars…