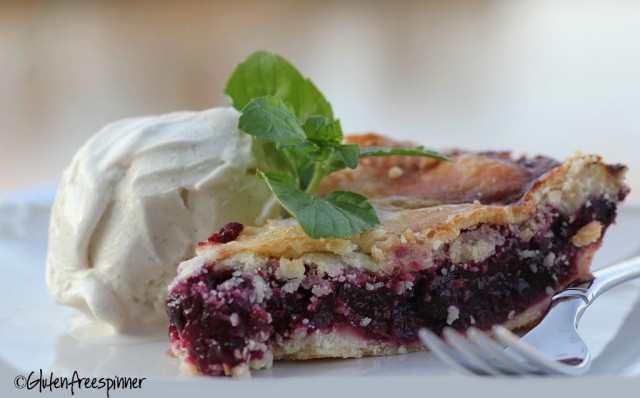 Tripleberry Pie with Pastry Crust
Yes this really is a gluten free pastry crust!  Flaky, light, tasty, and delicate like days of old and it came from a package of Gluten Free Pantry's Perfect Pie Crust.
Having made a few gluten free pastry crusts that turned out well (but not great), I was skeptical when I bought this mix.  But I needed something at the cabin for last minute dessert options as we have limited access to grocery stores with minimal selection.
Let me start by saying the final outcome was better than I could have ever imagined!  This is truly a great find and the crust is exactly like a 'regular' pastry pie crust…super yum!
So when I first opened the box and read through the additional ingredients needed, I wondered why I bought a mix….you still need to add baking powder, butter, shortening, sugar, eggs, and vinegar.  But we all know the expense and time involved needing four different flours and guar gum (Xanthan Gum) just to make a pie or cake.  I decided this was a good thing.  Here goes:
While mixing the dough I added the vinegar and it seemed a bit too strong.  I used Bragg Organic Cider Vinegar, so that might be the reason for the strong smell of vinegar (but it might also be the reason it turned out so well!)  I was worried the crust might taste vinegary but continued with the steps and put it in the refrigerator to chill for an hour.  
This mix makes four crusts which is a huge time saver.  So after the hour I divided the crust in half, wrapped it in plastic wrap, then a freezer bag and froze.  Just think…now I have 'perfect pie' crust dough in the freezer ready to make another creation on a whim.  Nice!
I rolled the dough out between two pieces of plastic wrap like the directions say.  I dusted the plastic wrap with powdered sugar instead of flour (still worried about the vinegar) and it worked really well while adding a little sweetness to the dough.
My first attempt at the bottom crust wasn't great as I rolled it much too thin.  It broke when I tried to lay it in the bottom of the pie pan.  But…here's the best part!  I just molded it into the pie pan pushing it up the sides and pressing the bottom to cover.  Seriously, it worked great so don't worry if yours breaks, it will still turn out.  All these years worrying that you have to roll it out perfect and lay in the pan without breaking…geeez.  No wonder I use to hate baking.  This was a 'piece of cake'…just go with it…it's just a pie crust.  (wink-wink)
The filling couldn't have been easier.  I used a frozen Tripleberry Blend by Townsend Farms that included Raspberries, Blueberries, and Blackberries.  I must comment on the quality of these berries…whole, fresh, plump, and still beautifully bright colors.  I purchased them at Sam's Club and will be stocking up…such a great find.
I used 4 1/2 cups of the frozen berries and allowed them to thaw a bit while I  made the crust.  This creates the juice that you'll mix with cornstarch and sugar.   I like the zesty sweetness of orange in my fruit pies so I added 1 Tbsp of frozen concentrated orange juice.  You can also add the zest of an orange for even more zing.  I also like my fruit pies to be a little on the tart side so you certainly can add more sugar if you like more sweet.
Fill the prepared bottom crust with the filling, top with the other crust and press the edges together all the way around.  Again, don't worry about it being perfect.  With a sharp knife, cut slits in the top of the crust to allow steam to escape.  Brush the top with heavy cream and sprinkle sugar over all.  Place the pie on the foil lined baking sheet that's preheating in the oven and watch the magic begin!  It's exciting to see the crust turn golden brown and delicious!
Allow the pie to cool at least an hour before serving so it stays firm.  Serve with either whipped cream or vanilla bean ice cream.  This is such a treat and it's beautiful to serve.
For me, this pie mix is perfect to have on hand for all pies, pastries (yes…we can make pastries again!), quiche's, tarts, mini-appetizer tarts, etc.  Especially now that the holiday's are on our doorstep…what a great shortcut.  AND….it makes four crusts!
 Happy Baking…..
XO…Mary 
Ingredients:
Crust:
10 tbsp cold, unsalted butter, in small pieces
10 tbsp butter flavored vegetable shortening in small pieces
**  I also used powdered sugar to roll the dough.
Follow directions for making the pie crust on back of package.
Berry Filling:
4 1/2 cups combination of frozen raspberries, blueberries, and blackberries, partially thawed with juices (Townsend Farms Triple Berry Blend) 

3/4 cup sugar 

1 Tbsp frozen orange juice concentrate 

1/4 cup cornstarch 

2-3 Tbsp Heavy cream to brush on top 

Sugar for top
Prepare the crust for one pie according to package directions.
Preheat oven to 375 degrees and line a baking sheet with foil.  Put the baking sheet in the oven to preheat as well. 
For the berry filling, add the thawed berries to a large bowl and combine with the sugar, orange juice, and cornstarch.  Allow to sit for 10 minutes.
Pour the berry filling into prepared crust and top with the top crust.  Pinch the edges of top and bottom together as best you can.  Cut slits in the top of pie with a sharp knife to vent for steam.  Brush the top crust with heavy whipping cream and sprinkle with sugar.
Place the pie on the baking sheet and bake for 25 minutes.  Reduce heat to 350 and bake for an additional 25-35 minutes or until the crust is nicely browned in center and the berries are bubbly.  Remove and allow to cool on wire rack.  Serve with whipped cream or vanilla bean ice cream.