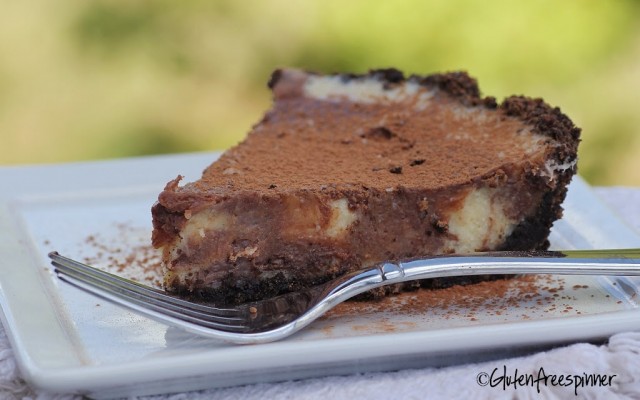 Marble Cheesecake
with Chocolate Ginger Crust
A tattered 'Easy Desserts' booklet hiding in my recipe bin gave me the inspiration for this recipe, and yes…it was super simple to make.

My spinn is the chocolate and ginger cookie combination that creates a flavorful crust to surround swirls of vanilla and chocolate cheesecake. Ohhh Yum!
And there are no fancy toppings here…nope…not in this dessert. Just a light dusting of cocoa powder and waaaalaaa…dessert is served.
Combine the crushed chocolate and ginger cookies with the melted butter in a medium glass bowl. Press into a pie pan sprayed with non-stick spray forming a crust up the sides. Bake at 350 degrees for 8 minutes. Remove and set aside to cool.
Pie:
1 (8 oz) pkg cream cheese, softened

1 (14 oz) can sweetened condensed milk

1 egg, beaten

1 tsp vanilla

1 0z semi-sweet chocolate square or chips, melted

Cocoa powder for dusting on top
Beat the cream cheese on high in a medium glass bowl (I'm sharing the link cuz I love these bowls) until fluffy and slowly add the sweetened condensed milk, whipping until thoroughly combined. Add the egg and vanilla beating again until all combined. Reserve 1/2 cup of the mixture and pour the remaining into the cooled crust. Add the melted chocolate to the 1/2 cup reserved batter and mix until the chocolate is incorporated into the batter.
Pour the chocolate batter over the cream cheese mixture in the crust, swirling as you pour. With a knife, cut through the batter pulling the chocolate batter into the cream cheese batter creating marbling.
Bake 300 degrees for 35 minutes, or until the center is set. Remove and cool on wire rack for 30 minutes. Transfer to refrigerator and chill for 2-3 hours before serving. Dust with cocoa powder and serve.