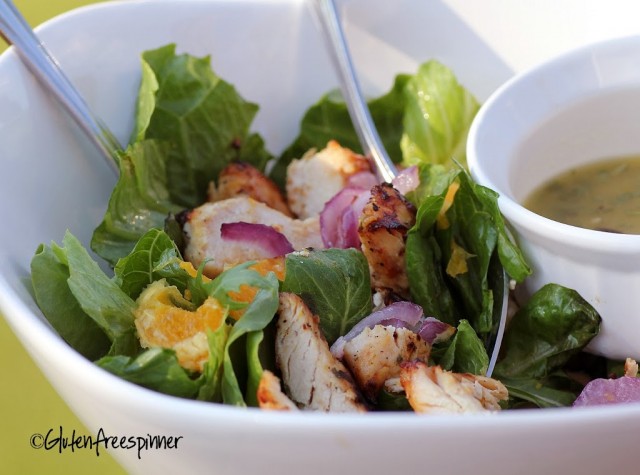 Grilled Chicken with Orange and Rosemary…
And a little Secret
One warm Wednesday night as I enjoyed
my Pinot Grigio and Mr. Spinner his G&T, my neighbor strolls over with a beautiful summer salad to share with us. Having
a gluten intolerance makes it even more special when someone cooks for us! Her first words were, "it's all gluten free…enjoy". And oh did we!
Sitting on the front porch talking about our day over a cocktail is a daily ritual for Mr. Spinner and I. Just an hour…with just each other…to recap and regroup before putting

dinner on the table. Its a 'secret' I learned from one of my best friends whose family I grew up with, and whose parents I always admired.
My friend told me that she and her four siblings grew up knowing that for one hour each day when their dad came home from work, it was her mom and dads time to sit together…without interruption…so they could catch up on their day and reconnect with each other. It was their time, and it was respected. What a wonderful gift to give each other…and even more, what a wonderful gift to give your children.
Even though my friend and I had been BFF's for over 30 years, I first learned of the secret the first year I was married to Mr. Spinner. The kids were 13 and 15 and in my eyes, it didn't matter when it started, it was a great addition to our life together.
To start this new tradition in our home, my first idea was to create a warm space for us to 'hang' together each evening…one that would invite togetherness and allow a little privacy from the kids. I chose the front living room which featured a huge leather sectional that no-one ever sat in. What a waste of a room! So I listed every piece of furniture on Craigs List with the goal of purchasing two club chairs and a small side table. Just two chairs…that's it…just for us. (tee-hee).
The furniture sold quickly and I made $500 to furnish my new room…my new Secret room. Being thrifty and creative I was able to furnish the room with two chairs, a little table, a floor lamp, a wine rack, and an area rug to create even more intimacy…for just two people. I painted the walls a warm color (I think it was called "britches") as it was a pretty big room for two chairs. I even found the pictures of the finished project (a little dated).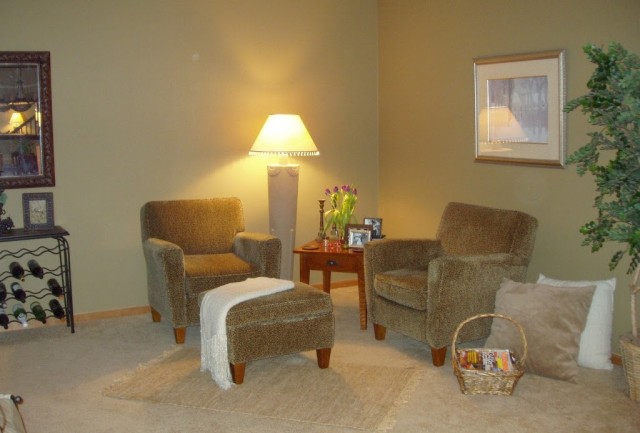 It was perfect, and Mr. Spinner loved both the idea and the room, and the benefits were life-changing.
Just looking at the picture today brings back such good memories of time spent in our special room.
It's been 11 years and we've since moved from that home, but the Secret remains wherever we are at 5:00 pm each day. You don't need a special room…that was just my idea to introduce the Secret to our family. For me I learned second hand through my friend, but I'm most grateful to pass it along to my children, first hand this time…as they learned and lived the Secret we added to our marriage.
Cheers to my BFF and her amazing parents. Thank you for passing along your 'Secret'.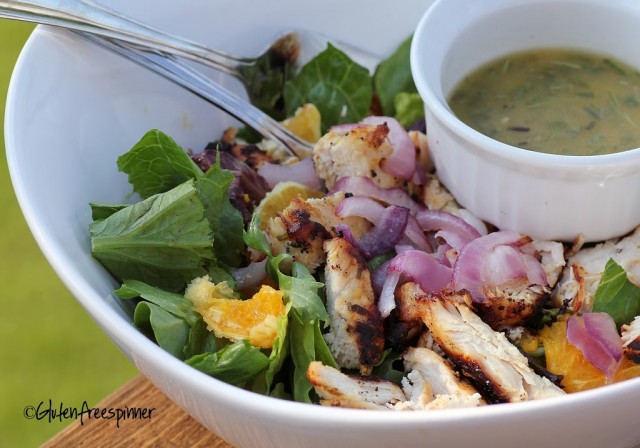 Now about that salad my neighbor brought over, it was fresh and light with a mixture of leafy green lettuce and perfectly grilled chicken donning caramelized grill marks. Grilled red onions and orange segments were laced into the salad giving it bright summer color against the square white porcelain bowl. As always, it was beautifully presented. She has a way, that neighbor of mine, of making everything look beautiful.
The pictures were taken exactly as she brought it, the dressing gently placed in the bowl just waiting for us to dive-in fork first. It was fantastic and I asked if I could share it with you…
XO
Ingredients:
Serves 4| Hands-On Time: 20m| Total Time: 1hr 30m
2 navel oranges

3 tablespoons fresh lemon juice

kosher salt and pepper

3 cloves garlic, thinly sliced

2 tablespoons chopped fresh rosemary

1/4 cup olive oil, plus 1 teaspoon

1 1/2 pounds chicken (boneless breasts)

1 large red onion, sliced into 1/4-inch rings

1 head green leaf lettuce, torn into pieces
Directions
Grate 1/2 teaspoon of zest from 1 orange into a large mixing bowl. Squeeze in 1/3 cup of orange juice. Stir in the lemon juice, 3/4 teaspoon salt, 1/2 teaspoon pepper, the garlic, rosemary, and 1/4 cup of the oil. Reserve 1/4 cup of the dressing. Add the chicken to the bowl, cover, and refrigerate for 30 minutes. (Jackie marinated hers overnight)
Heat grill to medium. Place the chicken, over indirect heat and cook, covered, for 35 minutes. Turn the chicken and cook, uncovered, over direct heat, until cooked through, about 10 minutes
Meanwhile, brush the onion with the remaining oil and season with 1/4 teaspoon salt and 1/4 teaspoon pepper. Grill until tender, 8 minutes. Peel the remaining orange and slice into 1/4-inch-thick rounds. Combine them with the onion, lettuce, and reserved dressing in a bowl. Transfer to individual plates. Serve with the chicken.