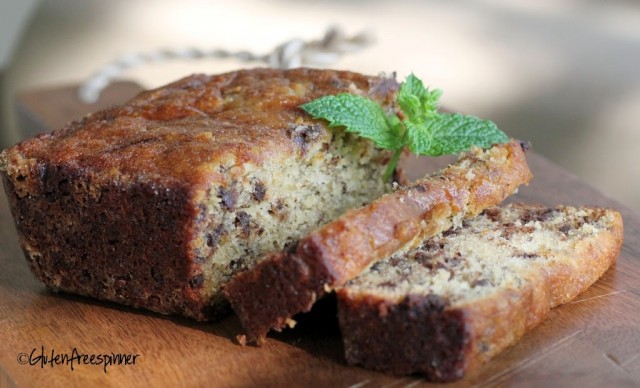 My Best Banana Choc Chip Bread Ever
I revisited my chocolate chip banana bread recipe and am excited to share it with you as it's the best ever!
I was thrilled to serve it to friends and be challenged that it was gluten free…that's success! The crumb was perfect and it stayed moist and delicious for days. The best way to store is to wrap each loaf in parchment paper first, then in plastic wrap. This keeps the outer crust nice and crisp while the inside stays moist and tender.
I didn't have buttermilk so I used a substitution of half and half mixed with vinegar and lemon juice. I honestly think it was better, but you certainly can use buttermilk if you have it. If your banana's aren't quite ripe enough, I've had luck microwaving them 30-60 seconds to soften .
½ cup butter, softened

½ cup white sugar

½ cup brown sugar

2 eggs, slightly beaten

2 over-ripened bananas, mashed (about 1 cup)

½ cup half and half mixed with 2 tsp white vinegar and 1 tsp lemon juice (our use ½ cup buttermilk)

1 tsp vanilla

1 ½ cups Pamela's gluten free baking mix

½ cup sweet white sorghum flour

1 tsp baking soda

1 tsp baking powder

½ tsp salt

1 cup mini chocolate chips
Directions
Preheat oven to 350 degrees. Prepare two 8 ½ x 4 ½ inch loaf pans by spraying with non-stick spray. Sprinkle lightly with sugar. Set aside.

Cream the butter and both sugars together. Add the 2 eggs and beat for 2 minutes until it becomes fluffy. Add the mashed bananas, half and half mixture, and vanilla and mix just until blended.

In a separate bowl, combine the baking mix, sorghum flour, baking soda, baking powder, and salt. Fold the dry mixture into the butter mixture until all combined…don't over mix. Add the mini chocolate chips.
Divide the batter between the two prepared loaf pans and bake in 350 degree oven for 38-42 minutes or until toothpick comes clean. Allow to cool in pan for 10 minutes before inverting onto cooling racks and cool completely. Store wrapped in parchment paper, then plastic wrap.