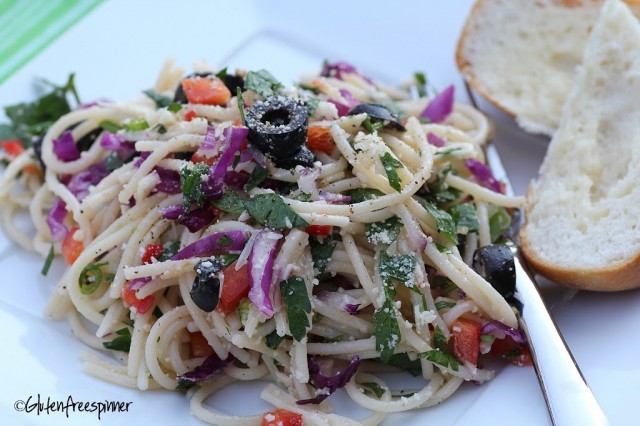 I've been making this Marco Polo Salad for years and it's one of my kids' favorites…but I totally forgot about it until a good friend called to ask for the recipe. By switching out just one ingredient, the noodles, it was easily converted to gluten free and I was able to add back another family favorite.
I also found another reeeeally good brand of gluten free noodles that might just be my new favorite. Heartland gluten free spaghetti noodles…they are the most similar to semolina spaghetti I've yet to find.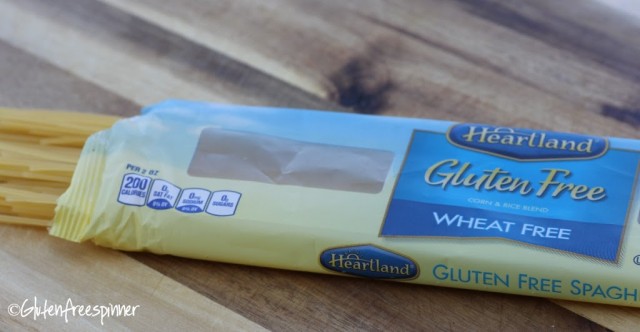 The key to making these noodles the best they can be is continually stirring them once added to boiling water. They are consistently good with a tender bite and the creamy white color is a welcomed change from the sometimes yellow or grey gluten free noodle. The water does get very starchy, so be sure to rinse the noodles well once cooked.
My Marco Polo Salad boasts the fresh flavors of red cabbage, Italian parsley, red onion, Swiss cheese, red peppers, green onions, black olives, and Parmesan. The Swiss cheese adds a sweet-nutty flavor to the fresh vegetables and the recipe's classic dressing of Robusto Italian by Wish Bone (designated gluten-free) adds a wonderful zippy burst of flavor.
The original recipe calls for chunk white chicken in the salad, which definitely makes it heartier for a meal. But today I made it without and it was wonderfully light and perfect for lunch. Either way, it's another old-time favorite added back into my menu rotation and I couldn't be more excited to share it with you. Yipppeee!!
Ingredients:

1 (12 oz) pkg gluten free spaghetti noodles

Wish Bone Brand Robusto Italian Dressing to taste

1 cup cooked chunk or shredded white chicken breast (optional)

1 cup red cabbage finely shredded

1 small can sliced black olives, drained

1 cup shredded Swiss cheese

1/4 cup chopped red onion

1/4 cup chopped green onions

1/2 cup diced red bell pepper

1/3 cup fresh chopped Italian parsley

1/3 cup fresh shredded Parmesean cheese

Lemon Pepper

to taste

Grated Parmesean cheese to taste
Directions:
Cook the noodles in rapidly boiling salted water, stirring continuously until tender (see package directions for times). Rinse with cold water and drain well. In a large bowl, toss the cooked noodles together with about 1/4 cup of the dressing.
Add the remaining ingredients and toss to combine. Add more dressing to taste and sprinkle with grated Parmesan cheese and fresh black pepper. The salad is ready to eat or can be covered with plastic wrap and chilled until served. If you are serving the salad later, check for additional dressing as needed. The salad stores well for a day or two.