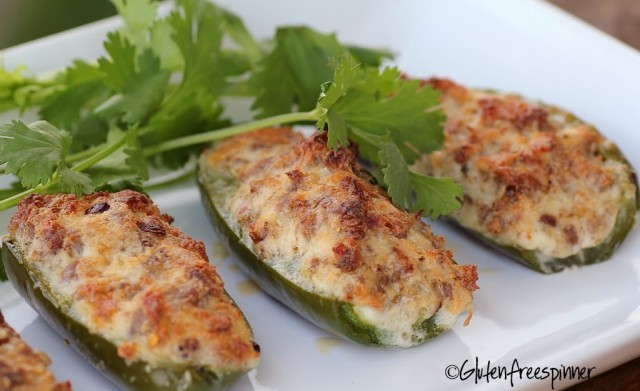 This has been my 'go-to' appetizer this summer as it's received with oooh's and ahhh's every time…and it's easy!
A friend gave this recipe to me who got it from her sister-in-law who got it from…well, let's just say it's one of those great recipes that travels the network chain quickly. And there's good reason why.
Cream cheese, hot spicy sausage, and jalapeno boats baked or grilled to a bubbly finish. And, you can make them ahead of time! I added my spinn to the original recipe (of course) by combining onions, garlic powder, and shredded cheese to the mixture before stuffing the
peppers.
Jalapeno Poppers…delicious, easy, cheesy, spicy, flavorful, and always a crowd pleaser.
Ingredients:
15 large or 20 medium Jalepeno peppers, cut in half lengthwise, cored and seeded

1 pkg. Jimmy Dean Hot Sausage (or your favorite GF spicy sausage)

1 cup chopped onions

1 (8 oz) pkg 1/3 less fat cream cheese

1/2 cup shredded co-jack cheese (or your preferred blend)

1/3 cup grated Parmesan cheese

2 tsp garlic powder

Optional: Serve with ranch dressing
Preheat oven to 425 degrees or heat grill on high.
Brown the sausage in large skillet over medium high heat for 8-10 minutes, breaking the sausage into small crumbles as it cooks. Drain off the grease then add the onions and saute until the onions lightly brown and become tender. Reduce the heat to medium-low and add the cream cheese, co-jack cheese, Parmesan cheese, and garlic powder. As the cheeses melt, stir to combine the mixture and turn off heat.
Arrange the prepared jalapeno boats on a parchment paper lined baking sheet and fill each boat with the mixture, pressing into pepper and mounding to create a rounded popper.
Bake in a preheated 425 degree oven for 10-18 minutes, depending on size of peppers. We like ours really browned so I bake them 18 minutes and sometimes broil the tops a little to get even crisper. You can also grill them on a grilling pan, but be careful with the filling oozing onto the grill creating flames. Just keep a close eye.
It's optional to serve with ranch dressing for dripping which creates a nice 'cooling' affect. Yummm!!