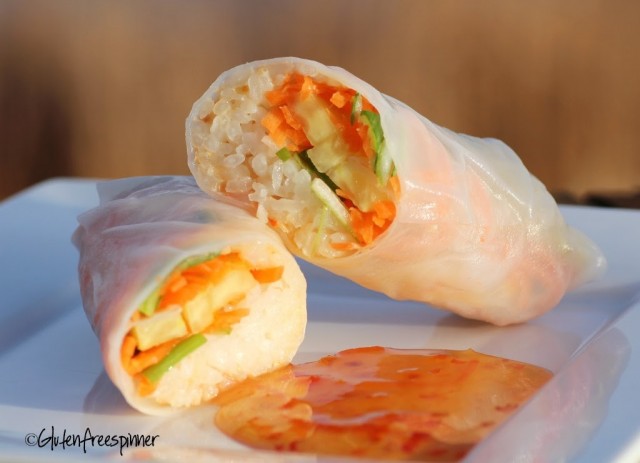 I've been making Spring Rolls of every variety lately, and I'm having fun doing it. Once you start making them you'll think of all the fresh veggies, seafood, meats and herbs you can add to make another variation. I've been bringing them to parties for an appetizer and they are always well received, which is also where I first learned of fresh spring rolls. Last year a good friend of mine brought them to the snowshoe party Mr. Spinner and I hosted because she wanted to bring something gluten free. They were beautiful….and delicious, and I was touched by her thoughtfulness to take the time to make them. After that I added them to my list of "must learn how"… and now I'm addicted!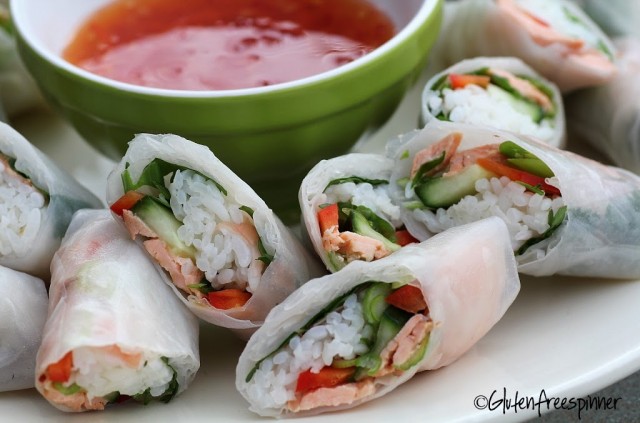 For the last party I brought two kinds, salmon and crab, and the party before it was veggie and shrimp, which are my favorite.
The picture above is of the salmon rolls and I used cooked salmon unlike sushi where you use raw. The pink salmon was so pretty against the green veggies and white sticky rice.
One of the reasons spring rolls are great for parties is when you cut them in half you get double the appetizer and they go a long way. But mostly I love how showy these little morsels are and how crisp and flavorful each variety is. For an extra punch of flavor, I add a sweet-sour dipping sauce which also looks beautiful on the platter. I've been using Pantai Sweetened Chili Sauce and it's a great find. Look in the Asian section of your market. It's gluten free of course, which isn't always easy to find in a purchased sauce. It's flavorful with bits of orange rind and red chili peppers and not too sweet. Make sure to read the ingredients as there are two versions of this sauce…one has modified corn starch…that's the one you want (not modified starch). Here's a review I found on this product.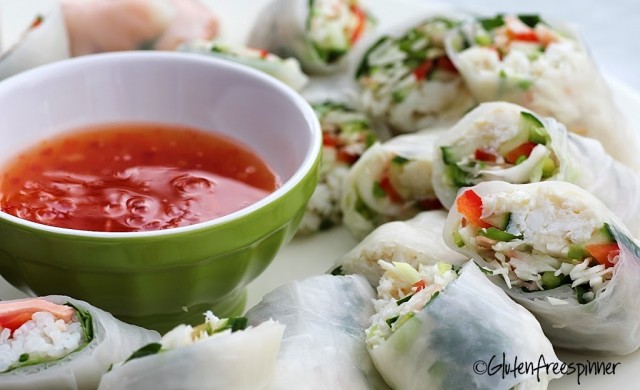 These are the crab spring rolls…be sure to use quality crab meat as the flavors need to be bright and fresh like the other ingredients in the spring roll. Remember, half the draw to these delicious little rolls of goodness is the fresh, crisp, flavorful ingredients. (Do not use imitation crab…it's full of gluten.)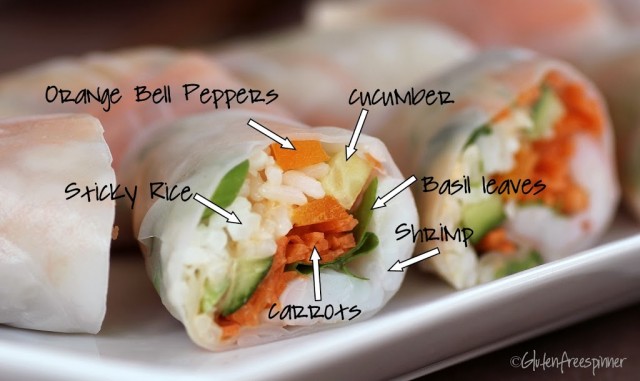 I thought it would be fun to point out the ingredients for both the Shrimp Spring Rolls and the Crab Spring Rolls just to give an idea of the many options you can add and how they look when cut.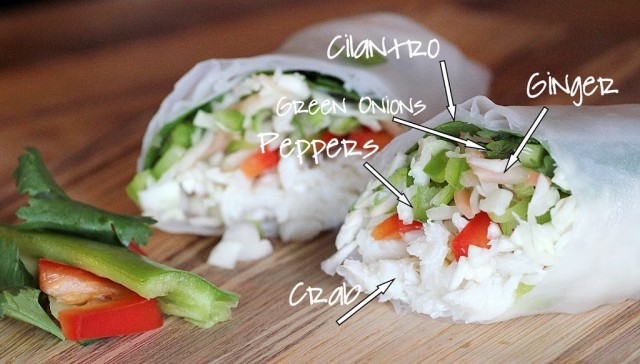 Basically you can use any combination of fresh ingredients. I've made chicken spring rolls too using avocado, angel hair cabbage, peppers and green onions. I poached the chicken then shredded it, but you could use thin slices for a more traditional "rolled" look.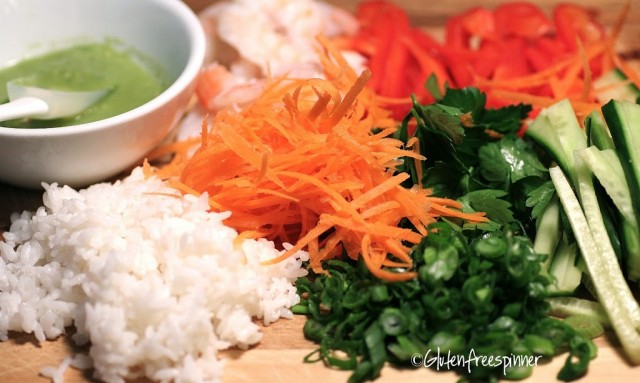 When I first bought the rice paper (Asian section of market) I had no idea how to make Fresh Spring Rolls so I watched a few video's to learn more. My favorite was a simple basic video that showed the process of using warm tap water to soak the rice paper (10 seconds) then transferring to a dinner plate to assemble and roll. Easy…no fuss…I'm all over that. Here's the video .
(Just ignore the noodle part unless you plan to use noodles)
Oh…and of course when I went back to find this exact video, I had to watch another 30 just to find it! Hahaha…now I'm a spring roll making expert!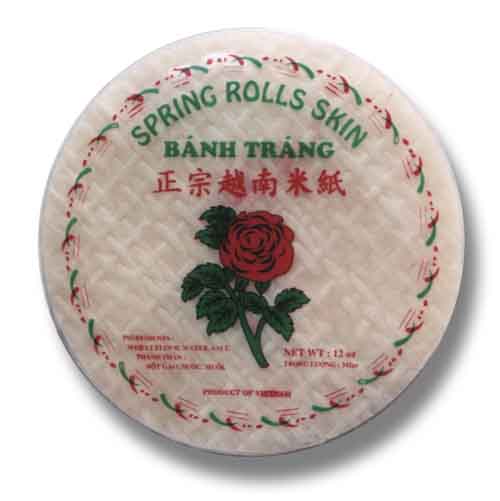 The best advice I can give after making so many is to have all your ingredients prepared, washed, chopped, julienned, and cooked (if meat or seafood is involved) and lay them all out on a cutting board (like my picture above) for easy access when rolling. The green sauce in the little white bowl was an avocado sauce for one of my shrimp rolls. I mashed avocado, lime, and a little water until salsa consistency then drizzled just a tiny bit on the shrimp before rolling up. It's not traditional in a spring roll, but like I said, I spunn quite a few variations…all wonderfully different and delicious. Have fun with it…
The rolling part was super easy, just be sure not to fill them too full or they will break through the rice paper. It's also important to layer the ingredients in a way they will show best when rolled and cut. I always started with a green leaf (cilantro or basil) then my protein, then the sticky rice (I didn't use noodles but they are more traditional…give it a try), and lastly the veggies. When making the shrimp rolls, I started with the shrimp so it showcased against the wrapping. You can also add the shrimp after the first tuck of the wrapper to make sure it's visible. Play around a bit…you'll need to practice a few to get the size and layering as you like it. But be careful, you'll find yourself eating the first ones that don't look as pretty…I was so full before I even got to the party! Hehe.
After you get a few done and they are all lined up, it's fun to look at the tightly wrapped little packages you just made. The different colored veggies and herbs are visible through the transparent wrapping tempting you to look inside. I covered them with saran wrap and kept in the refrigerator until I was ready to cut and place on a serving tray with the dipping sauce. I also kept three whole rolls for the next day's lunch…what a treat. And the best part is knowing everything inside those little packages is gluten free, healthy, safe, and deeeelicious!
On a side note…be very careful when purchasing pre-made spring rolls at grocers and restaurants…always ask if they are gluten free. Many places use imitation crab (which is not gluten free) or other ingredients that might not be safe. Also, the sauces are a red flag, always ask and read ingredients. Spring rolls taste best and are safest when you make your own.
Rice papers

Warm water in a shallow bowl

Basil, cilantro, leaf lettuce, or other green

Ginger – I like to use the Sushi Ginger found in the Asian section – its pickled

Julienned carrots

Sticky white rice, cooked and cooled (you can also find this pre cooked for ease and I tried the Annie Chun's which was great…such a time saver!)

Julienned English cucumbers with skin on

Variety of thin sliced bell peppers

Green onions, sliced at an angle

Protein if using: (always allow to cool before using)

Shrimp – cooked, deveined, tails removed, butterflied or sliced in half lengthwise

Chicken – shredded or thinly sliced

Salmon – poached, baked, or grilled then flaked in to long pieces

Crab – lump or special flaked – always use the best as crab can be strong

Many other options!
Dipping Sauce of choice (peanut or sweet chili sauce are good options)
Method:
Prepare all your ingredients and lay-out in piles in front of your work space. Fill a shallow bowl with warm water and have a dinner plate or cutting board ready next to the bowl. Place one piece of rice paper into the warm water and allow it to soften for 10 seconds. The idea is to soften the wrapper, not to make it mushy…the 10 seconds seems to be a perfect measure.
Shake the excess water out of the wrapper and place on the plate (board). Gently straighten the wrapper out, unfolding any areas that overlap. Starting at the end closest to you, add your ingredients starting with a green (basil leaf, lettuce, cilantro, etc). Next add your protein of choice if using, then add about a Tbsp of sticky rice that you've roughly formed into a long clump rather than a ball. Next top with the peppers, carrots, cucumbers, onions, etc.
Pull the bottom of the wrapper up over the layered ingredients and hold there. Then take the right side of the wrapper and fold over to the middle, then the left side, then continue to roll to the end. The wrapper will stick to itself to seal. Place on a glass dish and continue with the remaining spring rolls. I changed the water between two rolls to keep it warm…
When you are finished with all that you plan to make, place plastic wrap over the top and keep in the refrigerator until ready to serve. Place the remaining rice paper wrappers in a resealable bag for the next batch.
When ready to serve, slice each spring roll at an angle in half and place on a platter facing up to showcase the inside. Place a bowl of dipping sauce in the middle. Waaaalaaaa!