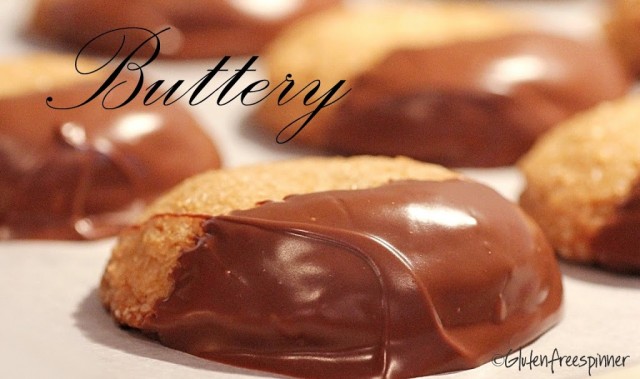 Chocolate Dipped Butter Cookies
An old-time favorite butter cookie dipped in chocolate…deeeelish.
Every so often I'll rummage through my box of old recipes for inspiration.  Most often the main dish/side dish/soups and salads recipes are easy to convert to gluten free, but the baking ones require experimentation and patience while changing the flours, fats, leavening agents, and liquids.  This old recipe for 'Butter Balls' took a few batches of adjusting before the results were achieved, but now I have another easy gluten free cookie option.  Always worth the effort.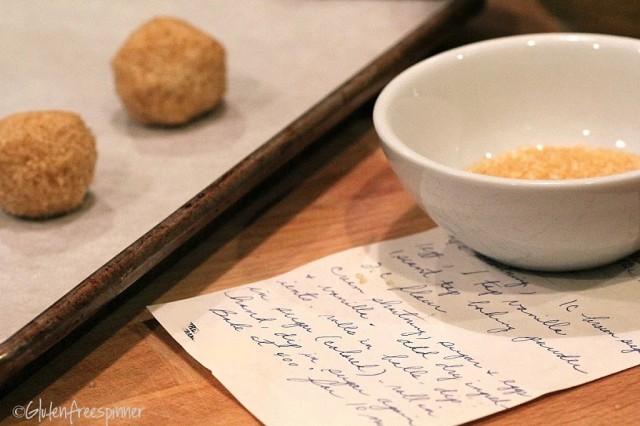 This is a handed-down family recipe called 'Butter Balls', however when I followed the recipe using a gluten free all purpose flour cup-for-cup, the balls turned into flat discs.  I should have known when rolling them as the batter seemed pretty sticky.  I added a few additional Tbsp of flour, baked a couple, and continued until I got the puffed result you see…which was an extra 1/2 cup.  They're more like puffs than balls, and I was pleased with the texture and taste.  I suppose more flour might retain the ball form, however the compromise might be a tough, crumbly, hard cookie.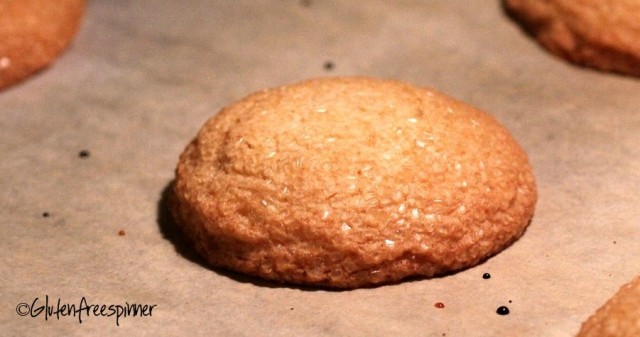 As I followed along the handwritten directions, I couldn't help think about the 'written' form of this recipe…it's in cursive.  My daughter is an elementary teacher and I learned last year that it's no longer a requirement to teach cursive in our schools, it's now just an option and most schools have chosen not to.  I was shocked…really.  I mean, how can you just not teach a form of communication?  She explained that with computers (emails, phones, text, etc.) we no longer use cursive…therefore no longer need to learn how to 'write' in cursive.  And honestly, I didn't have a good come-back…I couldn't argue the point.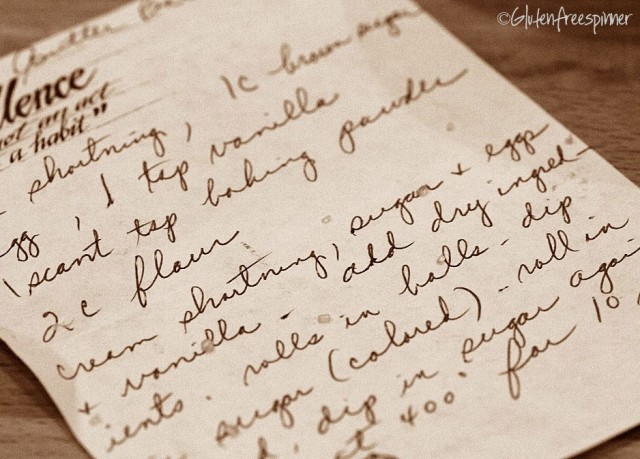 But for someone who has journaled for years…it feels like a lost art or something.  Think about it, in 10 years the kids won't even know how to read a letter that is handwritten!  Weird.  Or what about old family recipes like this one for butter balls…eventually no one will be able to read them?  Not liking it.  Officially old.
Ok, enough ranting…back to my cookies.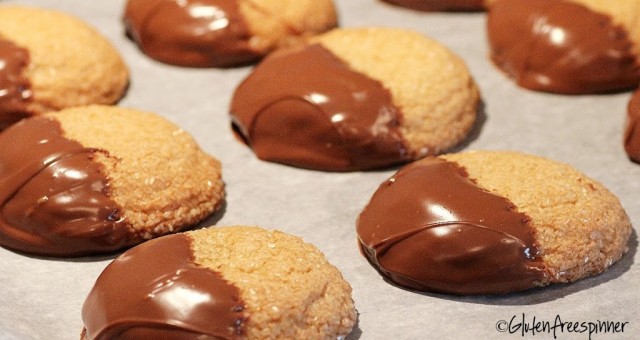 These puffed butter cookies are crisp on the outside and soft-n-chewy on the inside.  They are buttery and sweet, and by changing the sugar from powdered to turbinado sugar (sugar in the raw), the little glimmering crystals added a delicate crunch.  For the final 'taadaa' I dipped half the cookie in chocolate and allowed it to harden.  Ohhhh, my.  Buttery cookies and chocolate.  Let's just say I had a sugar high by the time they were cool.  Yum.This post is linked to
gfe's Gluten-Free Wednesdays
Ingredients:
3/4 cup butter, softened
1 cup brown sugar
1 egg
1 tsp vanilla extract
3/4 tsp baking powder
2 1/2 cups all purpose gluten free flour **
1/2 cup Turbinado sugar (sugar in the raw)
(Dipping chocolate below recipe)
** I used Gluten Free Pantry all purpose flour which has white rice flour, potato starch, tapioca starch, guar gum, and salt.  Be sure to add either guar gum or xanthan gum (1/2 tsp per cup) if you make your own AP flour or if your brand doesn't have it included.  I have a go-to gluten free all purpose flour blend that has proven excellent in baking.
Directions:
Preheat oven to 400 degrees.  Line a large baking sheet with parchment paper.
Combine the flour and baking powder (and guar gum if you are adding) and set aside.  In a large glass bowl cream the butter, sugar, eggs, and vanilla with electric mixer until creamy and blended.  Add the flour mixture to the butter mixture and blend until thoroughly combined.
Roll 1 tsp of the dough into a ball and roll in the turbinado sugar. Set on prepared baking sheet 2″ apart.  Bake 400 degrees for 10 minutes.  Remove from oven and allow to cool 2-3 minutes before transferring to cooling rack.
When all cookies are baked and cooled, prepare the dipping chocolate.
Chocolate for Dipping:
10 oz bag of Hershey's chocolate chips (or other gluten free choc chip)
1 Tbsp shortening (don't use butter, margarine or oil…it won't work)
Place chocolate chips and shortening in small microwave-safe bowl. Microwave at MEDIUM (50%) for 1 minute, stir, return to microwave for 30 seconds or just until chips are melted and mixture is smooth when stirred.  Don't over-heat…just until melted.
Dip half the cookie in the chocolate and place on parchment lined baking sheet to cool and harden.  When chocolate has hardened, store in air-tight containers or zip-lock bags.  These cookies keep well for a week if kept in closed container.