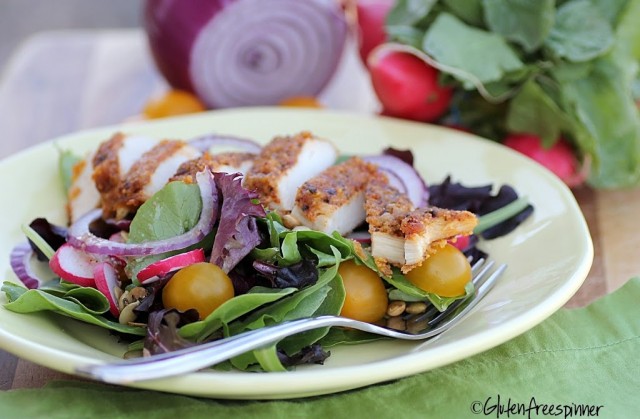 Spring Mix Salad with Chicken Cutlet
Easy, light, fresh, and flavorful….I could eat this every night.
I love Spring…my favorite season of all. Open your windows, close your eyes, and take it all in…just listen. The whistling wind between the barely budding branches, the flock of geese high above waiting to claim their pond, or the songbirds rejoicing in the newly filled feeder

that sways back and forth in the sunshine. Chick-a-dee's, cardinals, nuthatches…and my favorite, the yellow finch, with his brilliant gold feathers turning brighter each day. Maybe he's my favorite because of the intensity in his song…the high-pitch piercing 'tweet-tweeeeeeet' that he sings with delight truly makes me smile . It's the simple things.
And now, after a season of windows sealed tight and the hurried trips between the house and the car rushing to avoid the chill of winter, we welcome the gentle breeze of Spring.
My Spring Mix Salad with Chicken Cutlet is quick, easy, and bursting with Spring-time flavors. A simple salad of baby greens, radishes, golden baby tomatoes, red onion rings, and pepitas are tossed with my favorite vinaigrette then topped with a lightly coated chicken cutlet. The chicken is super easy and doesn't require flour or egg in the coating…just a light crisp layer of goodness which is also easy on the waistline. It takes just minutes and is deliciously light and flavorful.
Chicken:
Two boneless skinless chicken breasts trimmed of fat and cut lengthwise in half (to make 4 thin cutlets)

Favorite seasoning salt or lemon pepper

2 cups finely crushed Gluten Free Rice Chex

1/4 cup Grated Parmesan cheese

Olive oil
Spring Green Mix (organic baby greens)

Radishes washed and sliced thin

Baby golden tomatoes cut in half

Red onion cut into thin rings

Pepitas or pine nuts
½ cup olive oil

2 tsp minced red onion

1 Tbsp grated parmesan

1 tsp fine sea salt

1 tsp Worcestershire sauce

Dash of Dijon mustard

½ tsp dried basil

½ tsp dried oregano

2-3 tsp honey (to taste)

½ tsp fresh ground black pepper

¼ cup red wine vinegar

1 Tbsp lemon juice
Combine all Vinaigrette ingredients and shake well. Store in refrigerator.
Preheat oven to 350 degrees.
To prepare the chicken breasts, cut them lengthwise – through the entire breast, making two thin cutlets out of each breasts, giving you four cutlets. Season each cutlet with seasoning salt on both sides. Set aside.
In a medium sized shallow bowl toss the crushed Rice Chex and Parmesan cheese to combine. Press the cutlets into the coating, pressing it into both sides to adhere. Set aside on a plate or baking sheet. Continue with remaining cutlets. Lightly drizzle olive oil over the top of the cutlets…not too much. You can do this step ahead of time and refrigerate the coated cutlets until ready to prepare.
In a large oven-proof skillet heat 1-2 Tbsp olive oil. Place all four cutlets in the hot oil and sear for 2 minutes or until the underside is nicely browned. Turn and cook the other side for 2 minutes. Place the pan in preheated 350 oven for 8 minutes. Remove and set aside to cool for 5-7 minutes.
Toss the salad ingredients together and lightly dress with the vinaigrette dressing. To serve, place the greens on each plate and top with either a whole cutlet or slice each one before topping salad.
Enjoy!!