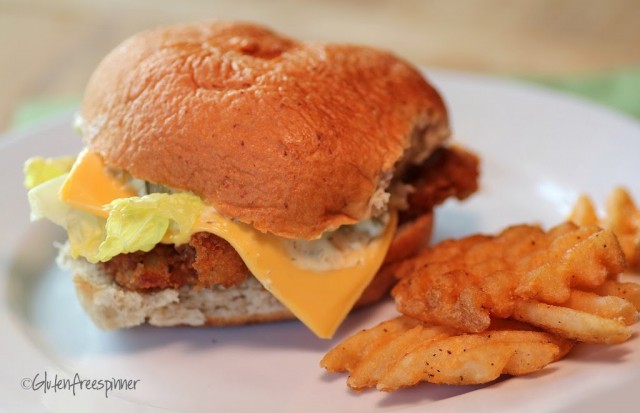 Never having been a fast-food junkie, there isn't much I miss in that regard. But there is a sandwich I use to order this time of year that I loved…the Fillet-O-Fish at McDonalds. It's hard to even write those words because I just don't eat that type of food…it's fried, it's more calories than I want to learn of, and I don't even know what the 'fish' was inside the bun. Regardless…I really liked that sandwich and I admit…I miss it.
Ironically, when I searched for the McDonald's link to attach to this post, a site popped up called Fast Food Geek…ohhh my…they REALLY dislike the McDonald's Fillet-O-Fish! I was laughing as I read because some of their points were so true! But even they admit it's "a cult legend…on every menu around the world…that it must have mythical properties.
"
Well last week when Udi's sent me a pack of their burger buns to try along with a giveaway, I knew one of the sandwiches I was going to make was the fillet-o-fish.
That sandwich was all about the bun…at least for me…soft, steamed, fluffy, tender, delicious…bun. It's what I remember most. And now, right in front of me…was a real bun, an Udi's bun, and it was even whole grain!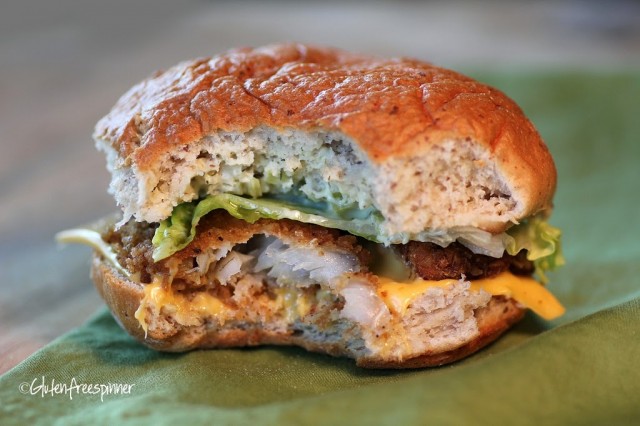 Just look at it! Yummm, right? See the moist, airy, fluff? See the grains?
It….was…sooo….good! And, c'mon…it looks even better than the McD's…yes? And it was. Better for you and better tasting.
And now lets talk about the fish. With Mr. Spinner being an avid fisherman, we love fried fish at our house. Our most loved fried fish recipe isn't a batter, it's a cracker crumb. Our traditional recipe uses Saltine crackers, and we leave the crumb a little course. Since Saltine Crackers are no longer on my list of can-have's, my gluten free cracker choice is Schar's Table Cracker.
This cracker is most like a saltine as it's very light, airy, and crumbs easily….in fact it's a difficult cracker to serve with a cheese tray as it tends to fall apart before you have a chance to serve. But they are perfect for this recipe.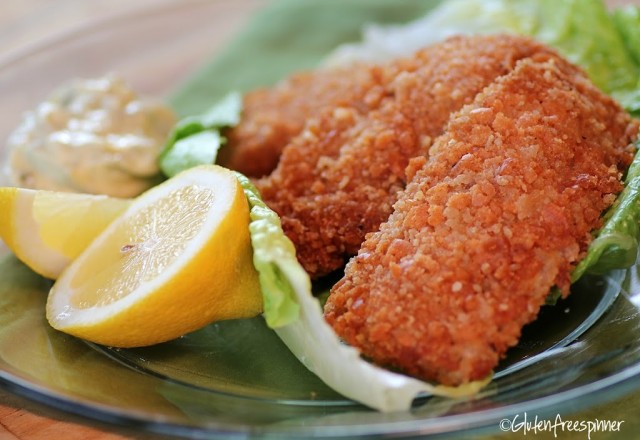 Most often we eat our fish just as you see it…without a bun. A little tarter sauce and we're good to go. But this fried fish was also perfect for my Fillet-O-Fish sandwich. The outer crust is so crisp and crunchy, and because of the fryer we use, there's not an ounce of grease left on the fish. We've been frying fish for years and have found THE fryer you must have if you want grease-less frying. It's the Hamilton Beach Deep Fryer, and it's proven the best of any we've tried. There's a basket for lowering and lifting the fish, and it fries so fast and hot that the grease doesn't penetrate the fish. The other key is using Peanut Oil for frying…a little more expensive but worth it. You can even enjoy your leftover fried fish the next day because it stays light without a greasy residue…perfect for a Fillet-O-Fish Sandwich.
(This is a no-recipe recipe…it all depends on how much fish you are frying and the size of fillet's. I listed the basic measurements…adjust for your particulars.)
Fillet-O-Fish Sandwich or Fried Fish Dinner
Skinless boneless fish fillet's, rinsed and patted dry with paper towels (we use crappies or walleye)

Table seasoning of choice (we like Emeril Essence or Lemon Pepper is good too)

White Rice Flour, lightly seasoned (only need about 1/4 cup for 6 fillets)

eggs, beaten with a touch of water added (about two eggs for every 6-8 fillets)

Cracker crumbs crushed to a coarse crumb (2-3 of the individual pkgs)

Salt and Pepper

Peanut oil for frying
For the sandwich:
Udi's Gluten Free buns

Cheese slices

Lettuce leaves
Tarter Sauce (My recipe follows – Best Tarter Sauce ever!)
Directions:
Make a dredging station – three medium sized shallow bowls lined in a row in this order:
(1st) Rice Flour (2nd) Egg wash (3rd) Cracker Crumbs
Lightly season the fish with your choice of seasoning – not too much as fish is delicate. You will season again once fried.
First…dredge one fillet in the rice flour and shake off excess.
Second…dip fillet in the egg wash.
Third…coat with the cracker crumbs, pressing to adhere.
Set the prepared fish on a plate or baking sheet while you continue with the remaining fillets. ** You can also do this process ahead of time and cover with plastic wrap and store in refrigerator until ready to fry.
Heat the peanut oil in your fryer until it comes up to temperature of 350 degrees.
Add one or two prepared fillet's at a time to the hot oil, depending on size (don't overcrowd) fry for three minutes and remove to a paper towel lined plate. Season immediately with salt and pepper. Continue with remaining fillet's,
keeping the cooked fillet's warm in 170 degree oven – uncovered to keep crisp – or serve in batches. Serve with tarter sauce.
For the Fillet-O-Fish Sandwich: First, steam your bun as follows: Sprinkle just a slight bit of water on a paper towel and wrap around the bun. Microwave on high for 8-12 seconds only…checking after 8. Top the bun with a thin slice of cheese, a swipe of tarter sauce, one of the fish fillet's, and lettuce if you choose. YUM!
Tartar Sauce
½ cup mayonnaise (not miracle whip)

2 Tbsp dill pickle relish

1 tsp yellow mustard

1 tsp fresh lemon juice

1 tsp dill weed

1 Tbsp chopped red onion

1 tsp chopped fresh chives

½ tsp honey

¼ tsp onion powder

¼ tsp garlic powder
Mix all ingredients together and serve with the fish.