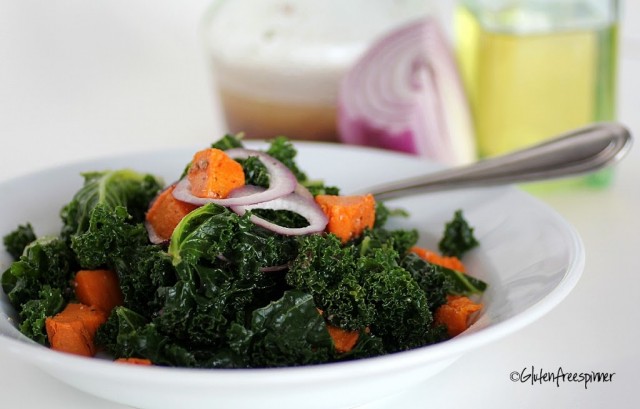 Blanched Kale with Sweet Potatoes
I found my new favorite way to eat Kale…blanched. Yum!
I've enjoyed kale raw in a salad, mixed into soups and stews for the nutrition factor, and I've even blended it into a smoothie. But I had never tried it blanched until yesterday and it's like a whole different animal.
This 'superfood', as it's been celebrated, is not only delicious, it's beautiful, especially when blanched. The color is rich and vibrant and the tightly rippled leaves hold their shape and texture creating a crisp and tender treat on it's own or as a salad.
I added a little chicken base to the water before I blanched the kale and it added a subtle seasoning, which made it ready to eat…needing nothing else. I could have eaten the entire bunch right there, but I saved it for today to make a salad. Even though it was blanched, the kale stayed crisp and tender. I simply added diced sweet potatoes and red onion rings then drizzled a light vinaigrette over all. Sooo good!
Another idea would be to add the warm sweet potatoes and red onions while the kale is still warm, then drizzle a little vinaigrette and serve it as a warm salad. That would be really good as well…hmmm, maybe even better.
The vinaigrette dressing recipe is from a good friend of mine. I added my own spinn to it, but the basic recipe is hers. Thanks A…its a keeper!
Enjoy!
6 cups water in a large stock pot

1 heaping tsp chicken base (I use Better Than Bouillon – GF and great flavor)

you can also use vegetable base to keep it vegetarian.

A bunch of Kale

, rinsed and shook dry, then rough chopped

1-2 sweet potatoes, cooked and peeled, cut into cubes

1/4 cup very thinly sliced red onion rings

Fresh ground black pepper
Vinaigrette
½ cup olive oil

2 tsp minced red onion

1 Tbsp grated parmesan

1 tsp fine sea salt

1 tsp Worcestershire sauce

Dash of Dijon mustard

½ tsp dried basil

½ tsp dried oregano

2-3 tsp honey (to taste)

½ tsp fresh ground black pepper

¼ cup red wine vinegar

1 Tbsp lemon juice
Combine all Vinaigrette ingredients and shake well. Store in refrigerator.
Heat the 6 cups of water and chicken base to a boil then add the prepared kale. With a wooden spoon, push the kale down into the water to submerge all. Loosely cover (leaving an opening for steam to escape) and allow to 'simmer' for 1-2 minutes. Remove one of the leaves and taste. It should be tender but still a little crisp. Allow 1 more minute if you feel it needs more…no more. Drain the kale and shake to remove excess moisture. (I don't rinse in cold water as I want the flavors to remain from the base.)
This is where you'll be tempted to eat the entire bunch of kale….it's sooo good! You can either add the sweet potatoes and onions now and drizzle with the vinaigrette and fresh pepper to serve as a warm salad or put a single piece of paper towel in the bottom of a glass bowl and add the kale on top, then cover tightly and refrigerate until needed….it's even good the next day. Optional to add chopped walnuts for a little crunch.