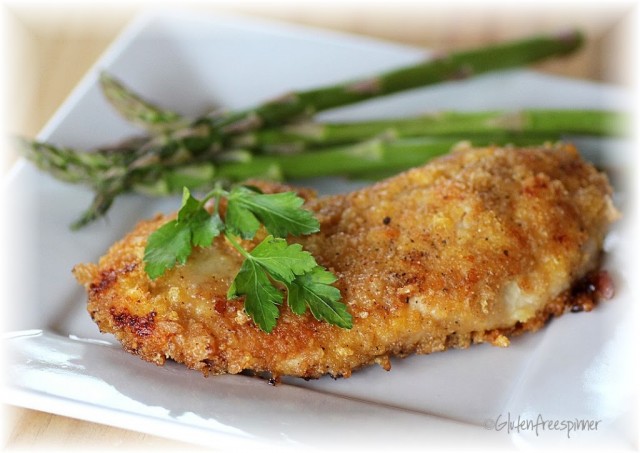 Looking for an easy weeknight meal? I was too, so I went to my old recipe file and pulled this one because it had

Really Good!!
written in bold letters. Ha! I guess we liked it.
This recipe called for Panko Crumbs (not gluten free) which explains the great rating we gave it. Panko crumbs give a wonderful crunch factor when used in breading. In my

pre-gluten free days we breaded fish, chicken, veggies, shrimp, and even topped casseroles with Panko to get that crunch. I've purchased a few gluten free bread crumb products claiming to be like Panko, but they didn't deliver the same crunch in my opinion.
Here goes….Rice Chex. Oh boy, they are a perfect replacement for Panko! Don't sub with the Corn Chex…not the same…it must be Rice Chex. Then I took this crusted chicken recipe a little further by adding another crunchy ingredient for flavor….
sweet onion flavored rings
by Cornfields Inc. (CostCo). They are baked and have 1/3 less calories than Funyuns. If you cannot find them, just substitute Funyuns…if you don't like the processed food factor, just skip them and add more Rice Chex (add a few seasonings like onion powder and a little salt). Then I added grated Parmesan…'of course' you say? Yep, it's my *secret* ingredient in so many recipes…it adds flavor like nothing else can.
Enough about the crust (well it IS called Crusty Chicken, right?). The next layer of flavor also adds moistness to the chicken…it's regular Miracle Whip.
Ok, it get's a bad rap…but c'mon, what would you do without Miracle Whip on a BLT? And all it really is is Mayo with a little vinegar, sugar, and seasonings….and you only use a 1/4 cup.
(Don't use the light Miracle Whip…it's not gluten free in my experience…perhaps they have re-formulated it…but check first). You brush it on the chicken then coat it with the crunchy crumbs. EASY and so delicious.
1 1/2 cups sweet onion flavored rings (Cornfields brand from Costco-baked for lower calories), crushed

1 1/2cups GF Rice Chex, crushed

2-3 Tbsp grated Parmesan

4 boneless skinless chicken breasts trimmed of any fat

Seasoning salt

¼ cup Miracle Whip Regular

Fresh ground black pepper
Preheat oven to 350 degrees
Combine the first three ingredients to create a crunchy coating and place in a shallow bowl. Season the prepared chicken breasts (both sides) with seasoning salt to taste. Brush the Miracle Whip over both sides of the chicken, evenly distributing between all the chicken. Press the breasts into the crumb mixture – both sides – to coat. Dust the tops with fresh ground black pepper. (At this point you can refrigerate the chicken covered with plastic wrap until ready to prepare.)
Heat olive oil and butter in a large oven-proof skillet until it's very hot. Add the chicken and sear until crispy golden brown, about 3 minutes. Turn to brown the other side, another 2 minutes. Transfer the pan to the preheated 350 oven for 24 minutes. Allow to cool for 5 minutes. Serve with favorite vegetable and rice or potatoes.