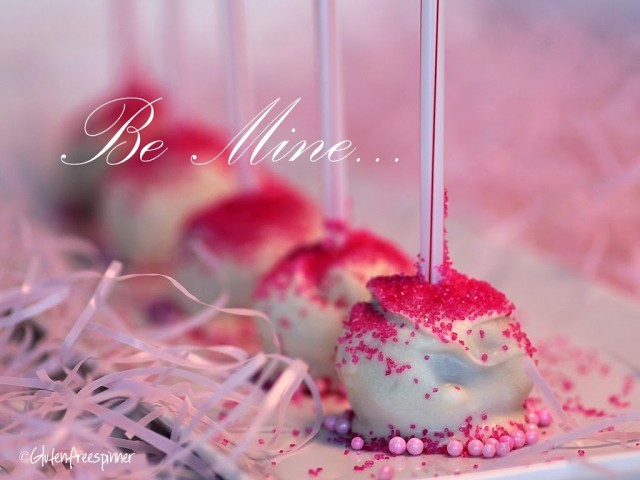 Cake Pop Bling
Sometimes unexpected happenings end up being wonderful surprises…as in my cake pops.
Working on my Valentine Dessert post (which I will post before Valentines Day) left me with cake cut-out pieces and I just couldn't see tossing them. I had spent hours in the kitchen creating my recipe for Vanilla Bean Cake Batter and wasn't about to let a single crumb go to

waste. Hmmm, what to do with these delicious leftover crumbs…hurry before I eat all of them! Dr. Google? Any ideas?
Ahh-ha…Cake Pop's. They topped the list of options and I was intrigued. Am I behind the times? Oh don't remind me that my kids are grown…which makes me older too…and if children's birthday parties were still on my radar I would have mastered these little bites by now. (I must need grandchildren…B and D…are you listening?)
The popularity and creativity of these cake pop's impressed me…look at this site . She literally has thousands of designs and examples of cake pops! Cartoon characters, holiday themed, sports, movies, party ideas, etc….and she links to others who have sent pictures of their creations as well. Read her story too…she tells how one post about Cake Pop's changed her life…good for her!! I love that! As for making the pop's, I used this site which lists the details and directions with step by step pictures. I liked that she showed the consistency of the 'dough' before rolling…someone could easily add too much frosting without it. They are so easy..
I didn't have the pop-sticks since this project wasnt' pre-planned so I cut straws in half and used those. They worked perfectly…but be careful not to make your pop-top's too big or it will be too heavy for the straw.
Don't use the microwave for melting your chocolate coating (or whichever coating you choose), use a double boiler (or bowl placed in a pan of water on stove) as you need the coating to stay warm-melted.
Be careful that your coating doesn't get too hot…it will start to melt the cake balls. Remove from the double boiler periodically.
My batter and frosting was from scratch, however there are many gluten free cake mixes and frostings to choose from. The only ready-mix I have tried is Betty Crocker's Devils Food that I've used for cupcakes, adding mayo for moistness….see my recipe here – EASY! The cake batter for these balls will be posted before valentines day.
Have fun! There are so many creative ways to decorate these treats…
I chose to add 'Bling' to my Cake Pop's and they are almost too pretty to eat…almost.