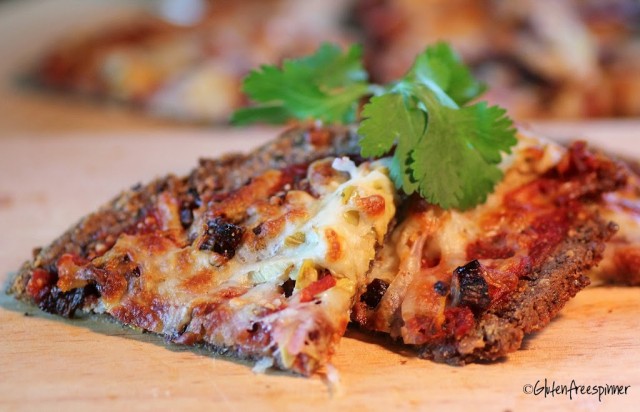 Artichoke Pizza with Aduki Bean Crust
Crispy crunchy crust that actually holds it's shape to eat like a real piece of pizza…no fork required! And the flavor of this crust is reeeeeeeally good!
One of my many "to do's" for Gluten Free Spinner 2012 was to make a really good pizza crust. Over the New Year Holiday Mr. Spinner and I spent time with good friends who own a resort near our cabin. They were taste-testing a new line of pizza for the resort. I watched as Mr. Spinner bit into this crispy, thin, light and tasty pizza crust and said, "this is the best crust I've had in years". My mouth was watering…that was a tough one. But never fear, it's inspiration for me.
Most of the gluten free pizza crusts I've tried have yeast in them, however they don't rise and they aren't stretchy or elastic like normal pizza dough, so what's the point? I decided to try a crust without the yeast and started researching "the best yeast-free pizza crust" to learn where to begin and which ingredients make the best crust. I came across a video from Shelley at This Primal Life who made a primal pizza crust with eggplant. It seems a very popular crust, however I'm not a huge fan of eggplant. But her method looked good so I tried it using different ingredients. The base of my crust was spinach and corn whereas her crust is eggplant and almond flour. It turned out well and I'd make it again; thin, crispy, no need for a fork…and it was healthy to boot. But it wasn't exactly what I was looking for. I wanted the crust a little thinner and more like a cracker.
Here's my spinach crust…I'll list the recipe below as well.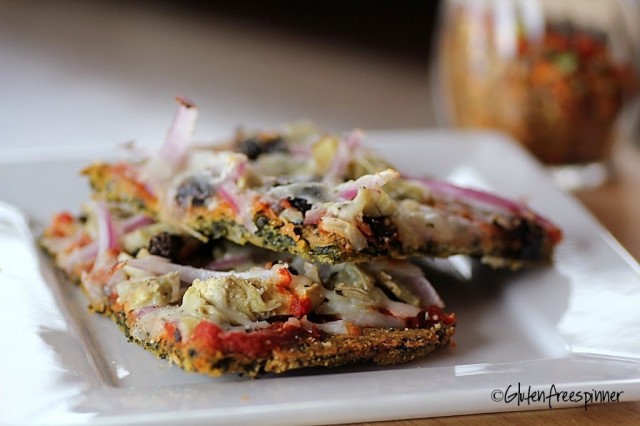 It held up well even the next day when I had it for lunch, give it a try.
But I wasn't completely satisfied and knew I'd try again…and I did…with my Aduki Bean Crust. So where did I come up with this idea? Ahh..haa…it was from a bag of Boulder Canyon Rice and Bean snack chips with Adzuki Beans. Seriously tasty chips with a thin crunch and amazing flavor. As I proceeded to eat half the bag I wondered why someone doesn't make a pizza crust like these chips!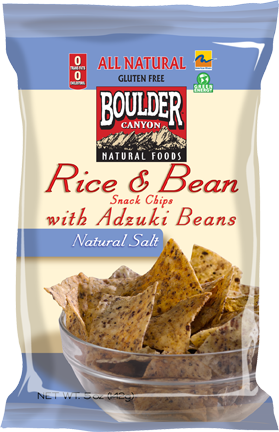 They are light and full of flavor just like a pizza crust should be. The main ingredients are: Rice Flour, Corn Starch, Adzuki Beans, Corn Flour, Sunflower Oil, Oat Fiber, Corn Fiber, Cane Juice and Spices. I can do this…how could it be anything but delicious? It made sense to me, so off to my test kitchen I went to spin a new crispy thin pizza crust. My main ingredients would be Adzuki Beans, a starch, a flour, a fiber seed, oil, and spices. I also decided to use my focaccia bread method for this crust which is olive oil on a large baking sheet…it always creates a crisp crust. And it worked.
See how the crust stays firm….not wimpy? They hold up to the toppings…even after sitting to cool. When re-heating, its best to warm in the oven on a baking sheet, but if you microwave a piece, allow it to cool a bit before eating and it will firm up again.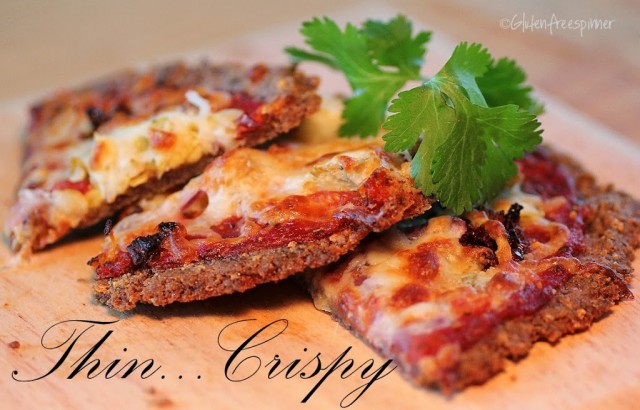 While pre-baking the crust my house was filled with aromas of herbs and garlic and I knew this one was a winner. I added my favorite toppings and couldn't be more satisfied with this pizza. As for Mr. Spinner….he will always prefer a regular crust, but when I add his favorite toppings of pepperoni and sausage my healthy spin on pizza crust is sure to hold him captive.
Artichoke Pizza with Aduki Bean Crust
1 cup organic canned Aduki Beans, rinsed and drained (the can says Aduki not Adzuki)

½ cup shredded Parmesan

½ cup Masa Corn Flour

¼ cup tapioca starch

1 Tbsp Flax Meal

1 tsp sea salt

1 tsp Italian seasoning

1 tsp garlic powder

1 egg

¼ cup olive oil plus 2 Tbsp
Enrico's All natural Pizza Sauce (or your favorite)

Italian seasoning/Red pepper flakes

6 oz Cento marinated Artichoke Hearts, chopped

Sundried tomatoes in oil, chopped

Red onion slices

Shredded Mozzarella cheese

Grated Parmesan Cheese
Pulse the Aduki Beans in food processor until ground. Add the parmesan, Masa flour, tapioca starch, flax meal, salt, Italian seasoning, and garlic powder. Pulse to combine. Add the egg and stream in olive oil. Feel the 'dough', it should hold together when pinched.
Generously oil a large baking sheet (or use Parchment paper and oil that as well). Form the dough into a ball and place in the center of pan. Press outward forming a crust (circle or rectangle), making fairly thin.
Bake in preheated 425 degree oven for 15 minutes. Remove from oven and allow to set while you prepare the toppings.
Spread the sauce over top of crust and sprinkle with Italian seasoning to taste. Next add the artichokes, sundried tomatoes, red onion slices, Mozzarella and Parmesan. Return to oven at 425 and bake for additional 13-15 minutes or until cheese is brown and bubbly. Allow to set for 5-7 minutes before cutting.
Spinach and Corn Crust
Ingredients:
1 (9 oz) pkg frozen chopped spinach (natural and no sauce packet), thawed and drained thoroughly

½ cup shredded parmesan

½ cup Corn Meal

1 egg

2 Tbsp olive oil

1 tsp Salt

½ tsp garlic powder

2 Tbsp Olive oil
Directions
Preheat oven to 425 degrees
Make sure the spinach is completely free of liquid and add the remaining ingredients. Mix together with your hands, thoroughly combining all ingredients.
Line a large baking sheet with parchment paper and spray with non-stick spray. Drizzle with olive oil.
Form the dough into a ball and place in the middle of parchment paper. Drizzle a little olive oil over dough. With fingers, press the dough into the shape you want, making it thin enough yet allowing enough to bind as a crust.
Give a light drizzle of olive oil over the top. Bake in a preheated 425 degree oven for 13-15 minute. Remove from oven and using the parchment paper as a handle, flip the crust over to bake the other side. Bake for 8 minutes. Remove from oven and allow to cool for 5-10 minutes while you prepare the toppings.