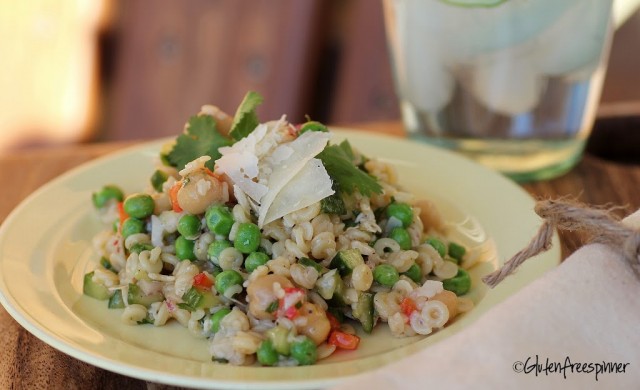 The last of our record setting winter days in Minnesota (52 degrees January 10th!) and I took in every minute of it. No comfort foods on the menu today, it's grilled chicken and an Anellini pasta salad bursting with the flavors of summer. What a delicious surprise.
Schar makes a gluten free Anellini Pasta and they promote it as "soup cut pasta", but I couldn't wait to use it like orzo in a salad. These little rings cook quickly (4-5 minutes) and hold their shape and texture. I assembled my ingredients of cucumbers, chick peas, red peppers, and red onions, and dressed the salad with a refreshing vinaigrette made with lime juice and apricot preserves to balance the acidity. The colors were beautiful and the flavors were spot-on but it needed a different texture…a pop of something…like baby green peas. Ahh yes, perfect. A final addition of shaved Parmesan (my all time favorite 'food') and my salad was complete. Summer flavors on a beautiful winter day…simply the best.
Ingredients:
4 cups chicken or vegetable broth

1 ½ cups Schar GF Anellini pasta

1 can chick peas, rinsed and drained

¾ cup chopped red bell pepper

½ cup finely chopped red onion

¼ cup chopped cilantro leaves

2 green onions chopped

¾ cup English Cucumber, seeded, and finely chopped

1 cup frozen sweet baby peas, thawed

½ cup shaved or shredded Parmesan cheese
Dressing
1/3 cup red wine vinegar

¼ cup fresh squeezed lime juice

2 tsp honey

1 heaping Tbsp Apricot Preserves

2 tsp salt

2 tsp fresh black pepper

¾ cup olive oil
Directions:
Heat the chicken stock/broth over medium high heat and when boiling, add the Anellini and stir well to prevent sticking.
Reduce to medium, partially cover and cook 4-5 minutes, stirring often.
Don't overcook…the pasta is done when tender – not mushy.
Drain (don't rinse), and toss to cool.
Set aside.
Prepare the remaining ingredients and toss together in a large glass bowl (except for the Parmesan and peas). Add the cooled Anellini and toss gently to combine all the ingredients.
Prepare the salad dressing by adding all ingredients and whisking the olive oil in at the end.
Taste for more salt or pepper.
If it tastes too acidic, add more honey or preserves a little at a time to your liking.
I chose to use a lot of black pepper.
Drizzle the dressing over the salad, starting with ½ cup and tossing.
Drizzle more…(I had ¼ cup of the dressing leftover) and toss to combine all flavors in the dressing.
Add the shaved Parmesan cheese and peas and toss into the salad.
Cover and refrigerate for at least 1 hour.