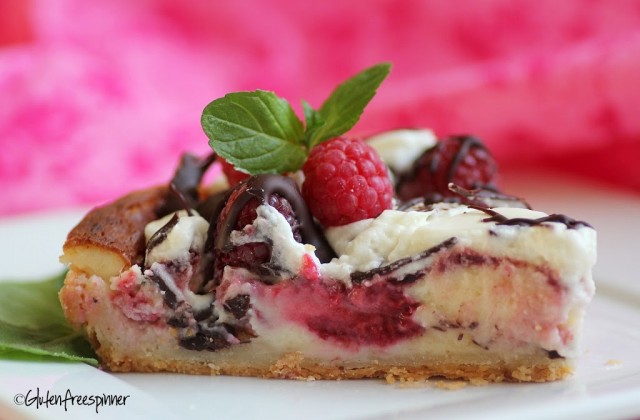 Raspberry White Chocolate Tart
Creamy, Dreamy, and Decadent…Yum!
Holiday celebrations call for decadent desserts bursting with festive, colorful, joy.
My raspberry white chocolate tart boasts the creamy sweet goodness of white chocolate and cream cheese layered with fresh raspberries and topped with whipped cream and drizzled chocolate. Just describing it makes me smile. The cream cheese crust is simple to make and serves as the perfect surround for this dreamy tart.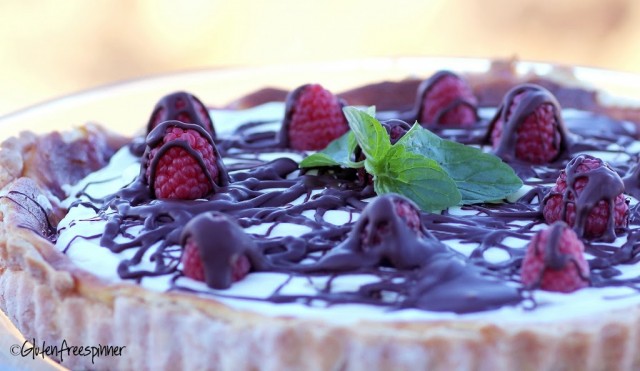 Be creative as you decorate your tart with drizzled chocolate. Perhaps create a grid instead of squiggles, or include white chocolate in your drizzle for added pizazz. I'm thinking of making individual tarts for a party next weekend giving everyone their own dreamy tartlette!
Have fun with all the festivities during this holiday season and enjoy a little dessert along the way.
Crust Ingredients
1 stick butter, at room temperature (1/2 cup)

4 ounces 1/3 less fat cream cheese, at room temperature (not fat free)

1 cup favorite GF flour blend

¾ tsp Guar Gum

½ tsp salt

Ice water as needed (2 -3 Tbsp)

Turbinado sugar (optional)
Filling Ingredients
6 ounces 1/3 less fat cream cheese room temperature (don't use fat free)

1/3 cup white sugar

1 large egg

1 tsp vanilla extract

½ tsp almond extract

½ cup heavy cream

6 ounces white chocolate melted (I used Ghirardelli white choc chips)

Fresh Raspberries (I used half pint pkg but you can use more if you prefer)

Solo brand Raspberry Pastry Filling (or favorite raspberry preserves)
Topping:
1 cup Heavy whipping cream

3 Tbsp powdered sugar

¼ tsp almond extract

Melted chocolate chips for drizzle
Directions
Combine the flour, guar gum and salt and set aside. In a medium bowl, using a hand mixer, cream the butter and cream cheese together until light and creamy. Add the dry mixture slowly until the dough forms, adding the ice water a Tbsp at a time as needed ensuring not to make it wet. Do not over-mix! Shape the dough into a ball and cover with plastic wrap. Let the dough rest in the refrigerator for 30 minutes.
Preheat the oven to 375 degrees F. Lightly spray a 9" tart pan with non-stick spray.
Put the dough between two large sheets of plastic wrap and lightly dust the dough with GF flour. With the dough sandwiched between the wrap, roll out with rolling pin to 1/8-inch thickness creating a large circle for the tart pan. Remove the top sheet of plastic and lay the dough in the prepared shell. Don't worry if the crust cracks, just press back together to form into the tart pan. Once the crust is formed, poke the bottom with fork tongs to keep from puffing in the oven. Lightly sprinkle with Turbinado Sugar.
Bake 375 degrees for 13-15 minute until the crust is firm and lightly golden brown. Remove from oven and allow to cool.
For the filling:
Melt the white chocolate in the microwave at 30 second intervals until melted…be careful as it's easy to ruin if microwaved too long. The white chocolate won't be hot, just creamy melted. Set aside.
Beat the cream cheese with sugar until soft and creamy. Add the egg and continue to beat. Beat in vanilla, almond, melted white chocolate, and cream and continue beating until combined and fluffy.
Arrange the raspberries around the bottom of tart crust, reserving about 10 for decorating the top. Drizzle the cream cheese filling around the berries filling in the spaces. With a spatula, smooth the filling around the berries creating an even mixture in tart pan. Dot the top with the raspberry filling, using about ½ cup total. Smooth with your spatula. Bake for approximately 25 to 30 minutes or until the filling is set. Let cool on rack.
Whip the heavy cream, powdered sugar, and almond extract until stiff peaks form. Top the cooled tart with whip cream. Arrange raspberries over top and drizzle with melted chocolate. Refrigerate until ready to serve.