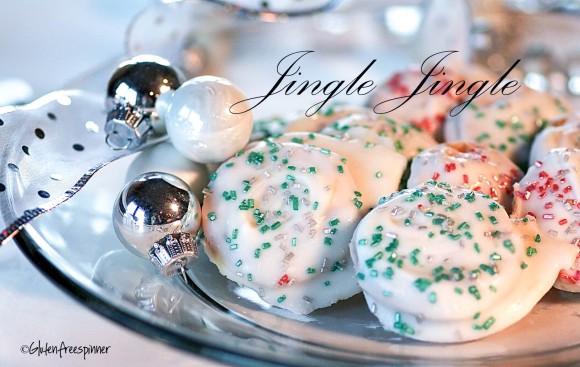 Peanut Butter Crisps for the Holiday's
My next door neighbor is a terrific baker and last week she brought over the most beautiful platter of holiday cookies.  Unfortunately, I couldn't eat a single one (yes, painful), but Mr. Spinner was able to enjoy the entire platter, which was her intent.  For those of you who follow my blog and those who know me, this just gave me motivation, not discouragement!  I asked him to describe each cookie to me (as he moaned with enjoyment), and one of his
favorites was described as "something really crisp and peanutty….with white chocolate…YUM!"
Having no idea what the 'really crisp' part was, I called to see what this special little Christmas Cookie was.  She said they were made with Pretzel Thins!  Oh yes, I use to eat those and they ARE super crispy, but no longer an option.  Hmmm, there are gluten free pretzels, but not like Pretzel Thins, and that was part of the draw to this cookie.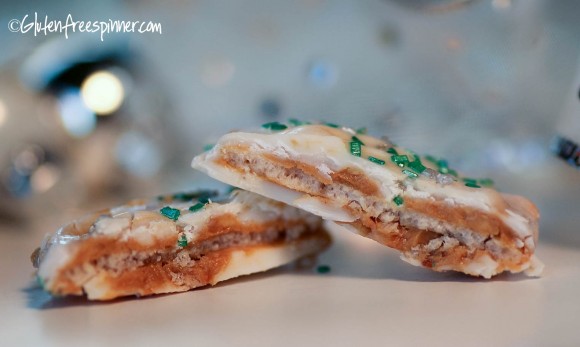 She said the pretzel thins were spread with peanut butter then dipped in white chocolate.  How easy is that?  And…no flour….I will do this!
I decided to use Blue diamond Almond Nut-Thins, they are super thin, crispy, not crumbly and the almond would be a nice option.  It worked perfectly, and now I'm the one moaning with enjoyment over my Special Little Christmas Cookie.
Ha!!     XO  Mary
Ingredients:
1 (4.25 oz) box Blue Diamond Almond Nut thins (or now they have gluten free mini pretzel crisps – both options work great)
1 (15 oz) jar Skippy Extra Crunchy Natural Peanut Butter (or your preference)
1 lb white chocolate
Decorative sprinkles for top
Directions:
I made 4 dozen cookies by lining the entire baking sheet (once) with the Nut Thins (using 48 crackers).  I used 3/4 of the jar of peanut butter and the entire pound of white chocolate.  The great thing about this recipe is you can make as many as you want, more or less, and it's so easy.
Lay parchment paper on a large baking sheet.  Put the peanut butter in a glass bowl and heat in microwave just until thin enough to dip the crackers.  I never asked her how she spread the peanut butter on, and perhaps you could just spread each cracker, but I thought this would be the easiest way to ensure I didn't break the crackers (because they are so thin…teehee!).  Dip each cracker in the peanut butter and place on the parchment paper (this part is kind of messy).  Don't worry about completely covering the entire cracker, it will be covered in white chocolate.  When done with all the crackers, place the pan in refrigerator to harden a bit (like 5-10 minutes).
Heat the white chocolate in microwave until melted….not hot…it's very easy to ruin chocolate in the microwave so heat in 30 second intervals and stir each time, you will be surprised how quickly the chocolate softens.  It should be creamy, not hot.  If you cook it too long it will be chunky and unusable.
Remove the peanut butter crackers from refrigerator and dip in the white chocolate (again, messy), and use your fingers to make a swirl on top as you place each one on the parchment.  Once all the crackers are coated, sprinkle with colored Christmas decorations of choice.  Return to the refrigerator until completely set (an hour was more than enough).
Store in a cookie tin, room temperature.  Enjoy!