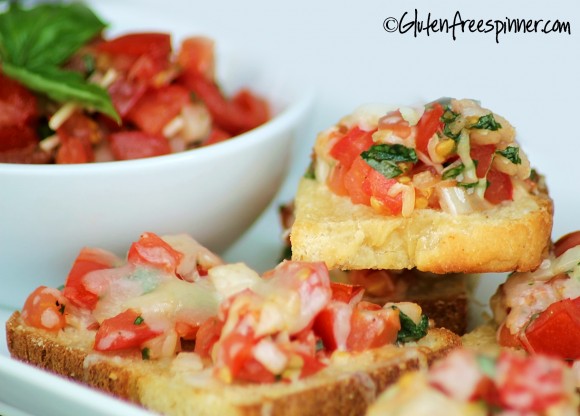 Bruschetta
Mr. Spinner just called and suggested we make Bruschetta for our party on Friday…great idea!  But he also told me it's not listed on glutenfreespinner!  What?  How did I miss sharing one of our favorite appetizers with all of you?  Well, let me fix that…
We mostly enjoy this appetizer in the summer months when tomatoes are at their best, but it's equally wonderful in the winter months with the basil leaves adding a welcomed fresh burst of herb goodness.  But the most beautiful presentation is at Christmas when the naturally brilliant colors of red and green take the stage on an appetizer table.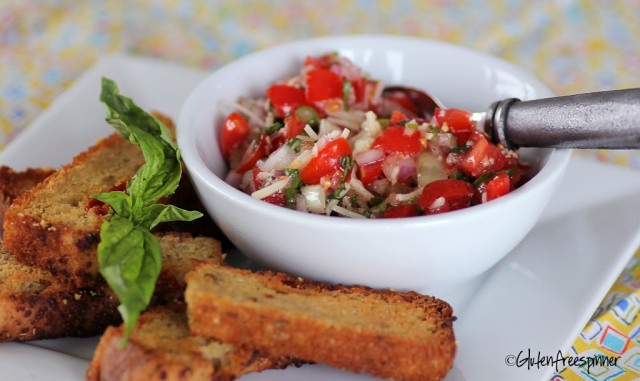 I'm sharing my Bruschetta recipe served two ways; one is baked on toasts with melted cheese and the second is 'salsa style' with toasted breads.  Either way is delicious and I've served both on the same appetizer table…a nice choice.
For toasts I've found Udi's White Bread to have the best toasting performance.  They hold up to the tomatoes without getting soggy and they've never been spongy as some toasts tend to be.  But you decide, we all have our favorite GF bread.  I simply toast my bread in the toaster and while still warm I lightly drizzle with olive oil and a dusting of garlic powder.  I've also used leftover bread cut into smaller pieces and toasted in the oven.  Either way is easy.
As for the basil, be sure to only use fresh basil leaves…dried basil just won't give the flavor it needs.  I've also listed adding a hint of sugar to your tomatoes if they seem tart or acidic (as they can be in the winter months) it's amazing the flavor burst it adds.
Enjoy!
Bruschetta for the Holidays - Served Two Ways
Author:
Gluten Free Spinner
Cuisine:
Italian / Garden Fare
Ingredients
6 roma tomatoes or 1 pt of grape tomatoes
2 Tbsp chopped red onion
3 green onions, chopped
1-2 Tbsp fresh minced garlic (to taste)
1 tsp sea salt
3-4 Tbsp Olive Oil
2 tsp balsamic vinegar
6-8 large fresh Basil leaves or ½ cup chopped fresh leaves
2-3 Tbsp shredded Parmesan cheese (not grated)
Toasted breads for serving
Shredded Mozzarella cheese if serving on toasts
Instructions
Toasts:
I prefer Udi's White Bread-toasted, cut in half, drizzled with olive oil and dusted with garlic powder. 6 pieces cut in half or even quarters
Bruschetta:
Cut the roma tomatoes in half and gently squeeze out the excess juices and seeds and discard (or reserve for another recipe). Chop the tomatoes and place in a glass bowl. If using grape tomatoes, cut into quarters.
Add the chopped red onion, green onions, garlic, salt, olive oil, and vinegar and toss to coat the tomatoes. Taste for seasoning and if your tomatoes don't seem very sweet (winter), add ¼ tsp sugar and taste.
Place the fresh basil leaves on top of each other and roll into a cigar shape. Chop the cigar creating julienned strands of fresh basil. Add the chopped basil and shredded Parmesan to the tomatoes and toss well.
Serve one of two ways:
Pour brochette mixture in a bowl and place on a platter surrounded with toasted garlic breads for each person to individually make their own.
Place toasted garlic breads on a large baking sheet and top each with brochette mixture. Sprinkle shredded mozzarella onto each and bake in 375 degree oven until cheese is melted, approximately 10 minutes. Place on a platter, layering as needed and serve immediately.