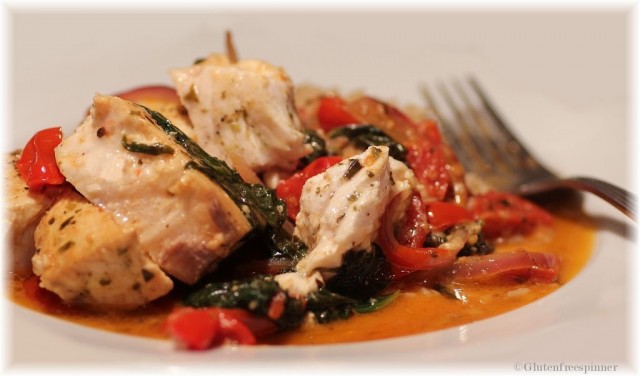 Mediterranean Herb Swordfish in Wine Sauce
Have you tried swordfish lately? If not, I've got a reason to try it again.
While searching the Whole Foods Market for another dinner idea, the fishmonger suggested I try their swordfish. He said they just received a shipment and people have been raving. My experience with swordfish in the past hasn't always been great; a slightly fishy dense fillet that was just 'ok'…nothing exciting. Well my friends, I'm a new fan and this meal excites!
The fishmonger suggested one of their chef inspired ready-made marinades called Mediterranean Herb and he was spot-on with the flavor balance. The ingredients are fresh so it's kept in the refrigerated section and its naturally gluten free.
He suggested grilling the fish to give it a nice smoky flavor, but I wanted a pan sauce.
So before I detail the recipe, I have to mention that I've made this three times; twice with swordfish and once with Salmon. It was superb every time. The third time I also made my own marinade, trying to mimic the Whole Foods ready made one, and it was equally as good.
My marinade is an herb infused sauce of olive oil, lemon, garlic, parsley, oregano, rosemary, basil, and thyme with the addition of honey. I used a combination of fresh and dried herbs, but if you replace the fresh with dried, use half the amount listed as they are much more potent. The fish only needs 30 minutes to marinate or up to an hour…no longer as the lemon juice will begin to 'cook' the fish.
A simple pan sear on both sides, then a splash of wine before transferring the fish to the oven makes this dish super easy. To keep the Mediterranean influence, I added sliced red onions, grape tomatoes, and coarsely chopped spinach before finishing the wine sauce. It comes together quickly, so have the brown rice ready to serve.
As mentioned above, I also made this with salmon over the weekend and it was very tasty as well…in fact I can't decide which I like better! Serve with roasted asparagus and your favorite white wine for a wonderfully light meal that will dazzle.
Ingredients:
The inspiration was from Whole Foods Mediterranean Herb Marinade (fresh seafood section). So if you have one in your area, give it a try…otherwise, here's my recipe for the marinade.
Mediterranean Herb Marinade:
¼ cup olive oil

Juice of ½ lemon

1 Tbsp fresh chopped Italian parsely

1 tsp fresh chopped basil (or 1/2 tsp dried)

1 tsp fresh chopped Rosemary (or 1/2 tsp dried)

½ tsp dried oregano

½ tsp dried thyme

1 clove of garlic, minced

1 tsp honey

½ tsp fine sea salt

¼ tsp pepper

¼ tsp onion powder
To Prepare:
2 swordfish steaks, 3/4″ thick – about 5-6 ounces each

1 Tbsp olive oil

1 Tbsp butter

¼ cup sliced red onion

12-15 grape tomatoes cut in quarters

1 1/2 cups roughly chopped fresh baby spinach

2-3 Tbsp butter -divided for wine sauce

½ cup wine – divided

Brown rice for serving
Directions:
Prepare the marinade ingredients mixing together to combine. Rinse the swordfish in cold water and pat dry with paper towels. Very lightly season the fish with sea salt and pepper on both sides. Place the fish in a resealable plastic bag and pour marinade over. Squish around in the bag to coat the fish and squeeze out the air while zipping it closed. Place in the refrigerator for ½ hour – up to 1 hour.
Preheat oven to 375 degrees.
In an oven-proof skillet, add 1 Tbsp olive oil and 1Tbsp butter and heat over med-high until bubbly hot. Add the swordfish and sear 1 1/2 minutes on one side. Flip and sear another minute on the other side. Add ¼ cup white wine and allow to bubble for 1 more minute. Transfer to preheated 375 degree oven and allow to roast for 7-9 minutes, depending on the size of your fillet. Remember it will continue to cook a bit once removed.
Remove from oven and transfer fish to a plate and tent with foil. Put skillet back on medium heat and add the other ¼ cup wine. Allow to bubble for 1 minute then add the onion and tomatoes and sauté for about 2 minutes. Add 1 Tbsp butter and swirl around in pan while you add the spinach to wilt. After another minute add the other Tbsp of butter and as it melts turn off the heat. The sauce will be a nice consistency.
Serve the fish over a bed of brown rice. Pour the pan sauce over the fish allowing the tomatoes , onions, and spinach to drizzle down the sides. Serve with a side of asparagus if you choose to add another vegetable.