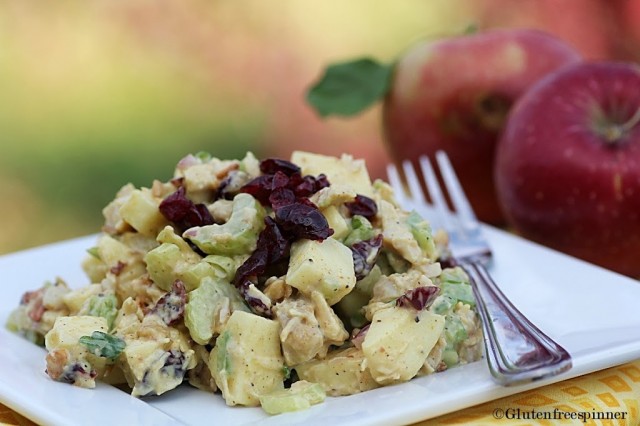 Curried Chicken Salad with Apples
Did I mention in a recent post that I didn't like yellow curry? Well let me retract that statement as of today because I just spun this delicious curried chicken salad and I've become a new fan!
I made my very first roasting chicken this week (really…the pioneer woman I am not) and it was simply amazing! I always figured, why go through the work when you can purchase a broasted chicken already prepared? (Luckily my local grocer uses gluten free spices on their broasted chickens.) Anyway, roasting chickens were on sale and I gave it a try. The recipe I used was so very easy and turned out fantastic so I must share the recipe. I found it on Epicurious and with 500 reviews – all of them giving 4 forks (out of 4), how could it be bad? There's no oil, butter, special marinade or spices…seriously. Wash the chicken, pat dry inside and out with paper towels until they no longer absorb water, then tie the legs and fasten the wings. Very generously salt and pepper inside and out (I also used grill seasoning and put 1/2 vidalia onion inside) then roast in a 450 degree oven, no peeking and no basting for 1 hour (my chicken was really big and we like ours a bit more done so I reduced the oven to 350 after an hour and continued roasting for another 30 minutes). The skin was super crispy and the chicken was moist and tender…even the white meat. Really-really good. It's definitely a new addition to my menu and this will be my go-to recipe.
So yesterday a good friend brought me apples from her tree; perfectly ripe red apples with the leaves still dangling from the stems (another irresistible photo-opp). Ideas of what to do with all these beautiful apples filled my thoughts and the leftover roasted chicken was begging for a cold chicken salad. Hmmm, apples and chicken…the first thing that came to mind was a Waldorf Salad, but that seemed so boring. Off I went to the spice rack with my chicken and apples.
I wanted to jazz it up a bit…how about curry! That's it…I'll spin a spicy-sweet balance of flavors with the creaminess of a Waldorf salad. Waaaaalaaa, my curried chicken salad with apples. But wait….do I even have curry powder? Ahhh yes, in the very back of my spice rack was this teeny green jar of curry powder just waiting to be spun into something wonderful.
And wonderful it is. If there's one thing you make this weekend on my site….try this salad, it's so-so good. It's not spicy, just very flavorful. I added apricot preserves to the dressing as it needed something sweet…but not sugar sweet, fruity sweet…and although you won't be able to distinctively pick out the apricot flavor, you WILL notice the gentle sweetness it adds.
1 ½ cups cooked chicken breast

1 apple, cored, peeled and diced

2-3 stalks celery, diced

3 scallions, chopped (greens and white)

2 Tbsp red onion, finely chopped

¼ cup chopped green pepper

1/3 cup craisins

¼ cup toasted honey almond slices (check GF)
Dressing
½ cup olive oil based mayonnaise

1 tsp Gluten free low salt soy sauce (organic tamari)

1 tsp curry powder(or more to taste)

2 tsp apricot preserves

2 tsp lemon juice

Dash of salt and pepper
Directions:
Add all the salad ingredients (except almond slices) in a medium glass bowl and toss to combine.
Mix the dressing ingredients with fork or whisk until smooth and combined and drizzle over the salad. Toss to coat all the salad ingredients and sprinkle with sliced almonds before serving. I enjoyed the salad just after making it, but allowing flavors to meld in the refrigerator for a few hours will develop the flavors even more.
Serves 2