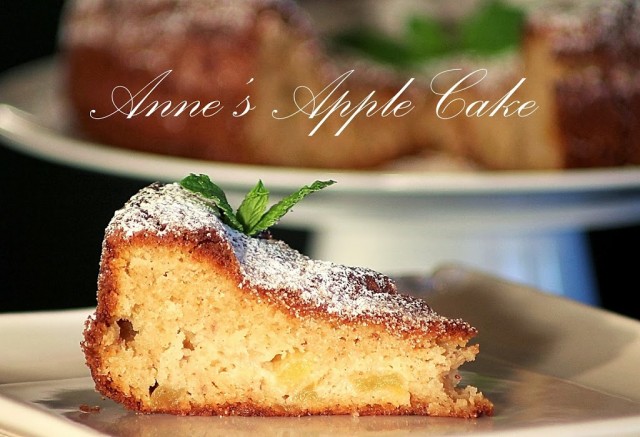 Update:
I'm re-posting this today as it would be Anne's 50th Birthday (October 9th).
We are celebrating with her family and of course, this is on the menu.
Happy 50th Anne, we miss you. XO
Anne's mom made the apple cake gluten free for the gathering (how sweet was that?). She made it exactly the same as the original recipe, only she used Gluten Free Pantry's all purpose flour cup-for-cup. It was amazing and didn't fall! Thanks, Deidre…your years of being a fabulously seasoned baker and cook taught me a few things yesterday. I can't wait to make it again. This is truly one of the best cakes you will make this fall…but be

careful…it's irresistibly addicting. I re-posted the original recipe below using the GF flour.

I have learned so much since last year when I first made this cake gluten free, one of which is keeping it simple. There are so many wonderful gluten free flours and baking aids that make living gluten free so much easier…no need for 5 different flours, leavening agents and methods.
Happy Happy Birthday My Friend….
We miss you


*************

Anne's Apple Cake
Every year, around this time, I celebrate my good friend, Anne, who would be celebrating her 49th birthday October 9th. Anne was taken from this world much too early, at age 42, and I think of her always.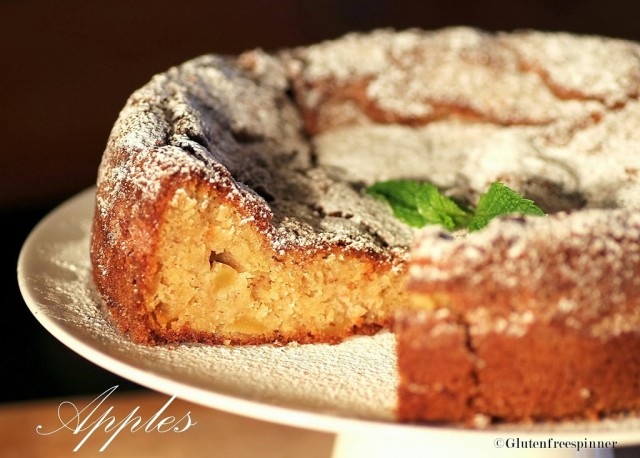 This was her favorite cake… "Apple Cake". She originally found this recipe in a Cooking Light Magazine and it's absolutely delicious. Anne was a personal trainer and she lived what she taught…healthy diet and plenty of exercise. The original recipe can be found here which is lighter than my version as it uses fat free cream cheese and margarine (I never use margarine…only real butter for me).
Anne's Apple Cake is bursting with tender apples that keep the cake incredibly moist while the flaky cinnamon crust covers the entire cake for a sweet crisp contrast.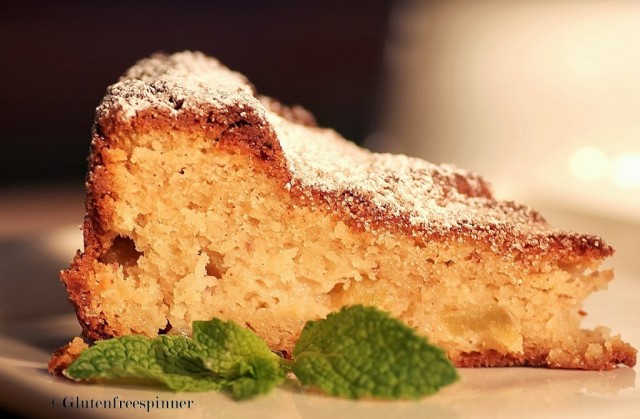 My first attempt at altering the recipe to gluten free rose beautifully until halfway through baking when it fell…oh the joys of baking gluten free. I never knew I had so much patience until I started baking gluten free! The taste was still very good and the entire cake was gone the first day, but a second attempt was necessary. This time, I separated the eggs and whipped the whites adding cream of tartar to keep them stiff. I added them at the very last step and this seemed to keep some of the rise. I thought it was going to be just like the original as it rose perfectly again halfway through…but it did fall a bit before it was fully baked. You can see the final result above in the full-cake picture. It was still beautiful with the same delicious taste, and I was satisfied.
This Autumn treat draws applause every time…try it with a cup of coffee in the morning, all by itself in the afternoon, or add a dollop of ice cream for a finish to the evening.
I'm confident you'll be adding this recipe to your favorites list, and maybe…you'll think of Anne while you're making it. She would like that. Enjoy.
Ingredients
1 3/4 cups

sugar, divided

1/2 cup

stick margarine, softened (I use butter)

1 teaspoon

vanilla extract

6 ounces

block-style fat-free cream cheese, softened (about 3/4 cup)

2

large eggs

1 1/2 cups

Gluten Free Pantry

all-purpose flour

1 1/2 teaspoons

baking powder

1/4 teaspoon

salt

2 teaspoons

ground cinnamon

3 cups

chopped peeled Rome apple (about 2 large) (Haralson apples work well too)

Cooking spray
Preparation
Preheat oven to 350°.

Beat 1 1/2 cups sugar, margarine, vanilla, and cream cheese at medium speed of a mixer until well-blended (about 4 minutes). Add eggs, 1 at a time, beating well after each addition. Combine flour, baking powder, and salt. Add flour mixture to creamed mixture, beating at low speed until blended.

Combine 1/4 cup sugar and cinnamon. Combine 2 tablespoons cinnamon mixture and apple in a bowl, and stir apple mixture into batter. Pour batter into an 8-inch springform pan coated with cooking spray, and sprinkle with remaining cinnamon mixture.

Bake at 350° for 1 hour and 15 minutes or until the cake pulls away from the sides of the pan. Cool the cake completely on a wire rack, and cut using a serrated knife.

Note: You can also make this cake in a 9-inch square cake pan or a 9-inch springform pan; just reduce the cooking time by 5 minutes.