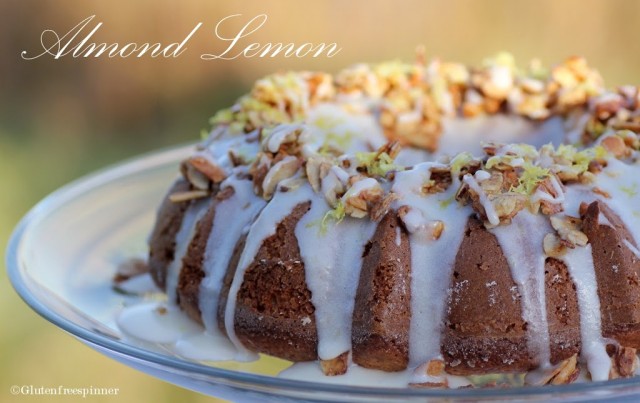 I am definitely a sweets person in the morning with a good cup of coffee. Mr. Spinner and I use to buy donut holes rolled in cinnamon sugar and bring them to the cabin every weekend. We weren't excessive donut hole eaters, just 2 with our coffee and they lasted all weekend. I still buy them for the guys when they head up fishing…just cuz that's what we've always done.
But now…it's homemade banana bread, pound cake, and coffee cake, which is so much better. Donut holes… I do not miss you. Moist, delicious, sweet breads have taken your

place next to my morning coffee, and this one is sure to convert those who can still eat those little deep fried balls of dough.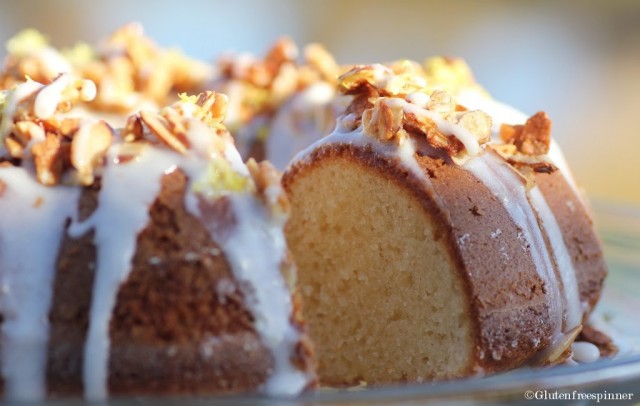 I love the flavor of almond and my cake has both almond flour and almond extract. The addition of lemon enhances the flavors and adds a lovely lemony sweetness, especially when you get a bite with the lemon icing. I made the icing with just two ingredients, powdered sugar and fresh squeezed lemons. (That made you pucker right?) Me too…and it's tart enough to scream 'lemon' yet sweet enough to be an icing. I doubled the batch so I could drizzle more down the sides of each piece when serving. Yummy.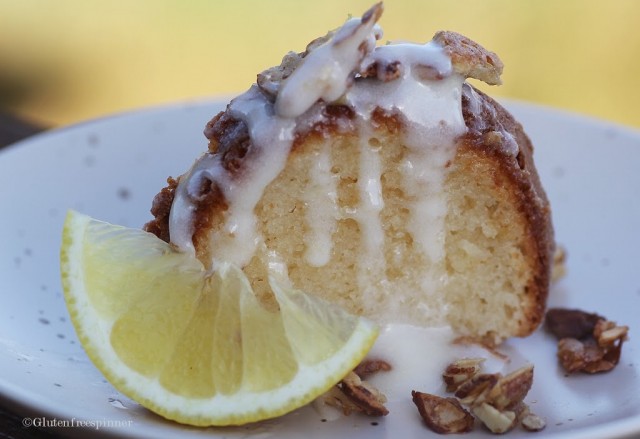 The inspiration for the base of my Almond Lemon Bundt Cake was from Shirley Braden's perfect pound cake, which I reviewed earlier this year. She really hit the mark on that one and I make it often. For my bundt cake I used Gluten Free Pantry's All Purpose Flour. It's my new find and it makes baking so much easier as you use it cup for cup like regular flour. (If you use a different GF all purpose flour, be sure to check the ingredients to see if it contains guar gum an salt. If not you need to add 3/4 tsp guar gum and increase salt to 1 1/4 tsp.) Now…about the topping for this cake…it could be eaten like granola…it's crunchy and sweet. I used Butter Toffee Sliced Almonds by Almond Accents, but you can certainly use plain, it just won't be as sweet.
Even though I love this cake with coffee in the morning, it doubles as an evening dessert with a dollop of vanilla bean ice cream. Or how about a ladle of fresh blueberry sauce or a sneaky drizzle of dark chocolate ganache. Hmmm…gotcha didn't I.
Cheers to gluten free sweet breads…those donut holes got nothin' on me.
Almond Topping Ingredients:
1 egg white, beaten

1 cup Almond Accents Butter Toffee Glazed sliced almonds (you can use plain too)

2 Tbsp sugar
Cake Ingredients:
2 cups GF all purpose flour (Gluten Free Pantry is good)

¼ cup almond flour

1/2 tsp guar gum

½ tsp sea salt

1 tsp baking powder

¾ cup olive oil

1 ½ cups sugar

3 Tbsp juice from fresh lemon (about ½ large lemon)

1 tsp almond extract

1 tsp vanilla extract

3 eggs

2/3 cup full fat coconut milk
Lemon Icing Ingredients:
1 cup powdered sugar

1 whole lemon, juiced (about 3-4 Tbsp)

2 tsp grated lemon zest (be sure to zest the lemon before juicing!)
Directions
Prepare a Bundt pan by rubbing or brushing canola oil into the bottom, sides, and all grooves then dust with GF flour. You can use non-stick spray, but be mindful that the spray tends to pool in the grooves.
Preheat oven to 350 degrees
Prepare the Almond topping. In a small bowl, stir together the beaten egg white and almonds until all are coated. Add the 2 Tbsp sugar and mix together. On a baking sheet lined with parchment paper, spread the almonds out, separating the clusters to allow them to crisp. Bake in 350 degree oven for 12 minutes. Remove and allow to cool. Break the almonds off the parchment paper, separating and turning into a crumble. Set aside.
Prepare the Lemon Icing. Combine the powdered sugar and lemon juice to desired consistency. Lemons are all different sizes, so you may need to adjust the sugar or juice…keep in mind it's a drizzle. (The zest is added to cake separately.)
Cake:
Combine the all purpose and almond flour, guar gum, sea salt, and baking powder in a medium sized glass bowl. I like to use a whisk to blend all the dry goods. Set aside.
Pour the olive oil into a medium glass bowl and whisk in the sugar, lemon juice, almond and vanilla extract. Add the eggs one at a time, whisking after each addition. Add the coconut milk and continue whisking for 2 minutes. Gradually add dry ingredients into wet ingredients only mixing until well combined.
Pour batter into the prepared Bundt pan and bake for 48-53 minutes…the top will be nicely browned. Check center with toothpick. Remove and cool on wire rack for 15 minutes. Loosen the sides with a knife and invert onto a cake plate. Allow to cool completely. Drizzle with ¾ of lemon icing and top with the crumbled almond topping. Drizzle the remaining icing over top and sprinkle the lemon zest. Store the cake covered with plastic wrap.