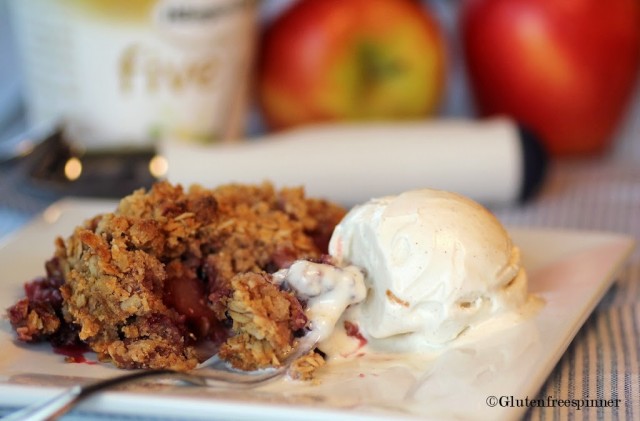 Apple Berry Crumble
It's apple time! Hooray for Autumn and the display of apples in every variety and color. Crisps and crumbles, pies and galette's…each is better than the next when filled with sweet delicious apples.
Today, I'm adding berries to my apple crumble and the combination is yummy! I prefer my crumble to be less-sweet than most as I love tasting the slightly tart sweetness of granny smith apples, and the juicy sweet flavor of Jazz apples. Add sweet ripe strawberries and blackberries for an additional punch of fruitiness then top it off with my crunchy-nutty-sweet crumble. But wait… while still warm from the oven, add a dollop of vanilla bean ice cream to ooze down the side adding another layer of yumminess.
The best suggestion for determining the level of sweetness is to taste your fruit before preparing. All varieties of apples are different as are berries, and the only way to get it right is to taste them before sweetening them.
Most apple crumbles also have cinnamon, but in this version I left it out because of the strawberries and blackberries. By all means add cinnamon if you prefer the warm flavor it adds.
6 cups fruit – combination of diced apples (2 granny smith and 2 jazz), quartered strawberries, and whole blackberries. Any combination will work

1/2 – 3/4 cups sugar – taste for sweetness and adjust for tart berries

4 Tbsp butter, cubed

3 Tbsp Pamela's baking mix

2 Tbsp fresh squeezed lemon juice
1 cup pamela's baking mix

½ cup chopped pecans

1 ½ cups GF Oats

1 cup packed light brown sugar

½ cup butter (1 stick) cut into cubes

½ tsp salt
Preheat oven to 375 degrees
Prepare a casserole dish (I used a 13" oval) with non-stick spray
Combine the Apple Berry Mixture together and pour into the prepared dish.
In a separate bowl, combine the Crumble mixture with clean hands, scrunching the mixture between fingers to form a crumble. Be sure the butter is distributed throughout the crumble.
Pour the crumble over the fruit and spread out evenly.
Bake 375 for 40 minutes or until bubbly and golden brown.
Allow to cool for 15 minute and serve warm with vanilla bean ice cream.