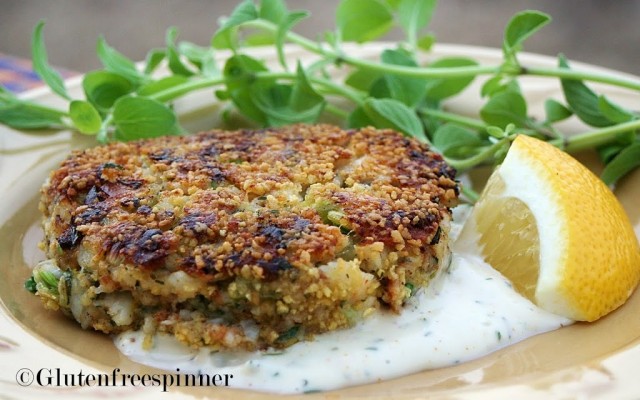 Halibut Cakes
My
halibut cakes
are truly a treat often made with leftover halibut from the night before.  Leftover halibut?  Exactly, and that's why it's so indulgent.  Being one of our favorite splurges, we plan for extra so we can enjoy these cakes the following day.  Of course, you can easily poach the halibut the same day for these cakes and I've listed the method below.  They are crispy on the outside and tender and flaky on the inside.
I don't use a lot of filler allowing the halibut to showcase the cake.  The finishing touch is the creamy sauce adding a light fresh layer to these tasty gems.  Next time halibut is on your menu, allow for extra…you'll be 'hooked'.
Ingredients:
1 Tbsp olive oil
1/4 cup onion – chopped fine
1/4 cup celery – chopped fine
1/2 tsp minced garlic
1 lb cooked halibut – flaked in chunks – makes 4 cups (to poach, lay the fillets in a medium sized saute pan and add 1/2 cup water, 1 tsp Old Bay Seasoning, and 1 bay leaf.  Cover the pan and heat on medium low for about 8-12 minutes or until the halibut flakes easily (depends on thickness of the halibut).  Pour remaining water off and allow to cool in the pan.)
1/2 cup unseasoned gluten free dry bread crumbs (I make mine from two pieces of Udi whole grain bread, toasted, crumbled in small food processor, and dried out in microwave for 3 minutes.)
1 rounded tsp Old Bay seasoning
1/4 tsp cayenne pepper
1/4 cup chopped green onions (greens only)
2 tsp chopped parsley
3 Tbsp grated Parmesan cheese
1 tsp chopped dill
2 Tbsp Mayonnaise (not miracle whip)
1 large egg beaten
1 tsp lemon juice
2 shakes hot pepper flakes
Final coating
1/2 cup Glutino bread crumbs (for outer coating) or coarse bread crumbs
For cooking the cakes:
2 Tbsp butter
1 Tbsp olive oil
Directions:
Add 1 Tbsp olive oil to a small saute pan and cook the celery, onion, and garlic on medium heat until the celery is tender, but still crisp.  Set aside to cool.
In a large bowl, combine the halibut and remaining cake ingredients (celery mixture too) gently folding together to blend, but taking care not to break the lumps of halibut.  Shape the mixture into little patties, 3″ in diameter and 3/4″ thick.  Handing gently, lightly dredge each cake in the Glutino bread crumbs for the final coating and place on a plate.  Repeat for each, making about 9-10 cakes total.   Cover the plate of cakes with plastic wrap and refrigerate for at least 20 minutes (up to 5 hours if needed).
In a large skillet over med-high heat, melt the 2 Tbsp butter and 1 Tbsp olive oil until bubbly.  Add the cakes, 5 at a time and reduce to medium cooking until golden brown, about 3-5 minutes per side. (If needed, add a little more butter and olive oil between batches.)  Remove from heat and serve with Halibut Cake Sauce and garnish with chopped parsley and lemon wedge.
Halibut Cake Sauce:
Mix the following ingredients together.
1/2 cup Mayonnaise (not miracle whip)
1 Tbsp Dijon mustard
2 green onions chopped (green only)
1 tsp fresh lemon juice
1 tsp Worcestershire Sauce
1/4 tsp Old Bay seasoning
Pinch of dill
1 tsp honey