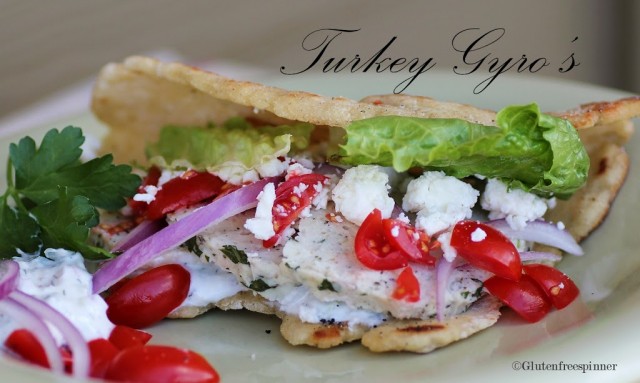 Turkey Gyro's with Flatbread
I spun this recipe two weeks ago while craving a Greek Gyro and at the urging of my son, I'm finally getting around to posting it. REAL turkey gyro's with REAL homemade flatbread. I emphasize real because this isn't a chicken or turkey breast cut in pieces nor is it focaccia bread (which I love) folded to look like a flatbread. It's the real deal and it was every bit as good as the authentic gyro's I was craving.
First, the turkey gyro meat. I read a recipe by Alton Brown of the food network for gyro meat. He used a water bath and a brick to make his lamb meat into a gyro loaf. It sounded dreadfully complicated and I didn't want to go through all the fuss, surely I could obtain the same results another way…and I did. First, I used ground turkey breast which is much leaner and healthier. I processed the turkey, onions, and seasonings in a food processor to obtain a smooth consistency, rolled it into a chubby log, rolled the log in fresh chopped parsley, then wrapped the entire loaf very tightly in foil. Then I placed the wrapped log into a loaf pan. Easy! Take a look: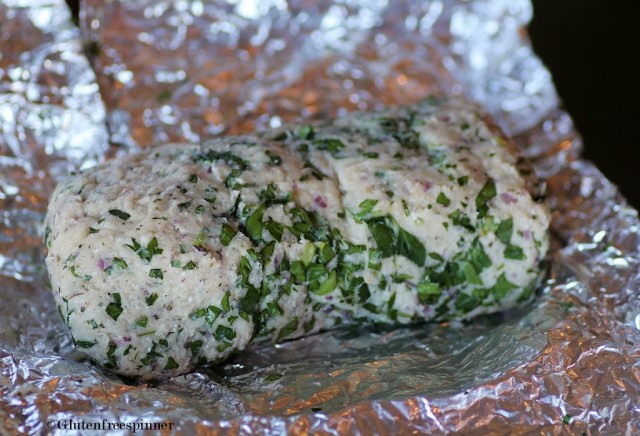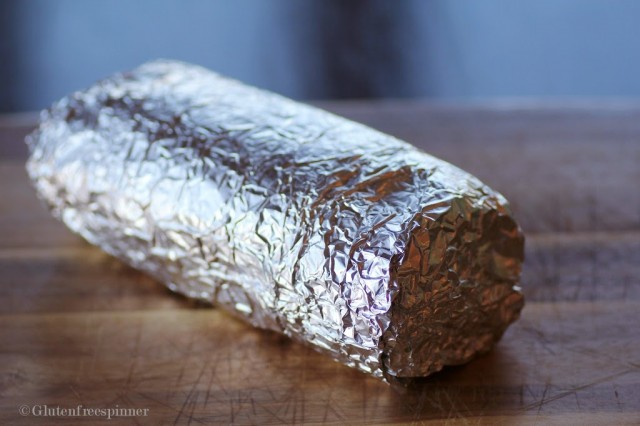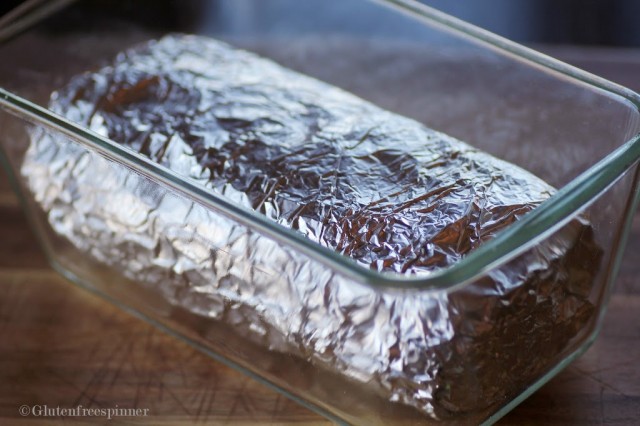 I baked the entire roll in the loaf pan at 375 degrees for 50 minutes. It was as simple as that. To ensure the flavor would be good once it was cooked, I had first taken a little ball of the meat before wrapping in foil and cooked it like a little burger to taste for seasoning until it was just right. Because of this, you can be assured the meat is perfectly seasoned if you follow the recipe as written. The flavors wonderfully mimic authentic gyro meat, and it's much healthier too. Once you remove it from the oven, allow to cool in the foil for 30 minutes before slicing. I used an electric knife to slice the meat lengthwise (standing the loaf on end) to achieve the thinnest slices possible. Mr. Spinner and I did it together, which made it much easier.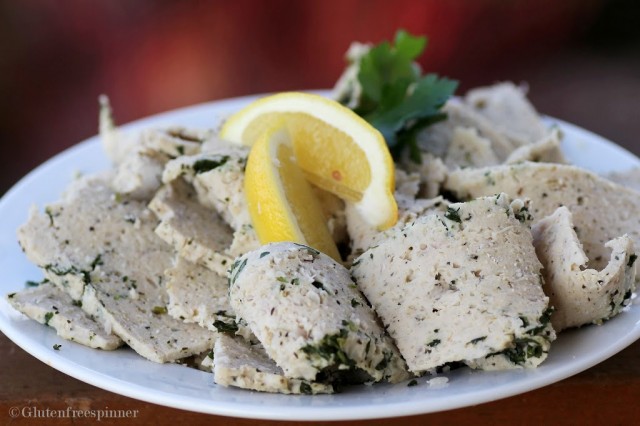 Some slices were thinner than others and you can practice until you get it where you want. The parsley adds a nice touch of color to the white breast meat and I served it as a 'build your own gyro' dinner with a few slices of lemon on top. For additional toppings, serve sliced red onions, lettuce leaves, sliced grape tomatoes, good feta cheese, and my recipe for tzatziki sauce – the sauce is a must. The gyro meat stores well in a storage container in the frig for next day leftovers. I sent my son a sampling the next day and he called to tell me how good it was. He then called a few days ago to ask why I hadn't posted the recipe yet! It's so fun to cook for people who love food as much as I do.
Next, the flatbread. I purchased a package of Bob's Red Mill Whole Grain Pizza Crust and used the mix for the base of my flatbreads (I think the Whole Grain mix is fairly new as I couldn't find it listed on their website). I didn't follow the directions on the package for pizza crust, instead I omitted the eggs and made the dough as I would make Pita Pockets. They turned out beautifully!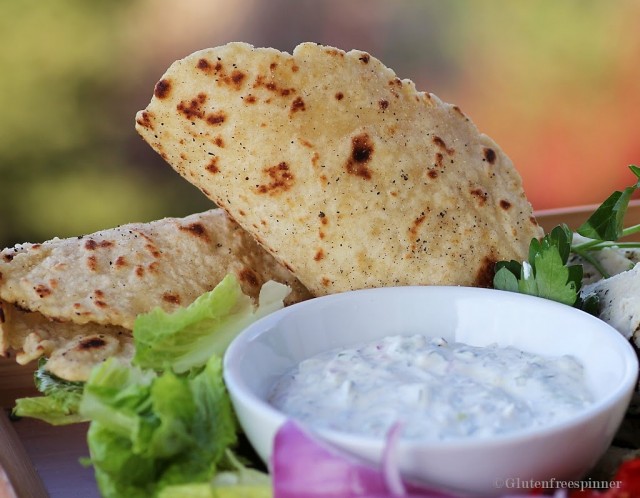 I seasoned them with a little sea salt, pepper, and garlic powder as I fried them in the hot skillet and they were delicious! At first, I started making them in a 500 degree oven on a baking stone, however my kitchen filled with so much smoke I set off every smoke alarm in the house! It was then that I decided to fry them in a heavy skillet over high heat. It was faster and no more smoke alarms. As each flatbread finished cooking, I kept them together on a plate covered with a damp cloth in a warm oven. They stayed soft and tender so they could be bent and wrapped for the Gyro Sandwiches. Mr. Spinner absolutely loved them and commented that they didn't even taste like other gluten free breads. Yipppee, that comment always means success.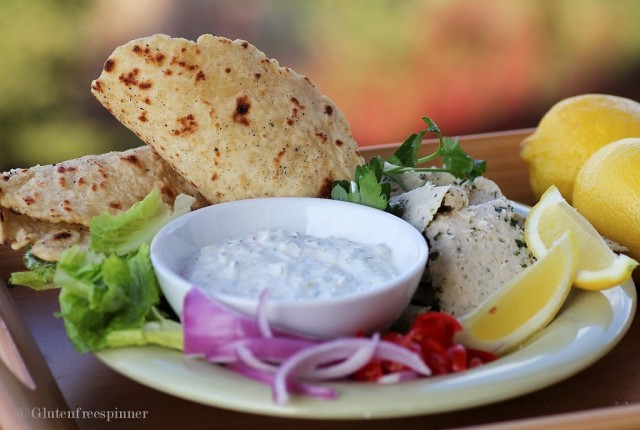 Enjoy a Greek night with your family and friends with Turkey Gyro Sandwiches. Pair with a Sauvignon Blanc if you like white or a Pinot Noir if you prefer red. "Kali Orexi!"
Turkey Gyro Meat
½ cup chopped red onion

1 ¼ lbs ground turkey breast

1 Tbsp minced garlic

2 Tbsp gluten free Greek Seasoning (McCormick is a good one) or make your own mix using dried onion, mint, oregano, garlic, sea salt)

1 tsp black pepper

½ tsp sea salt

¼ cup good quality feta cheese, crumbled

¼ cup grated parmesan cheese

2 Tbsp Olive oil (to be added as it processes)
For rolling loaf:

½ cup finely chopped fresh parsley
Directions:
Preheat oven to 375 degrees
Combine all ingredients (except olive oil) in food processor and process for 30 seconds.

Open lid and move the mixture around to incorporate.

Return lid and process again for 30 seconds while adding 1 Tbsp olive oil.

Remove lid and move the mixture around again.

Return lid and add the second Tbsp of olive oil allowing to process for 30 seconds more.
Pour out onto a large piece of aluminum foil, 24 inches long.

Form into a loaf the size of a loaf pan (about 8 x4 ½).

Sprinkle the ½ cup of chopped fresh parsley over all and roll to cover the entire surface.

Start rolling the foil over the meat loaf like you are wrapping a burrito, tucking in the ends and rolling to the end.

The idea is to enclose the entire roll in foil.

Set the foil wrapped loaf in a loaf pan.
Bake in 375 degree oven for 50 minutes.

Remove from oven and allow to cool for 30 minutes wrapped in the foil before slicing.

Slice with an electric knife with the loaf standing on end.

If you do not have an electric knife, use a very sharp serrated knife and cut as thin as possible.
Flatbread
Pkg Bob's Red Mill whole grain pizza crust

1 ½

cups warm water

1 tsp sugar

Yeast packet (included in mix)

2 Tbsp olive oil
Directions
Combine the warm water with the 1 tsp sugar.

Whisk in the yeast and allow to stand and foam, about 10 minutes.

When the yeast is proofed, add the 2 Tbsp olive oil to the mixture and gradually add to the dry mixture in a large bowl while beating on medium with electric mixer.

When it starts to come together, pour out onto a cutting board and knead just to get the mixture formed into a ball.

Remember, there's no gluten so there's no need to knead.

Divide in two and place both in a medium sized glass bowl that has been sprayed with non-stick spray.

Cover with a damp kitchen towel and allow to rest in a warm place for 50 minutes.
With the damp towel remaining over the dough, tear off a 2 inch piece and roll into a ball.

On a floured surface, roll out to a 5" circular pita looking bread.

You can prepare two-three at a time before cooking each flatbread.
Heat a heavy skillet over medium high heat until very hot.

Add a little olive oil to the pan and 'fry' the breads until each side is bubbled and golden brown.

Sprinkle a little sea salt, pepper, and garlic powder over one side of each while frying.

When both sides are browned, transfer to a plate and cover with a damp towel.

Keep in a warm oven and continue adding the breads as they are done.

Keep in a warm oven with damp towel until ready to serve.