My daughter is getting married in July and it's all things wedding at our house! Though we're not Italian, what's more beautiful than an Italian Wedding Cake? It just screams 'wedding' with the lightly sprinkled coconut shavings and contrasting pecan pieces sharing the limelight. While planning showers, dress fittings, shopping dates and ribbon choices,
there's also the menu to consider for these many scheduled events…and they always follow the wedding theme.
Although my daughter in not gluten intolerant, (thank goodness), she always considers what I can eat and has taken it upon herself to learn the trigger items associated with a gluten allergy. She is also a fantastic baker and I love to create gluten free baked goods for her to critique and enjoy with me.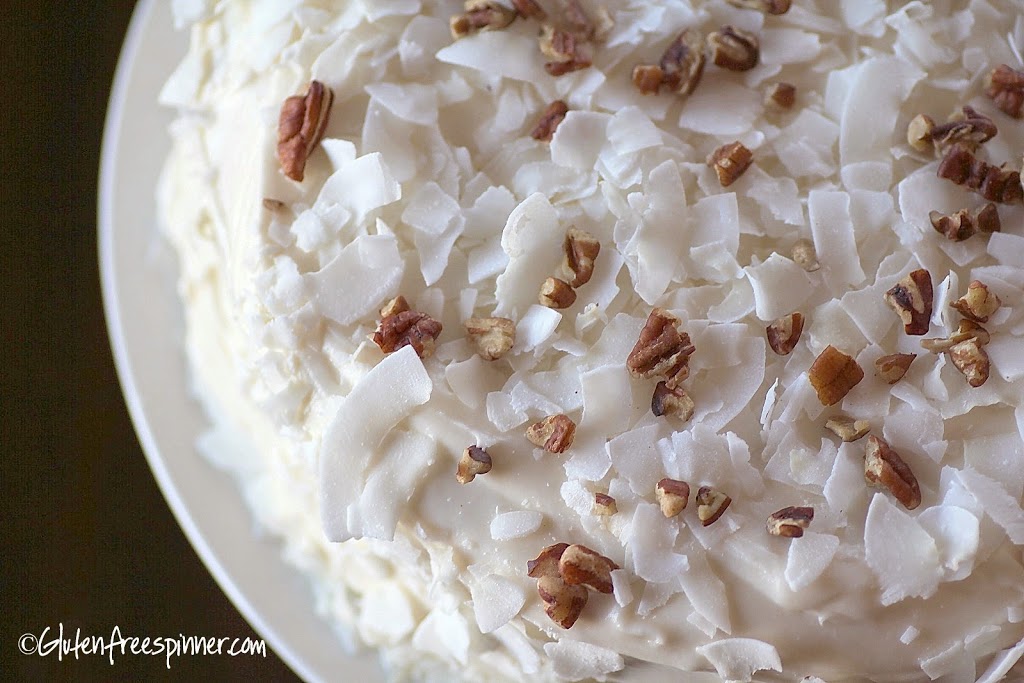 This particular cake was for a gathering with my friends who are throwing a bridal shower in her honor. After reviewing the basics of an Italian Wedding Cake, I decided to adapt a recipe for an Italian Creme Cake from an episode of Emeril Lagasse, who featured Southern Desserts like this one from 'Beth Lott's Mom'. Her recipe most closely followed the original wedding cake methods and I liked that it used buttermilk. I spun a few flavor changes and decorated it a bit different; frosting the entire cake, not just the middle.
The cake looked special for a special occasion and I loved how the little sprig of mint popped against the delicate white and cream cake. It's all about the details…just like a wedding.
I have to say this was a very dangerous cake for me as I absolutely love white fluffy cream cheese frosting and the moistness of the cake bursts with coconut flakes and pecans. Oh my…sinful. I finally had to send pieces to friends and neighbors just to get it out of my sight. Seriously, I was eating it for breakfast, mid breakfast, lunch, and dinner. Not a good idea when I need to concentrate on fitting into my "mother of the bride" dress by July. And that's another story.
Ingredients:
1 cup sweet white rice flour

½ cup tapioca flour

½ cup coconut flour

1 tsp Xanthan Gum or guar gum

½ tsp baking soda

1 ½ tsp baking powder

½ tsp salt

½ cup gluten free butter flavored shortening, room temp

1 stick butter, room temp

2 cups sugar

5 eggs, separated and at room temp

1 cup buttermilk

1 ½ cups flaked/shredded coconut

½ cup finely chopped pecans

1 tsp vanilla extract

1 tsp almond extract
Preheat the oven to 325 degrees and spray two (9-inch) cake pans with non stick spray then sprinkle with gluten free flour. Tap out excess flour and set aside.
In a medium glass bowl combine the sweet white rice flour, tapioca flour, coconut flour, guar gum, baking soda, baking powder, and salt. Set aside.
In a large mixing bowl cream the shortening, butter and sugar until light and fluffy with an electric mixer. Add the egg yolks 1 at a time, beating well after each addition. With the mixer on low speed, add the dry ingredients in batches alternately with the buttermilk, beginning and ending with the dry ingredients.
In a separate bowl, beat the egg whites until stiff, and gently fold into the prepared batter. Add the coconut, pecans, almond and vanilla and fold into the batter. Divide the batter among the 2 prepared cake pans and bake for about 31-33 minutes, or until golden brown and a tester comes out clean when inserted into the middle of each cake. Allow the cakes to cool in the pans for about 10 minutes before turning them out onto a wire rack to finish cooling.
When the cakes are completely cool, frost middle, sides, and top with the buttercream cream cheese frosting. Sprinkle flaked organic unsweetened coconut all over the cake, then lightly sprinkle just the top with chopped pecans.
For the Frosting:
Buttercream Cream Cheese Frosting
1 (8-ounce) package cream cheese, room temperature

1/2 cup (1 stick) butter, room temperature

4 cups confectioners' sugar

1 teaspoon pure vanilla extract

2 Tbsp milk or half and half
1 pkg organic unsweetened flaked coconut for decorating

1/4 cup chopped pecans for decorating
Directions
Beat the cream cheese and butter in a medium bowl with hand mixer until creamy. Slowly add the powdered sugar, scraping down the sides as necessary to combine all ingredients. Add the vanilla and increase mixer speed to medium. Blend until frosting is fluffy, about 1 minute.