Cream Cheese Fruit Pie with Gluten Free Spinner's
Every celebration deserves a beautiful pie, and this Easter my new recipe received five stars from my toughest critic's.   This pie had an edge from the start with my signature cookie crust as the base…it's our family favorite and I use it for fruit pies, cream pies, chocolate pies, ice cream pies, key lime pie, and even cheesecake.  It's quick, easy, and enhances every dessert.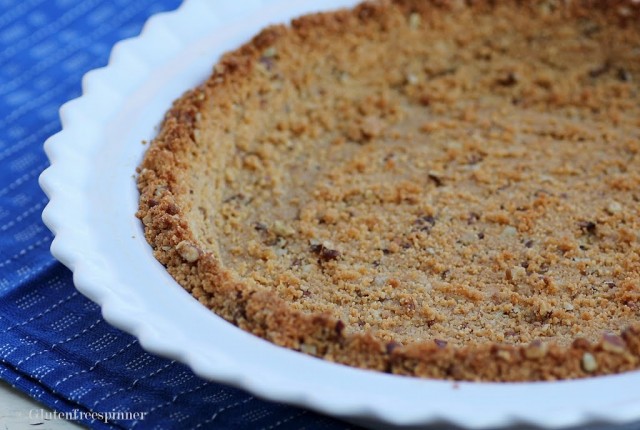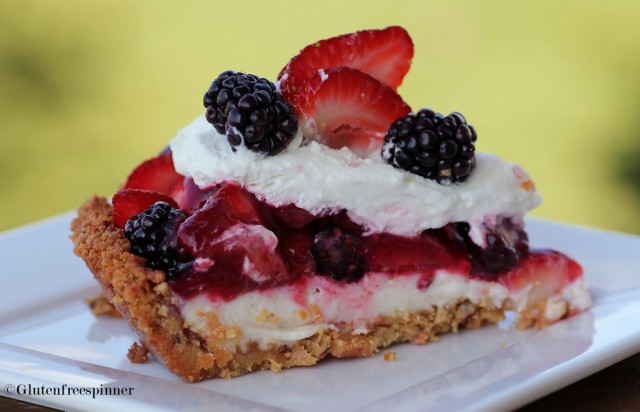 I experimented with the filling using a combination of cheesecake and fruit pizza flavorings then baked it before adding the fruit.  It set perfectly, had a nice consistency, and was smooth and light.  The fruit was simply sweetened as berries aren't quite sweet enough on their own yet, and the optional berry glaze was a nice addition just before adding the fresh whipped cream for a final TaaDaaa!  And remember, it was easy, quick, and making it 5 hours ahead of time and storing in the frig kept it fresh and beautiful until served.  This one's a real crowd pleaser….get ready for the YUM!
Gluten Free Spinner's Signature Cookie Crumb Pecan Crust
 1 ½ cups MI-DEL gluten free arrowroot cookies

14 Schar brand gluten free shortbread cookies

½ cup finely chopped Pecans (Pecan Chips by Diamond)

2 Tbsp sugar

1 stick of butter, melted (1/2 cup)
Directions:
Preheat oven to 350 degrees
Combine the cookies in food processor and pulse until the cookies are a fine crumb.  Pour into a medium mixing bowl.   Add the chopped pecans and sugar and mix all dry ingredients together.  Add the melted butter and mix with a fork to incorporate the butter and create a moist crumb mixture.
Spray a 9" pie plate with non-stick spray and pour the crumb mixture in the middle.  With the fork, distribute the crumb mixture evenly on the bottom first while pushing the crumbs towards the edges creating a crust.  Press down on all crumbs to form a solid base.
Bake in preheated 350 degree oven for 12 minutes.  Remove and allow to cool.
Cream Cheese Fruit Pie
Filling Ingredients:
8 (oz) 1/3 less fat cream cheese, softened

1/3 cup light sour cream

½ cup marshmallow fluff – check gluten free

(if you prefer to use the entire 7 oz jar of marshmallow fluff, only add 2 Tbsp sugar instead of the 1/3 cup listed)

1/3 cup sugar

1 tsp vanilla extract (variation: 1/2 tsp vanilla extract and 1/4 tsp almond extract)
Directions:
Combine all ingredients with hand mixer until creamy, stirring with a rubber spatula to ensure all the marshmallow is incorporated.
Pour into the prepared (and baked) Gluten Free Spinner's Signature Cookie Crust.  Bake at 325 for 25 minutes.  Remove and allow to cool.
Fruit Topping:
1

1/2 lbs fresh strawberries, rinsed, hulled, and cut into quarters

12 oz fresh blackberries
You can change the fruit Topping to your own choices of what's in season….all will work.  Depending on how sweet your fruit is, add 2 Tbsp sugar to the prepared fruit and allow to sit for 15-25 minutes and taste for sweetness before adding additional sugar.  When adding the fresh fruit to the top of the pie filling, use a slotted spoon to drain the juices (reserve the juices for the Fruit Glaze)
Drizzle a little of the cooled fruit glaze over the fresh fruit and top with fresh whipped cream (see below).
Fresh Fruit Glaze (Optional) Adds a nice fruity sauce to the pie
Glaze:
2 Tbsp sugar 

3 tsp cornstarch 

1 cup fresh strawberries  and 1/2 cup fresh black berries

Juice of ½ lemon

Any additional juices leftover from the prepared fruit for filling
Combine the sugar and cornstarch in a small sauce pan.  Add the strawberries and lemon juice and turn heat to medium.  Bring to a slow boil and reduce to low.  Cover and simmer until strawberries are soft and it begins to thicken.  (check often and stir).   Remove from heat and blend with an immersion blender until smooth.  Set aside to cool.  You won't use all the glaze, just drizzle enough over the fresh fruit in pie to glaze.  Reserve the remaining for ice cream or waffles. 
Whipped Cream:
½ pint Heavy Whipping Cream 

3-4 Tbsp Powdered sugar – taste for your choice 

Just a hint of almond extract (or vanilla if you don't have)
In a medium clean and dry stainless steel or glass bowl add the cream, powdered sugar, and hint of almond extract.  Whip until peaks form that hold their shape.