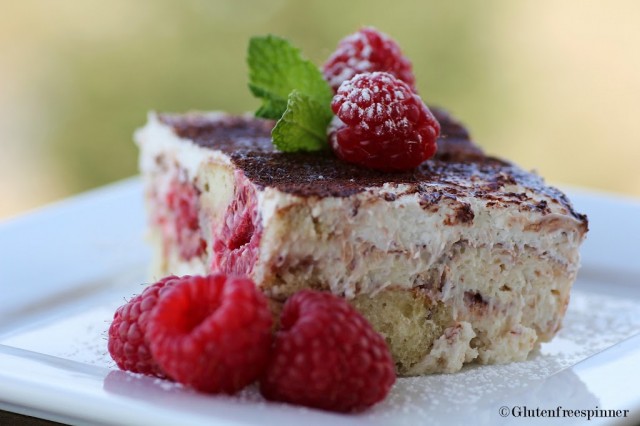 Creamy and sweet, fluffy and soft, delicious raspberry tiramisu.
Not only is this non-traditional tiramisu gluten free, but those layers of lady fingers are made from pancakes. Yep, pancakes.
I wanted to make tiramisu for dessert last weekend because I love the fluffy creamy texture, but I'm not a huge fan of the strong coffee flavor in traditional tiramisu. How about raspberry instead? And, since I've always thought the flavors of tiramisu were similar to waffles or pancakes, how about using gluten free pancakes for the lady fingers? It worked perfectly and was so easy!
I used Pamela's Gluten Free Pancake and Baking Mix (love this mix) and added vanilla and sugar to the batter to make them a little sweeter. I also made them thicker and shaped them into 'lady finger' like cakey-cookies. My afterthought was…next time I might skip the attempt to create lady finger's and just make the sweetened pancake batter into the traditional circles. It would be just as easy to tear the pancakes into pieces and place them. Give it a try and let me know….the flavor will be the same.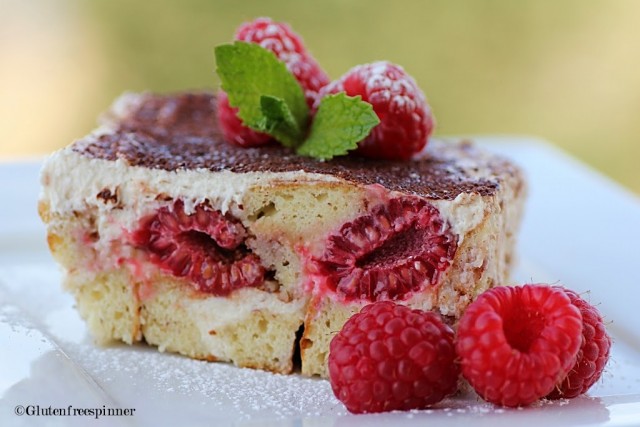 The key to this dessert, as in the traditional, is allowing it to remain in the refrigerator long enough for the layers and flavors to meld together. (I admit to sneaking a scoop out of the corner with a spoon after only two hours, then inconspicuously covering it back up.) It was really good (wink-wink) and I knew it would be even better after six. Before you serve, allow it to sit on the counter at room temp for at least 20 minutes so it has a chance to return to a creamy softness. It was light, sweet, creamy, and fresh tasting with raspberries bursting throughout. The almond paste adds another dimension of flavor to the cream cheese (Mascarpone) that makes this combination a winner.
Pancake lady fingers:
2 ¾ cups Pamela's pancake and baking mix

1 ¼ cups water

3 eggs

2 Tbsp canola oil

2 Tbsp sugar

½ tsp vanilla
Drizzle for Lady Fingers:
3 Tbsp Chambord or Grand Marnier

1/2 cup good quality raspberry jam/jelly (low sugar is a good option)

¼ cup water
Filling:
12 oz heavy whipping cream (1 ½ cups)

2 Tbsp powdered sugar

½ tsp vanilla extract

2 (8 oz) pkgs 1/3 less fat cream cheese or 16 oz Mascarpone cheese

1 (12.5 oz) can Solo Almond filling
1 (6 oz) pkg fresh raspberries plus more for garnish

Cocoa powder for dusting
Directions:
Spray large skillet with non-stick spray and heat over medium heat. In a mixing bowl combine all the lady finger ingredients and mix with whisk to thoroughly combine. Start making the pancakes in the hot griddle by pouring them in the shape of a lady finger (just longer rather than round…the batter is thick so no need to be precise as they are covered in the dessert). Cook until golden brown and flip. If the pan seems too hot, reduce the heat as you need to cook them all the way through and don't want to burn. Touch the top for doneness. Remove to a baking sheet and continue until the batter is gone. Cut each 'pancake' into half or thirds, depending on the size you made them. You want 1" pancake strips. Allow the ladyfingers to sit on baking sheet while you prepare the filling.
Combine the Drizzle ingredients in a 4 cup glass measuring cup (so you can pour later) and microwave for 45 seconds. Set aside. Whip the cream, powdered sugar, and vanilla until fully whipped. Set aside.
Whip the cream cheese (Mascarpone) and almond filling together until creamy. With a rubber spatula, add half of the prepared whipped cream and mix into the cream cheese filling. Fold in the remaining whipped cream gently to keep the volume. Set aside.
To Assemble:
In a 13×9 dish lay ½ of the lady fingers on the bottom. (If some of the fingers are really thick, just pull apart lengthwise and use as two.) There should be some space between the fingers so as not to get too dense. Drizzle ½ of the raspberry drizzle over the lady fingers distributing evenly. Top with ½ of the filling. Dust the filling with cocoa powder. Arrange 6 oz of fresh raspberries over top of cocoa. Lay the remaining lady fingers over the raspberries (it will look messy and the fingers will lay within the raspberries…don't worry, they are covered with the filling). Drizzle the remaining raspberry drizzle over the fingers again. Top with the remaining filling and smooth over the entire top of the dessert covering the fingers. Dust with cocoa powder. Cover with plastic wrap and refrigerate for at least 4 hours…6-8 is best or overnight.
To Serve:
Remove from refrigerator and allow to stand for 15-20 minutes so it can soften. Cut into squares and garnish with fresh raspberries. Dust lightly with powdered sugar and serve.