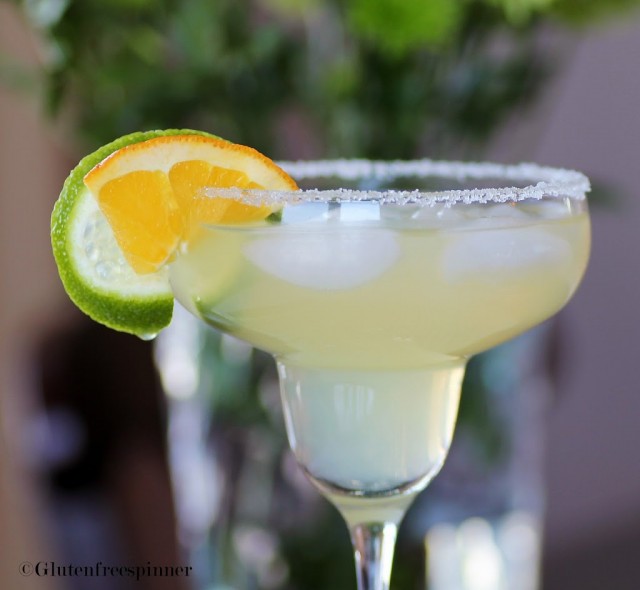 My Favorite Margarita
I received a message yesterday asking when I was going to post my Margarita Recipe, so Melanie, this one's for you!   Thank you for asking.
I love Margarita's and over the years I've become quite picky in how they are made.  Most Margarita's are either too sweet or taste like sour mix instead of the two main ingredients, tequila and lime.  While staying at a beautiful resort in Playa Mujeres two years ago, they made their Margarita's from fresh squeezed limes, tequila, and a splash of triple sec.  They were refreshing, light, a little tart,…and oh so good, especially on the beach.
In the Summer we spend most of our weekends at the cabin and Margarita's are a daily ritual.  As we load the pontoon with towels, ice, snacks, docking station, coolers, suntan lotions and of course the dogs, we also have a pitcher of Margarita's to start to voyage.  Once everyone's glasses are full, we launch.  Oh yes, our lake cruises involve hours of laughter, dancing, music, and lasting memories with family and friends.
Now, about that Margarita, Melanie.
When Bethenny Frankel, the maker of the Skinny Girl Margarita, first came out with her recipe I had to give it a try.  It was just a little too strong and too tart for my liking, so I set out to make my own.  I loved her ideas so I have to give her some of the credit.
I like my Margarita's on the rocks, not blended and not like a slush, but it must be super cold with lots of ice.  One of the keys is the Tequila must be Silver Tequila (white tequila) that is 100% agave.  You will never go back to the brown tequila once you have silver.  Next, the lemonade you use is very important.  I prefer Minute Maid Light Lemonade because it's less sweet, no pulp, and less calories.  I know that the 'light' just means it has more water, but when I head to the cabin I want it easy and this makes it so easy.  Next, purchase Grand Marnier.   It's expensive, but it will last you a long time because you only use a small amount and it makes all the difference.  (Well, I should preface, it will last a long time until you also make Margarita's part of your Summer Ritual!)
Another tip is to purchase your limes in bulk at places like Costco or Trader Joe's as you'll go through many.  I keep mine in a little basket on the counter with lemons because I like the fresh color and I use them so often.  Also, take the time to salt/sugar the edge of your glass and don't forget the garnish!   It's the details that make food and beverages taste better, and I'm the detail queen.  When I took a second job at age 19 cocktail waitressing at a local Mexican Restaurant in the disco bar (yes, I'm that old…and 19 was the drinking age then), a party of 'suits' came in and one of them ordered a gin and tonic.  As the bartender completed my order, that gin and tonic looked so 'boring' amongst all the other drinks so I added a few filberts to make it 'pretty'.  I really thought I was doing the guy a favor…heck, who doesn't like a 'prettier' drink?  Well, he didn't.  He called me back to the table and demanded a new drink.  I thought he was a snob.
So, cheers to you…with a delicious, light, refreshing, Margarita.
Ingredients:
1 ½ oz Silver Tequila (100% agave)
6 oz minute maid light lemonade
2 oz Mr and Mrs T Margarita Mix (or other GF mix)
½ lime squeezed
¼ orange squeezed
Splash Grand Marnier
Directions:
Mix all ingredients together and pour into an ice filled margarita glass rimmed with a mixture of ½ sugar and ½ salt.  Garnish with an orange and lime wheel.