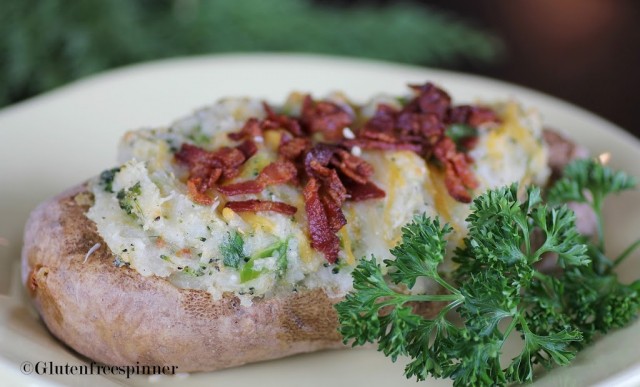 Twice Baked Potatoes with Broccoli
Yumm!! I love twice baked potatoes…absolutely. Today I made them with steamed broccoli and although I never thought it possible, it made them even better. Cheesy and creamy yet chunky and full of texture and flavor from the broccoli. And don't forget the bacon…it adds that smokey saltiness that only bacon can bring to a dish.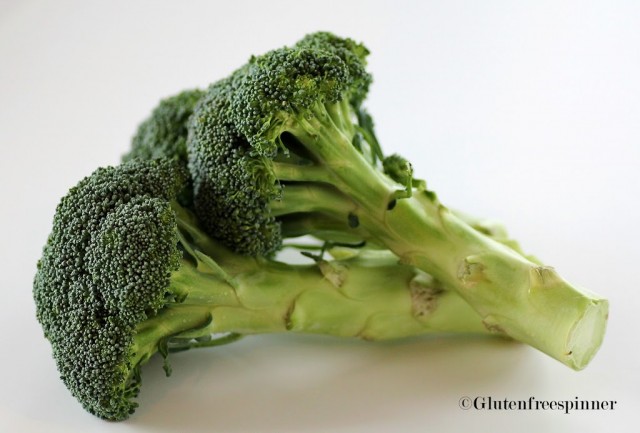 Broccoli…it's beautiful isn't it? I told my son today that I was photographing broccoli and we both laughed. Being a foodie brings you to the realization that you do…love…food.
You learn to appreciate the colors, the textures, the different tastes and smells, and you start to see food as the fuel that feeds our bodies and affects how it performs and ultimately
how we feel.
Being gluten free has made me see food like I never have before. I've learned to appreciate where it comes from, how it's processed, and the nutrition and flavor components of everything I eat.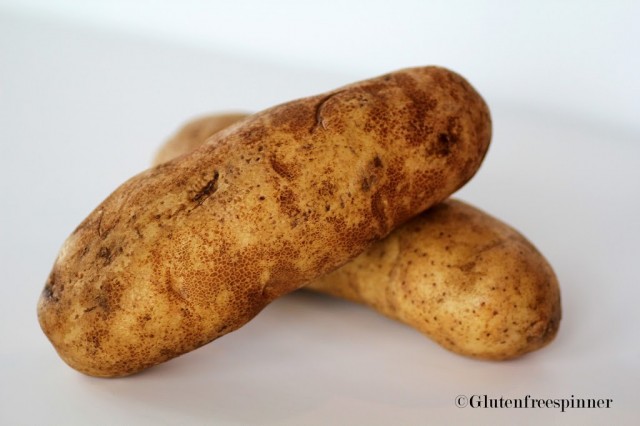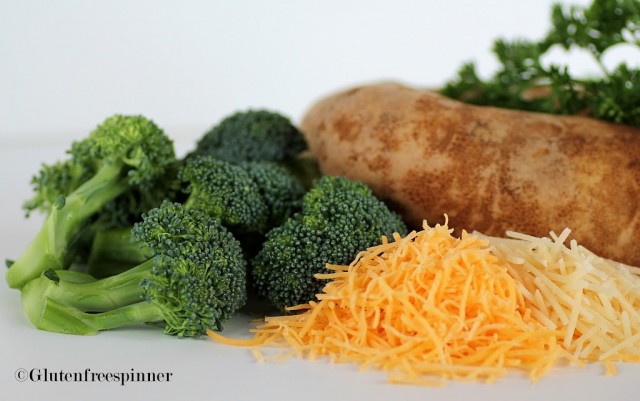 The list of ingredients alone in these potatoes keep me drooling with anticipation. Bacon? Cheese? Butter and sour cream? How could they be anything but yummy. They are a bit time consuming but easy to make and can be made ahead of time for an easy side dish. If you have large potatoes like I did, they are a meal in themselves. You can also make four small potatoes instead of two large or double the recipe and make 6-8 small potatoes for a larger gathering. Making them a day ahead is the best plan when serving company.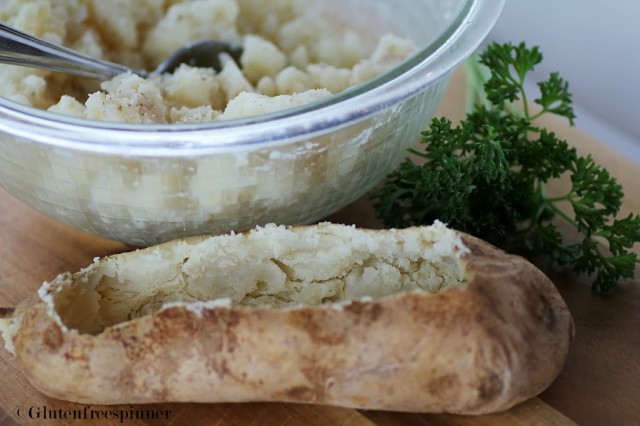 My potatoes were so big they looked like little brown leather slippers with lambswool interior when I scooped the potato out of the shell. Mmmm…what a yummy slipper it would be. While scooping, be gentle so you don't break the skin, but don't worry if you do, it's not a big deal, just push it back together and once it's filled you'll never know.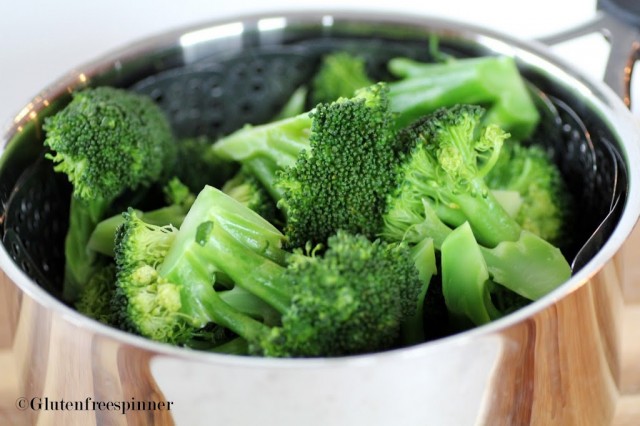 Steam the broccoli just until fork tender, turn the heat off, drain the water, and leave the lid off so it doesn't continue to cook. You don't want it mushy so watch closely.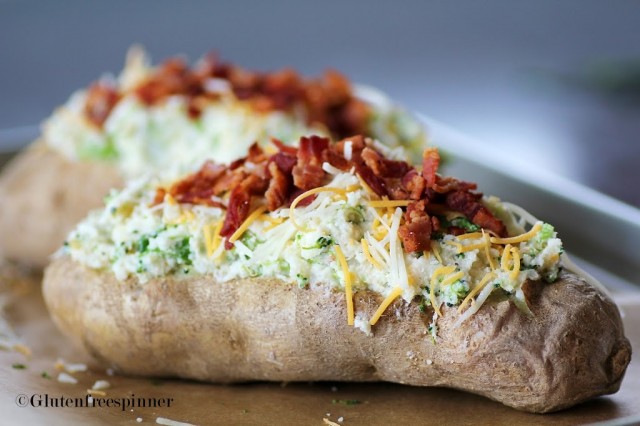 Here they are, stuffed and ready for the oven. I can hardly wait. Yum!
Ingredients:
2 very large russet potatoes

4 slices uncured bacon, cooked and crumbled

1 cup chopped steamed broccoli florets – tender but not mushy

1-2 chopped scallions

3 Tbsp softened butter

1/3 cup sour cream

¼ cup shredded cheddar cheese

¼ cup shredded Swiss cheese

2 Tbsp grated Parmesan cheese

2 Tbsp milk

Salt and Pepper to taste
Directions:
Preheat oven to 375 degrees.
Steam the broccoli just until tender, taking off the heat when still a bit crisp but tender. Chop into ½ inch pieces and set aside. Fry the bacon until crisp and drain on paper towel. Crumble and set aside.
Scrub the potatoes and bake at 375 for 1 ¼ hours or until done. Allow to cool enough to handle and slice a very small sliver of peel off the top to expose the potatoes inside. Reduce heat to 350 degrees.
Scoop out the cooked potato, being careful not to break the skin, leaving a nice 'shell' to fill. Place the cooked potatoes in a glass bowl and add the butter, salt and pepper to taste, and smash with a potato masher. Add the sour cream, cheeses (reserve some cheese for the top), scallions, and milk and mix until combined. Add the bacon (reserving some for topping) and chopped broccoli, mixing just enough to incorporate into the potato…not too much or you'll smash the broccoli. Taste for seasoning and fill the potato shells…mounding them up until the filling is gone. Top with the reserved cheese and bacon.
Bake at 350 degrees on a baking sheet for 25-35 minutes or until the cheese is melted and slightly golden brown on top. Allow to cool for at least 5 minutes as the filling is very hot and you'll likely burn your mouth if you eat them right out of the oven.