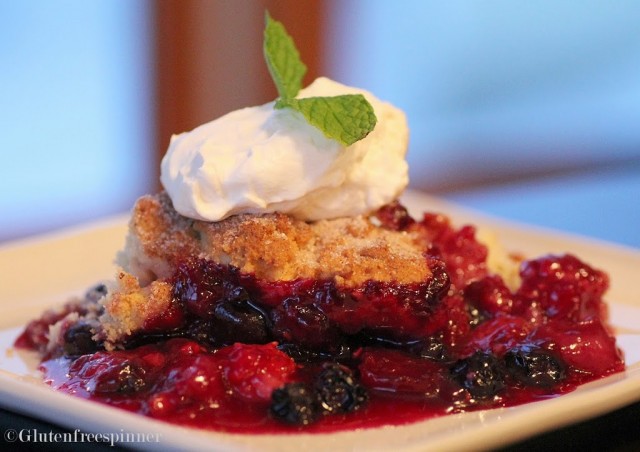 Berry-Cherry-Licious Cobbler
Blueberries must be flourishing somewhere because last week I bought a large container of them at Costco and they were the most beautiful berries I have found in a while. My plan was to make blueberry muffins, a mascarpone tart, and some other magical creation, but my schedule had other plans for me. After gazing at them in the frig for six days and promising they hadn't been forgotten, they started wilting on me. Fearing I'd find them perished the next day, I set out to make a cobbler knowing I could use the whole bunch at once.
I also had straggling strawberries, raspberries, and Bing cherries nearing their shelf life so I added them for even more deliciousness. Using Bing cherries in a baked dessert was a first for me as I usually enjoy them just as they are…sweet, juicy, and unlike any other fruit. But I had purchased a bag for a photoshoot project and at $4.29 a pound I wasn't about to abandon them. Removing the pit from the cherries is easy with a paring knife. Start at the top of the stem and follow all the way around ending up with one whole cherry piece. There might be a cherry pitting tool out there, but this worked well for me.
Waaaalaa, my Berry-Cherry-Licious Cobbler! Mmmmm, so-so good. The four-berry combination offers a berry explosion and the added sugar and vanilla provide just enough sweetness to bring out their flavors yet not spoil fruity goodness. This is my first gluten free cobbler and it won't be my last. I'm not sure I can improve upon the berry-cherry combination, but the cinnamon crusted topping will be a keeper for my next attempt. Serve slightly warmed with fresh whipped cream or vanilla bean ice cream…both equally yummalicious.
Ingredients:
Crust:
1 ¼ cups all purpose gluten free flour

½ cup Pamela's Baking Mix

2 Tbsp white Sugar

1 Tbsp brown sugar

1 Tsp Baking Powder

¼ tsp salt

½ tsp Guar Gum (or Xanthan gum)

6 Tbsp butter, firm, cut into cubes

1/3 cup lowfat half and half (land o lakes) or regular half and half if you can't find

1 egg

1 tsp vanilla extract
Filling:
7 cups fresh blueberries, strawberries, bing cherries, and raspberries (any combination to equal 7 cups)

1 ¼ cups sugar (use 1 cup if your berries are super-summer sweet)

1/3 cup all purpose gluten free flour

¼ cup butter, melted

1 tsp vanilla

Cinnamon sugar for top – about 3-4 Tbsp
Directions:
Preheat oven to 375 degrees
Whisk the dry ingredients together until combined and add to a food processor. Add the butter cubes and pulse until the mixture resembles a coarse cornmeal. (You can use a pastry blender or two forks as well.)

In a small bowl, combine the lowfat half and half, egg, and vanilla extract. Whisk until combined. Add to the dry mixture in processor and pulse until combined. Set aside. (Or mix together by hand if not using a processor.)

In a large glass bowl, add the berries, sugar, gluten free flour, butter, and vanilla and toss to combine all ingredients together.

Spray a casserole dish (9″ diameter, 3″ deep) with non-stick spray and pour the berries into dish. Top with the batter topping by spooning clusters around the dish, eventually covering most of the berries. Sprinkle the top with cinnamon sugar mixture and bake in preheated 375 degree oven for 45-50 minutes.
Allow to cool for 20 minutes before serving. If making ahead, just re-heat servings in the microwave just until warm. Serve with fresh whipped cream or vanilla bean ice cream.