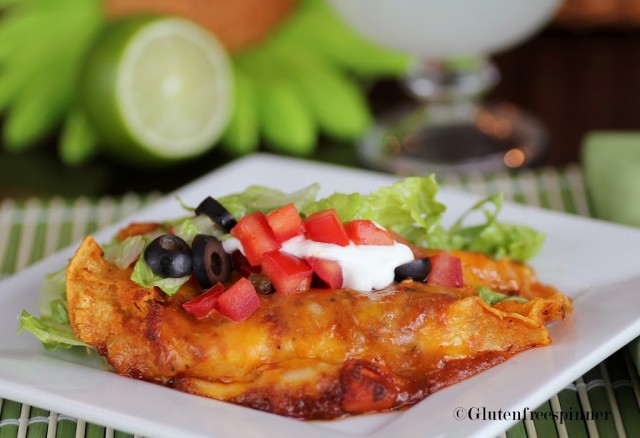 Beef Enchiladas with Homemade Enchilada Sauce
It's so easy to open a can of enchilada sauce to make these shredded beef enchiladas, but after trying my hand at this homemade sauce, I now question whether I'll tap into that convenient resource again. It started with making a beef bottom round roast with the

plan to use the shredded beef for enchiladas. The sauce I made for the roast had amazing flavor on it's own and the only thickening agent I used was the pureed vegetables themselves. I knew, after tasting the rich thick flavorful sauce that I would have a winner enchilada sauce once I added smokey flavors like chipotle and cumin. I encourage you to give the homemade sauce a try, it's so easy and very much worth the effort and added nutrition value.
The key to really good enchiladas, IMHO, is dunking the corn tortillas in the enchilada sauce before filling. The tortillas soak up the sauce and add a layer of ground corn flavor that gives Mexican Cuisine it's authentic taste. The filling remains very simple with shredded beef, enchilada sauce, chilies, sour cream, and chipotle seasoning. You can substitute browned ground beef for the shredded which is just as flavorful. And the cheese…we must have melting cheese in our enchiladas and Co-Jack fits the bill perfectly.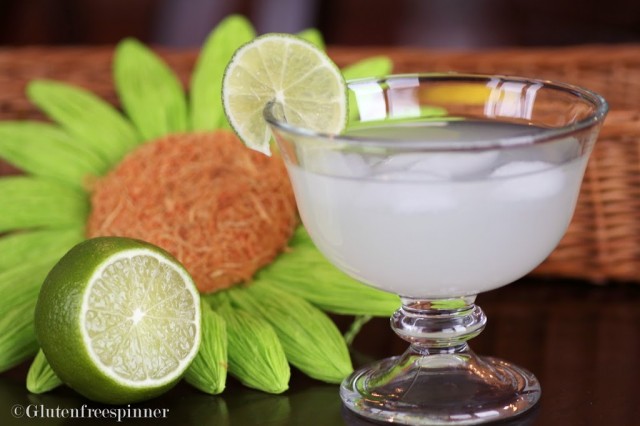 Don't forget the Margarita and a few limes. Did I say Margarita? Ahhh yes, one of my favorite summer drinks. I happen to think mine are the best, and every weekend during the summer I hear "Rita" calling around 4:30…just in time for happy hour. I'll post my recipe under the Wine and Spirits Tab. Hasta Manana!
Beef Enchilada Ingredients:
1 pkg of 6 inch corn tortillas – 12 count

2 ½ cups shredded co-jack cheese

2 ½ cups Shredded beef or ground beef, browned and lightly seasoned

1- 4 0z can fire roasted chilis

¼ cup Daisy light sour cream

1 tsp Urban Accents Mesa Rosa Chipotle Seasoning (or your favorite chipotle seasoning)

Salt and pepper to taste

3 cups enchilada sauce – divided

(homemade recipe below or you can use gluten free–canned enchilada sauce)
Directions:
Preheat oven to 350 degrees. Lightly spray a 9×13" pan with non-stick spray. Heat the enchilada sauce in a medium sauce pan on low and set aside.

Add ¾ cup of the enchilada sauce to the bottom of the 9×13 pan.

In a medium sized bowl, mix the shredded beef (or browned ground beef) with the chilis, ¼ cup enchilada sauce, sour cream, and Mesa Rosa Chipotle Seasoning. Taste for seasoning and add a touch of salt and pepper if needed.

Dip a corn tortilla in the enchilada sauce, covering both sides with sauce. Lay the coated tortilla in the pan atop the sauce and put about 3 Tbsp of the shredded cheese down the center, then some of the meat mixture on top of cheese and roll up placing the enchilada seam side down. Repeat for the remaining tortillas…makes 8-10. Pour the remaining sauce over the top of all the enchiladas and sprinkle with remaining cheese.

Bake uncovered in preheated 350 degree oven for 25-35 minutes or until the cheese is browned and the enchilada's are bubbly around the edges.
Remove from the oven and allow to cool for 8 minutes. Serve with shredded lettuce, sour cream, chopped tomatoes, black olives etc. to your liking. Enjoy with a Margarita on the rocks.
Homemade Enchilada Sauce:
Base:
2 Tbsp olive oil

1 large Vandalia Onion, chopped

3 cloves garlic, minced

2 ribs celery, chopped with leaves

2 carrots peeled and chopped

1 green or orange bell pepper, chopped

1 Tbsp grill seasoning

1 – 14.5 oz can fire roasted crushed tomatoes

1 – 14.5 oz can beef broth
Final Seasoings:
1 Tbsp Ancho Chili Powder

1 tbsp Cumin

1 tsp Mesa Rosa Chipotle

1 tsp Oregano

1 tsp Garlic powder

1-2 tsp Agave Syrup (or brown sugar if you don't have)

1 tsp Instant Expresso powder
Directions:
Saute the onion, garlic, celery, carrots, bell pepper in olive oil until the onion starts to soften. Add the grill seasoning and toss to blend into the vegetables. Add the tomatoes and beef broth and bring to a slow boil. Reduce heat to simmer, cover, and simmer until carrots are soft, about 25 minutes. Puree ingredients with an immersion blender (or regular blender and pour back into pan). This will give the thickness to the sauce. Stir in the final seasonings and simmer on low uncovered for another 5-7 minutes. Taste for additional salt or pepper as needed.