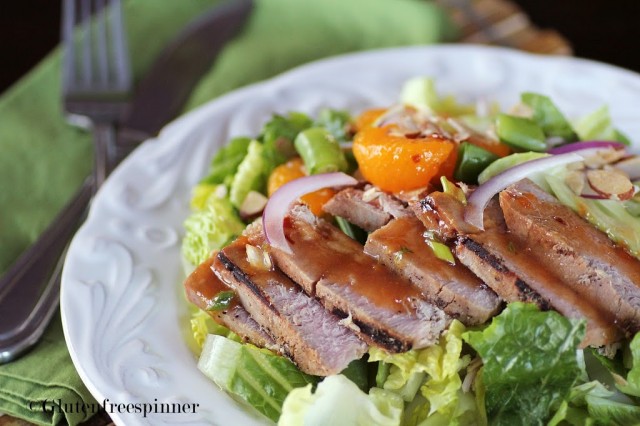 Asian Grilled Tuna Salad
It's around January, like everyone else it seems, that my husband and I turn to our "skinny meals". It's funny because I love everything about these meals, we just cut out the bread, potatoes, desserts (ugh), and snacks of any kind. We cook fish, seafood, chicken, turkey, pork and once in a while beef, and it's grilled or roasted very simply with a side vegetable or salad. That's about it…and it's easy.
Yes, that means no more twice baked potatoes (boo-hoo), mashed potatoes, rich creamy sauces, and no more flourless chocolate cakes. But we feel so much better, especially after the holiday extravaganza of food.
This dish is especially yummy with the Asian marinated tuna steak grilled and sliced on top of a romaine salad loaded with sweet sugar snap pea pods, crisp celery, sweet red bell peppers, bright and juicy mandarin oranges, and a topping of slivered honey roasted almonds. The dressing's base is made from apricot preserves and it truly makes this salad irresistible. So here's to 'skinny meals'…delicious, nutritious, and oh so beneficial.
Ingredients:
2 tuna steaks – depending on the variety of tuna, choose fresh pink or deep red – both without brown or dark areas (this part is very strong tasting). There shouldn't be a rainbow sheen and it should smell fresh like the ocean (really). If you can't find fresh, frozen should be just fine too from a trusted vendor.
Marinade:
¼ cup San-J gluten free teriyaki sauce

1 Tbsp chopped pickled ginger

1 chopped scallion

1 Tbsp olive oil

1 Tbsp Simply Fruit Apricot Preserves

1 tsp lime juice
Combine all ingredients and pour over two tuna steaks in a zip lock bag. Squeeze air out and refrigerate for at least 1 hour longer is best.
Preheat grill on high.
Lightly oil grill grate. Cook the tuna steaks for 5 to 6 minutes. Turn and cook for an additional 5 minutes, or to desired doneness. Remove from grill and set aside to cool while you prepare the salad.
Asian Apricot Salad Dressing
3 Tbsp apricot preserves

1 Tbsp Dijon

2 tsp gluten free Tamari soy sauce

3 Tbsp rice vinegar

½ tsp Urban Accents Asian market spice (or other Asian spice)

½ tsp lime juice

Dash Crushed red pepper

Dash Onion salt

1 Tbsp grated red onion

1 scallion chopped

¼ cup olive oil
Whisk the dressing ingredients together until combined. Chill if you make ahead.
Salad
For the list of ingredients below, use the amounts to taste and size of the salad you want.
Romaine lettuce

Red pepper thinly sliced

2 Scallions, chopped at angle

Sugar snap pea pods, cut in thirds

1 can Mandarin oranges – drained or fresh if in season

Very thin slices of red onion

Honey roasted almond slivers

Celery cut at an angle
Toss the salad, lay the grilled tuna steak on top and drizzle with the Asian dressing.