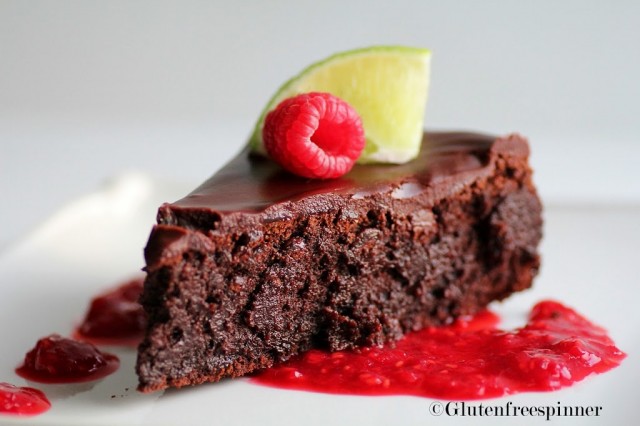 Flourless Chocolate Cake with Raspberry Lime Salsa
The many recipes for flourless chocolate cake gave me inspiration to add my own spin to the classic.  This cake is known for it's rich chocolate density, and I wanted to add yet another layer of decadence.  Not only did it have to taste amazing, it had to look amazing.

So how do you improve upon rich chocolate fudgy torte-like cake?  Easy, add deep dark chocolate to the semi-sweet chocolate.  Oh yes!  Not only are the flavor properties enhanced, you reap the benefits of dark chocolate.  Dark chocolate contains a large number of antioxidants (nearly 8 times the number found in strawberries).  Antioxidants protect the body from aging caused by free radicals, which can cause damage that leads to heart disease.  So…I'll take two pieces!!
But wait…it doesn't stop there, the richness of the chocolate reveals a hint of fresh raspberries from the added Chambord Liqueur.  Ahhh, and if that wasn't enough, I drizzled chocolate ganache over the top (did I say over the top?) that oozes down the sides to seal in the moistness.  The final surprise of raspberry lime salsa cuts through the rich chocolate density while adding a bright fresh sweet-tart finish.
I'm laughing as I describe this artful dessert…it's that indulgent.  Enjoy!
This cake is best made a day ahead…great for parties, celebrations, holidays!

Ingredients:
8 oz semi sweet choc chips

4 oz dark chocolate chips

2 sticks butter (1 cup)

1 Tbsp Chambord

1 tsp vanilla

1 ¼ cups sugar

6 eggs

1 cup unsweetened cocoa powder
Chocolate Ganache Glaze:
4 oz semi-sweet chocolate chips

3 Tbsp butter

1 Tbsp heavy cream

1 Tbsp karo Syrup

¼ tsp vanilla extract
Directions:
Preheat oven to 375 degrees.  Spray a 9" springform pan with non stick spray then line the bottom of the pan with a circle of parchment paper.  Spray the paper with non-stick spray as well.  Set aside.
Place the 8 oz of semi-sweet choc chips, the 4 oz dark choc chips, and the 1 cup of butter (2 sticks) in a large glass bowl.  In the microwave, heat at 1 minute intervals to start, stirring well after each minute up to 3 minutes.  Then start with 30 seconds at a time and stir well after each until the chocolate is melted and there are no lumps of chocolate.  I usually go to 20 seconds at the end just to be sure.  Be very careful when microwaving the chocolate as if you get it too hot you will ruin the entire batch and it's not recoverable.  You can also do this with a double boiler.
When the chocolate if fully melted, add the Chambord and vanilla mixing well to combine.  With an electric hand mixer, add the sugar and mix on low speed until completely incorporated.  Next add the eggs, one at a time, mixing well on medium speed after each addition.
Put the 1 cup of unsweetened cocoa powder into a fine mesh strainer over the bowl of chocolate and gently sift into the mixture.  Don't skip this step as it ensures no lumps.  Stir (don't beat) the cocoa into the chocolate just until blended.
Pour the batter into prepared pan and bake at 375 degrees for 32-36 minutes or until the center is set and there is a thin crust on top.  Mine was done in 33 minutes. The cake should be firm.  If the top is cracked and puffed, don't worry, it will settle.  Cool for 15 minutes before removing the sides of the pan.  You may need to run a knife around the edges.
Meanwhile, make the chocolate ganache.
Melt the 4 ounces chocolate and 3 tablespoons butter in the microwave at 30 second segments until melted.  Stir in the cream, Karo, and vanilla. Set aside to cool slightly.
When the cake is almost cool, pour the glaze in center of cake and spread over top.  Set in the refrigerator for at least two hours, uncovered, to allow glaze to set.  ** For best results, cover the cake with plastic wrap and allow to set in refrigerator overnight. I have served this the same day and of course, still delicious…it's just best the following day.  The key to remember is to remove from refrigerator at least 1/2 hour before serving…best at room temperature.  Serve with Raspberry-Lime Salsa (below).  Store room temperature covered with plastic wrap.
Raspberry Lime Salsa 
6 oz fresh raspberries

1 lime, juiced

1 Tbsp sugar
Remove about 6 raspberries from the batch and set aside for garnish.
In a small food processor (or blender), blend the raspberries, lime juice and sugar, pulsing just until a thick salsa.  Refrigerate until ready to use.