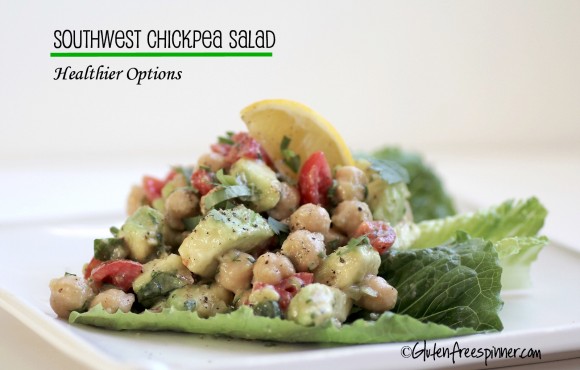 With the Christmas celebrations of 2010 behind us and the New Year celebrations ahead, I'm spending this week eating lighter than usual and enjoying every bite.  My Chickpea Salad was easy to make, easy to pack for lunch at work, and deliciously healthy with bright fresh flavors.  The avocado stays firm and fresh from the Meyer Lemon juice and the subtle zing of hot sauce adds a nice zip to the entire salad.
I used red onions for a sweet peppery bite and green onions for garden fresh flavor.  Fresh squeezed lime juice would also be nice in this salad.  Serve over a bed of lettuce with gluten free tortilla chips on the side for crunch.  It's a lunch you'll look forward to while enjoying the health benefits too.  
This recipe is Balanced, High Fiber, Dairy Free, Gluten Free, and Wheat Free
Nutritional Value based on 3 Servings at 3/4 cup per serving:
Per Serving:  Calories: 366  Carbs: 25 g  Fat: 28 g  Protein: 7 g 
Ingredients:
1 can chick peas, rinsed and drained

¼ cup fresh cilantro, chopped

1 ripe Avocado, diced

8-10 grape tomatoes, quartered

2 scallions, chopped

1 Tbsp chopped red onion
Dressing:
¼ cup olive oil

½ tsp ground cumin

1/8  tsp onion powder

1/8 tsp garlic powder

Juice of ½ lemon (Meyers if you can find it) or Lime Juice

1 tsp honey

5-8 dashes of favorite hot sauce

½ tsp salt

½ tsp pepper
Directions:
Combine the salad ingredients in a medium sized glass bowl, tossing to combine being careful not to mash the avocado.  Blend the dressing ingredients together with a whisk, taste for seasoning adding more honey or salt and pepper to taste.  Pour over salad ingredients and gently toss to coat.
Refrigerate until ready to serve.  Toss to re-distribute all ingredients, lightly pepper and squeeze fresh lemon (or lime) and serve over a bed of lettuce with a side of gluten free tortilla chips.