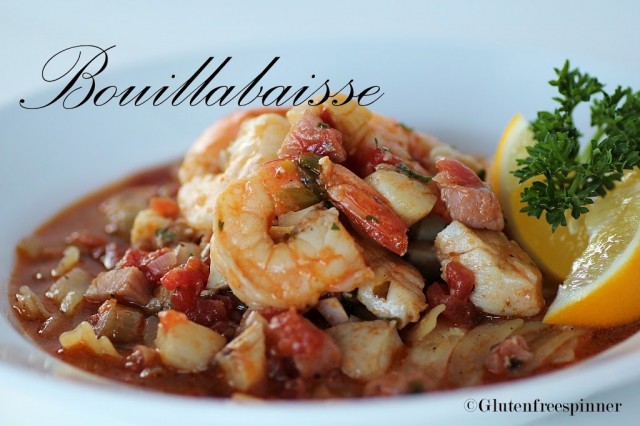 I made this bouillabaisse with a good friend in mind as she loves all things seafood. She was the first to introduce me to sea scallops, her favorite, and although I enjoyed them, they weren't my favorite as I wasn't sure of the texture. Then I tried bay scallops…little pillows of heaven! They are tiny and delicate and seem to melt in your mouth with tenderness. If you haven't tried them, they are a must…especially in my bouillabaisse.
My fish stew starts by sauteing Vidalia onions, scallions, garlic and smokey ham in olive oil and butter just until tender. You can use sausage if you prefer over the ham, just make sure it's smokey and gluten free. Then I add tomatoes, brandy, wine, and chicken broth for the sauce. I toss the seafood consisting of shrimp, bay scallops, and a tender white fish (I used Minnesota-caught crappie) in Emeril's Original Creole Essence to give it a Bayou influence. The seafood is added at the last minute and the entire stew comes together quick and easily.
The aromatic's of this stew fill your senses with the delicate flavors of the sea while the flavorful broth showcases each distinct flavor. I served my bouillabaisse over a light layer of gluten free Tagliatelle noodles (by Schar), topped with a fresh squeeze of lemon and a light dusting of grated Parmesan. Truly a seafood lover's delight.
2 cups gluten free Tagliatelle noodles




2 Tbsp olive oil

2 Tbsp butter

1 medium Vidalia onion, diced

2 scallions, chopped, white and green

1 clove garlic, minced

½ cup diced smokey ham

Fresh black pepper

Sea salt to taste
Sauce:
2 Tbsp good brandy

1/2 cup white wine

1 – 14.5 oz can petite diced tomatoes in garlic and olive oil

2 Tbsp tomato paste

1 cup chicken stock

Salt and fresh black pepper

3 dashes favorite gluten free hot sauce

1 tsp Emeril Original Essence
Seafood:
1 dozen Shrimp, peeled and deveined – tails optional (leaving on adds flavor)

1 1/2 cups White fish, cut into 1" pieces (about 3 medium sized tilapia fillets)

1/2 pound bay scallops (or about 30)

1 Tbsp Emeril Original Creole Esssense
To Serve
Lemon Squeeze

Parmesan Cheese

Chopped fresh Parsely
Cook the noodles to package directions, rinse, drain and toss with a light sprinkle of olive oil (to prevent sticking) and set aside.

Sauté the onion, scallions, garlic and ham in the olive oil and butter until the onion is tender. Remove from heat and add the brandy. Ignite the brandy and return to heat allowing the alcohol to burn off (be careful). Next add the white wine and allow to simmer for 2 minutes. Add the remaining sauce ingredients and allow to simmer on medium heat for 4-5 minutes as it reduces slightly.
Place the shrimp, fish, and bay scallops in a separate bowl and toss with the tablespoon of Emeril seasoning. Add the seafood to the sauce mixture with heat on medium tossing and allowing to cook, just until the fish is cooked through and the shrimp is pink. Turn heat off and sprinkle with parmesan cheese. Serve over a light serving of prepared Tagliatelle noodles, squeeze with fresh lemon, and sprinkle with fresh chopped parsley.