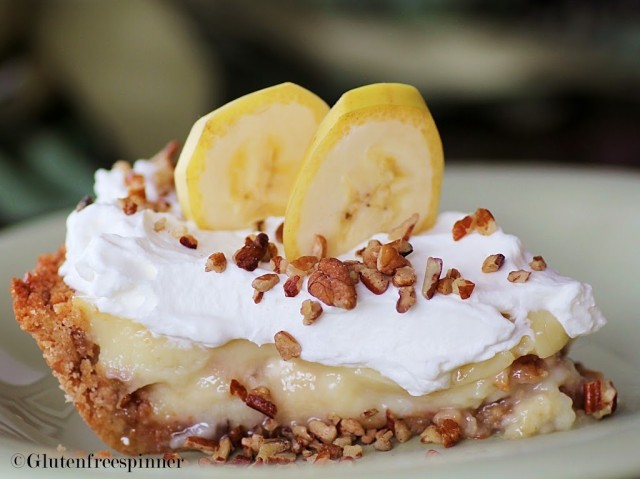 Banana Cream Pie
This was my first time making a banana cream pie from scratch. There are so many positive things about living a gluten free diet, and one of them is knowing everything you put into your body is natural and healthy. You learn to appreciate 'real' foods again.
Even if one of the many companies introducing gluten free products (which I appreciate!) offers an instant pudding mix, I'll never go back. This is that good.
This pie is made from the simplest ingredients of banana's, sugar, skim milk, cornstarch, eggs, butter, and vanilla. Pretty easy, right? The creaminess of the custard is so full of flavor and the pecan cookie crust is definitely an added indulgence. Top this treat with whipped topping and a few chopped pecans for an irresistible finish. Enjoy!
Ingredients:
Preheat oven to 350 degrees
Crust:
1 ¼ cups arrowroot cookies, crushed

¼ cup sugar

6 Tbsp melted butter

¼ cup chopped pecans
Combine all ingredients and press into a pie plate that has been sprayed with non-stick spray.
Bake at 350 degrees for 12 minutes and remove to cool.
Filling:
3/4 cup white sugar

3 ½ Tbsp cornstarch

1/4 teaspoon salt

2 cups skim milk

3 egg yolks, beaten

2 tablespoons butter

1 1/4 teaspoons vanilla extract

4 bananas, sliced

Whipped Cream for Topping
Directions:
In a saucepan, combine the sugar, cornstarch, and salt with a whisk. Add milk in gradually while stirring gently. Cook over medium heat, whisking constantly, noticing the mixture becoming foamy while it thickens. Continue whisking and cook for about 2 more minutes, and then remove from the burner.

Gradually add ¼ cup of the hot mixture into the beaten egg yolks, whisking the mixture and adding another ¼ cup slowly until it's tempered. Immediately add egg yolk mixture to the rest of the hot mixture, slowly. Cook for 2 more minutes, whisking the entire time. Remove the mixture from the stove, and add the butter and vanilla. Continue whisking until the custard has a smooth consistency.

Slice the bananas into the cooled baked cookie crust. Pour the custard on top of the mixture and smooth.
Bake at 350 degrees for 12 to 15 minutes. Cover with plastic wrap and chill for at least two hours. Top with fresh whipped cream and serve.