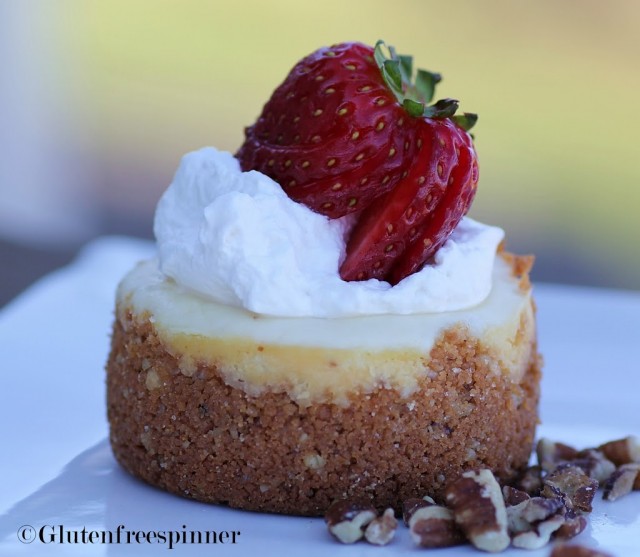 Cheesecake is my very favorite dessert of all time. I'm not much for flavored cheesecake like chocolate or berry, I prefer traditional vanilla or New York style. As for toppings, the flavor and texture of cheesecake seems to get lost a bit when it's smothered with sweet gooey toppings, and my preference is enjoying it without. The trouble with making cheesecake is the time and effort one must commit, which often results in choosing a different option. It also produces such a large dessert that we usually only make it when company is coming. Well, I have the answer to both of those cheesecake hurdles.
These little cheesecake's are perfectly portioned for one, and the recipe only makes five. They take only minutes to make and there's no water bath or special oven temp changes. The best part…they look beautiful and taste even better!
A Graham cracker crust is my absolute favorite for cheesecake, but since those sweet brown crackers of childhood are not gluten free, I substitute Arrowroot Cookies and they are every bit as good! The addition of finely chopped pecans adds a sweet nutty texture that makes for a perfect crust. I build the crust up the sides of the ramekins as it makes a nice presentation and allows for crust in every bite. The filling has a hint of lemon that enhances the vanilla and a small amount of sour cream keeps the flavor of traditional cheesecake.
For the picture above, I added a small dollop of whipping cream and garnished with a strawberry, only to discover the whip cream was an amazing addition to the final cheesecake! It certainly doesn't need it, but the barely sweetened whip cream adds another level of creaminess to the texture of the cheesecake. Yum! And…being that I couldn't wait to take a picture of these little gems, they were still slightly warm allowing the whip cream to start melting down the sides. YUMMMMMY. Here's a picture after a few bites to show the texture of the cheesecake and the slightly melted whip cream (tee hee).
The next time you crave the rich, creamy, dreaminess of cheesecake, don't hesitate due to the traditional preparation. This is so easy to make and is so delicious.
Oh, and I forgot to mention, I use 1/3 less fat cream cheese and Daisy light sour cream. You'll never know the difference and will feel good about eating cheesecake more often.
Ingredients:
Crust: Preheat oven to 350 degrees
Mix all ingredients together until well combined and holds together when packed. Spray the bottom and sides of 5 small ramekins with non-stick spray. Evenly distribute the mixture into each ramekin and press the bottom to form crust while pressing up the sides of each about 1 inch.

Bake in 350 degree oven for 8 minutes. Remove and set aside to cool
Filling:
1 – 8 oz package 1/3 less fat cream cheese, room temp

1/4 cup white sugar

2 Tbsp Daisy light sour cream

2 tsp Pamela's baking mix

1 tsp lemon juice

½ tsp vanilla extract

1 large egg
Directions:
Beat together the cream cheese, sugar, sour cream, baking mix, lemon juice, and vanilla until well combined. Beat in the egg until fluffy, about another 1-2 minutes.

Pour the filling into the cooled ramekins, filling about ¾ full evenly distributing. Bake in 350 degree oven for 23 minutes. They will appear puffed and very lightly golden. Remove from oven and set aside to cool for 10-12 minutes. Invert from the ramekin onto a serving platter and allow to cool completely. Store in the refrigerator, covered with plastic wrap. Remove 15 minutes before serving. (Do not store in ramekin in the refrigerator or they will be too hard to remove.)

As mentioned above, they are also amazing when still just a slight bit warm with a dollop of lightly sweetened whip cream.