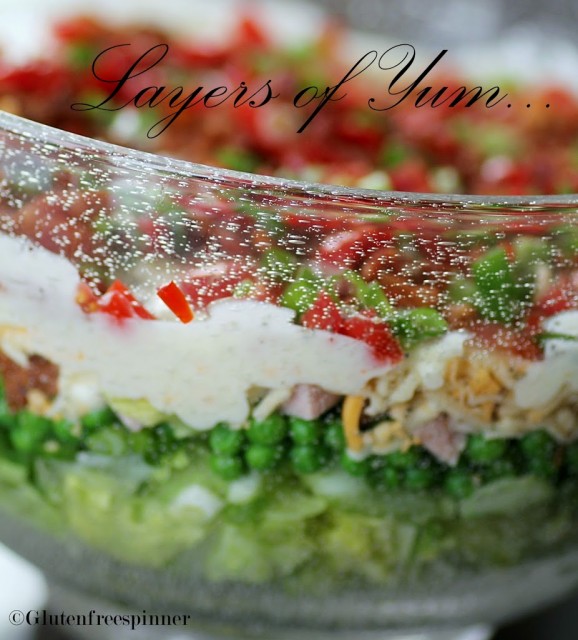 Layered Salad
This salad takes me back to those wire-bound benefit cookbooks and the summer church festivals held in parking lots. At least that's how far back this classic goes for me. The idea to make this again came from my son who asked if I would "make that salad with the bacon and peas and white dressing". What a great idea, funny how we forget some of the classics, and this one is naturally gluten free. A few changes to the dressing and additions to the layers bring this salad up to date for an easy go-to dinner or side dish.
This salad starts with fresh crisp iceberg lettuce, which was a nice switch for me as I tend to use Romaine mostly because of the nutrition value. Then you top the lettuce with crunchy chopped celery, bright green onions, and the sweet pop of early baby peas. Next comes a change in color; a sprinkle of cheddar jack cheese combined with cubed pieces of smokey applewood ham. Finally, a layer of creamy white dressing topped with crisp bacon, chopped grape tomatoes, a light sprinkle of cheese, and more green onions. Yum!! The best part is you make this ahead of time and store in the refrigerator until ready to serve. Bring it to the table layered and give a gentle toss to blend the layers just before serving. Everyone went back for seconds and commented how fresh and bright the flavors were. Easy and so delicious.
Ingredients:
Dressing:
1 ¼ cups mayonnaise

2/3 cup grated Parmesan cheese

1 tsp white wine vinegar

2 Tbsp sugar (add more to taste if you like it sweeter…I found this to be plenty)

1 Tbsp fresh squeezed lemon – adds a bright zing!

Fresh black pepper
Salad:
1 head ice berg lettuce, rinsed, spun dry, chopped

3 green onions, chopped – plus 1 chopped for top

2 stalks celery chopped

1 ½ cups frozen baby peas, thawed

1 cup smoked all natural applewood ham, chopped

1 cup shredded cheddar jack cheese, plus ¼ cup for top

1 cup smoked natural bacon, cooked to a crisp and crumbled

¼ cup chopped grape tomatoes
Directions:
Mix the dressing ingredients together and set aside.
Layer the salad ingredients in the following order:
Chopped celery
Chopped green onions
Shredded cheese
Chopped ham
Spread the dressing over the top and smooth to cover the entire salad.
Sprinkle the cooked crumbled bacon, chopped tomatoes, fresh green onions, and ¼ cup shredded cheese on top.
Cover with plastic wrap and refrigerate until ready to serve. Toss gently before serving.