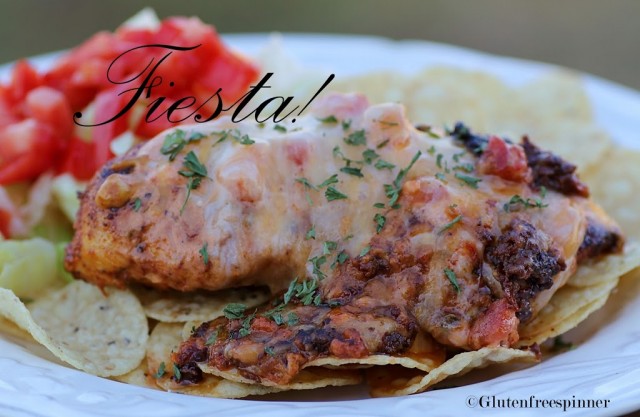 I was craving a chicken dish called Tequila Lime Chicken that I use to order at a chain restaurant. Being there are only a few restaurants I actually go to anymore, I attempted to make make my own version of that dish. It turned out even better than I remember and it's consistently good.
This recipe is easy and doesn't require many ingredients. I remembered the restaurant dish had a slightly smokey flavor, so I used Chipotle Chili Powder, which is a staple in my

spice cabinet. Another flavoring is the Fiesta Lime seasoning by Mrs. Dash. It's salt free and has wonderful flavor. The key to the chicken having great flavor is letting the seasoning marinate for at least 2 hours, 4 is even better. You can prepare both the chicken and the Tex-Mex sauce ahead of time for an easy preparation when you are ready to cook. The sauce is the key to this dish…the first time around I only made enough to coat the top of the chicken, not leaving much to coat the chips. Being it was so flavorful, I doubled it the second time around so it made a wonderful sauce to ooze down the cheese covered chicken and chips. Serve with a side of yellow or Spanish rice, lettuce and tomatoes, or a simple serving of black beans.
Ingredients:
4 boneless skinless chicken breasts, trimmed, rinsed and patted dry

2 Tbsp Mrs Dash Fiesta Lime seasoning

1 Tbsp Chipotle Chili Powder (this adds smokiness – don't substitute)

1 ½ tsp fine sea salt

3 Tbsp olive oil
Tex-Mex Sauce:
1/3 cup Cardini's Parmesan Ranch Dressing

1/3 cup favorite salsa

3 Tbsp Daisy light sour cream

2 Tbsp fresh Cilantro
Mix all ingredients together until blended.

Topping:
1 cup shredded Cheddar/Monterey Jack cheese blend

Bite size 100% stone ground corn tortilla chips

(Optional: Fresh cut limes)
Directions:
Combine the Mrs. Dash, chili powder, and sea salt in a small ramekin and sprinkle the prepared chicken breasts on both sides (use all – remember it's reduced salt) and drizzle olive oil over all to coat. Place in plastic zip-lock bag, squeeze out air and place in refrigerator for at least 2 hours (4 is better) or overnight.

Mix the Tex-Mex sauce ingredients together and refrigerate until ready to use.

To Prepare:
Preheat oven to 400 degrees.
Remove chicken from refrigerator. Heat 1 Tbsp olive oil in a large oven proof sauté pan over medium high heat and sear the chicken breasts, about 1 1/2 minutes per side, just until golden brown. Transfer the pan to preheated 400 degree oven and bake for 12-15 minutes until juices run clear (depends on thickness of breasts). Remove chicken and top with the Tex-Mex sauce, evenly distributing over all breasts and allowing to drizzle down into the pan (this makes a sauce). Sprinkle the Montery Jack cheese over the breasts and return to oven for another 5-7 minutes until the cheese is melted and bubbly.

Plating:
Place a handful of tortilla chips on a plate, (you can crush them to make it easier to eat) top with a chicken breast and drizzle some of the sauce over the top. Optional to squeeze fresh lime juice over all.

Serve with a side of Spanish or yellow rice, black beans, and/or lettuce and tomato.