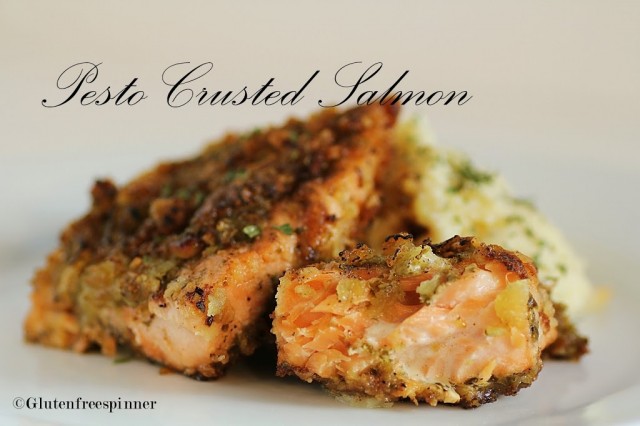 I love Salmon, I could eat it twice a week, maybe even twice a day. My husband on the other hand enjoys salmon, but it's not his favorite and mostly eats it because I love it so much. As you've probably noticed in my fish and seafood category, I prepare it many ways to keep the flavors fresh and new because I serve it so often. This particular recipe turned out to be another one of my favorites. Oh…and my husband approved, hands down, which is a definite stamp of approval.
So, the recipe. I saw a show on the Food Network where they used instant potato flakes to make a crusty halibut. Hmmm. I like pesto, but I need a crust of some type with it, so… how about Pesto Crusted Salmon? Perfect. And it is delicious. The outer crust is crisp and flaky with a hint of the pesto peeking through. I no longer have basil growing, so I purchased a jar of pesto by Giada DeLaurentiis (Target stores) and it is wonderful! There are little pieces of pine nuts throughout the sauce and the balance of flavors are perfect. Certainly, make your own, but if you're in a pinch or just want a quick dinner, try a good brand of pesto already made (check ingredients). Serve with mashed potatoes and a fresh green vegetable.
1 Tbsp olive oil

1 Tbsp butter

2 – 8oz boneless skinless salmon fillets

Salt and Pepper

4 Tbsp Pesto sauce (try Giada De Laurentiis Genovese Basil Pesto)

1/2 cup gluten free instant potato flakes

1/4 cup grated Parmesan cheese

Fresh black pepper

Drizzle of olive oil
Directions:
Preheat oven to 400 degrees. Combine the potato flakes and Parmesan cheese in a small bowl.
Rinse fillets in cold water and pat dry with a paper towel. Season both sides with salt and pepper. Lightly spread pesto on one side of each fillet…don't use too much or all you'll taste is pesto. Press some of the potato flake mixture into the pesto on each fillet. Turn over. Repeat on other side. (If you are making ahead, you can refrigerate at this point until ready to prepare.)
In an oven-proof skillet, heat the olive oil and butter until butter is bubbly. Add the fillets to the hot pan and sear about 1-2 minutes until a crust forms. Gently turn to other side and do the same. Do not cook longer than 4 minutes total. Transfer the pan to preheated 400 degree oven and bake for 8-10 minutes until the salmon flakes easily.
Remove from oven and allow to sit for 5 minutes. Optional to drizzle with a little olive oil and fresh ground black pepper. Serve over a bed of mashed potatoes.