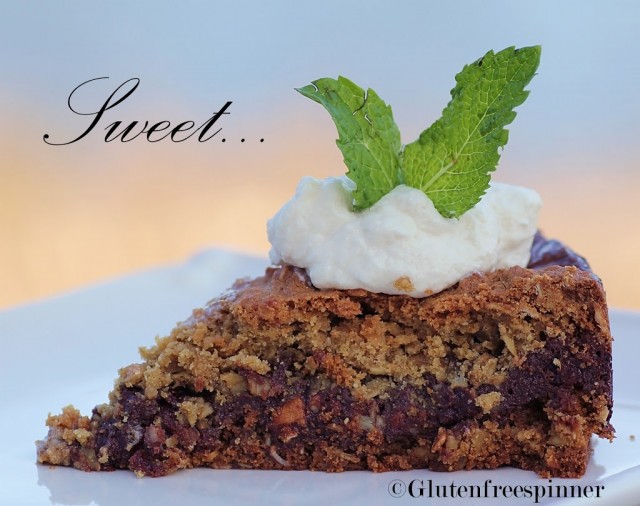 Chocolate Oatmeal Sweetness
I've been pulling old recipes from my gluten filled days with the anticipation of converting them all to gluten free. As I paged through the many categorized tabs, I realized how often a recipe can bring back a memory. That's one of the joys of cooking, isn't it? Making food for the people you love…which ends up being tied to a memory. And if your recipe fails? Well, we all know those seem to be the most memorable.
One of the recipes I wanted to re-create was chocolate chip pie. The recipe starts with a frozen deep dish pie crust, and unfortunately, those aren't available to those of us living gluten free anymore. Make a pie crust from scratch? Nope, more work than I was willing to do for a chocolate chip pie. It's a different story when you have fresh summer fruit or Thanksgiving pumpkin pie, those require the work of a pie crust.
Back to the recipes I went looking for ideas of how to create a similar dessert. I came across an oatmeal chocolate chip bar that had a 'crust' to it…ahh haa! I combined the two recipes which resulted in my new dessert. It was quick and easy and turned out beautifully. It's very sweet and rich, so my recommendation would be to add a scoop of frozen vanilla yogurt which cuts through the sweet chocolate crunch. You could also use walnuts instead of pecans for a little less richness. Try heating the slice just to warm before adding the frozen yogurt…it melts down the sides creating a wonderful lava of goodness.
½ cup butter, softened

1 cup light brown sugar

1 egg

1 tsp vanilla

1 ¼ cup all purpose gluten free flour

1 tsp baking soda

½ tsp salt

1 ½ cups gluten free oats
1 cup Sweetened condensed milk (almost a full can)

1 cup semi sweet chocolate chips

2 Tbsp butter

½ tsp salt

1 tsp vanilla

2.25 oz pkg chopped pecans (or walnuts)
Directions:
Cream the butter and brown sugar, beat in egg and vanilla. Combine the flour, baking soda, salt and oats together and gradually combine with the butter mixture.

Lightly spray a spring form pan with non-stick spray and press 2/3rd's of the oatmeal mixture into bottom forming a crust. Press to make the crust even all around the pan.

In a small heavy saucepan over low heat, combine sweetened condensed milk, chocolate chips, 2 tablespoons butter, and 1/2 teaspoon salt, stirring until melted and smooth. Remove from heat and stir in vanilla and pecans.
Pour filling mixture over bottom crust in pan and drop clusters of the remaining 1/3 oatmeal mixture over the top, dividing equally. Bake at 350° for 38-40 minutes. Cool 10 minutes before removing outer ring. Serve with vanilla ice cream or whipped cream
.